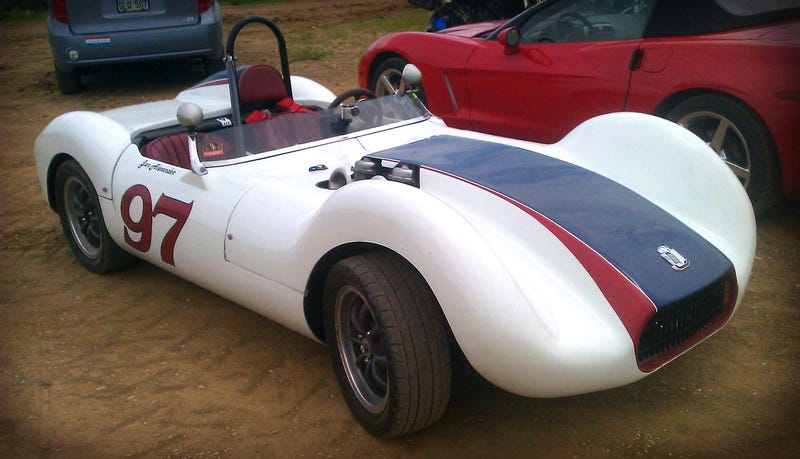 Though any import forum or Facebook page will moan endlessly about America's 25-year limit on certain cars that were never sold here, two tours of Woodward have shown me that we actually have a pretty diverse car culture. Yes, we love our American muscle bruisers with an anthemic patriotism, but we're not afraid to give them a little competition. Still, the more you learn, the less you know, and for all my education, I stumbled last weekend across another gaping chasm in my experience: vintage sports cars.
For the bullet-quick runup to Saturday's Greenwood Revival, we were told to just show up, and it we had cool cars, to bring them. I love events like that, because coolness is in the eye of the beholder- no snooty officials at the gate turning away scratched paint or sagging headliners, just a bunch of people getting together to admire some great cars, whether we owned them or not. Just as any man's house is his castle, any man's beat-up Subaru is his Ferrari. Greenwood understood this well, and the classic cars mingled humbly and happily with the more…lifetyle…classics, just as their owners did.
Organizers plugged the event to as many Des Moines and Iowa car clubs as they could find, so there were concentrations, here and there, of certain makes and models. I was pleased to find myself in the company of several other Imprezas, all of them gorgeous and in far better shape than mine. Miatas speckled the landscape, and Mustangs with heavy cams and boost for days rumbled amongst the dozen or so Minis- new, old, and even Moke.
Some time ago I was able to limit the range of my hatred of the automatic transmission to my own parking space. Yes, some cars are great with slushboxes, and yes, I would even like to drive a few of them. Nevertheless, I was quite proud to count exactly three clutchless cars out of the 100 or so entusiast cars there, and though they were all quite awesome (a Jaguar Mark II, a Jaguar XKRs, and a race-trimmed Mustang), the commitment to three pedals was just one of the qualities that gave the gathering its unique air.
I saw Corvettes of every variety and vintage. A Lingenfelter C5 sounded like it wanted to tear the world in half. A '56-'62 C1 rolled past before I could get a shot of it. There was even a split-window '63 in a perfect red.
But most of the two-seaters were European. Triumphs, MGs, and a couple of luscious Jaguars stood around dripping beauty and, inevitably, oil. They formed a stark contrast to the massive, ex-military bulldozers lined up on the property, owned by a construction union school. It was tough to find a "winner" among them, especially with the Series 1 Jaguar, the GTB/4 Ferrari (freaking) Daytona, and the Mercedes 300SL Roadster all jostling for the title.
A few Porsches showed up, too, including a 356 Speedster with a stunning, minimalist, Nardi-equipped interior.
Of course, there's often a difference between the best and the favorites, because I think my favorites were the stripped-out, single-seat, catless race cars. There's nothing quite like seeing an MG's headlight pulled out and screened over in favor of an air intake, or a taped headrest bolted to a diagonal rollcage support, or a rearview mirror relocated to the center of the dash, or a windshield that meets you across the chest, rather than across the toupee.
I think I preferred the race cars so much because, well, aside from the fact that I'm the pragmatic, no-frills type who firmly believes that keeping something awesome is far easier than keeping it pretty; because they took me straight back to the decade and the sport we we'd shown up to celebrate. I mean, I saw there, mere yards from each other, an Ambro-bodied Triumph TR3 and a mid-engine 1964 Elva Mark VII. It was just so easy to visualize 20 of them out on the track in every acid color the '60s could provide. Go to any car show and you can let your mind wander back to the era. But this is the only type of event, stacked with street-illegal, cage-bound race cars, to transport you to those bleachers, twitching your sweaty PF Flyers until the checkered flag dropped.
I also got some stories about that era. More next week.
More poorly edited pics next week!