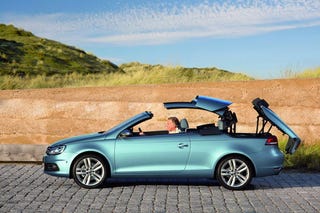 "I'm not dead yet, I'm getting better!" No you're not, you'll be stone dead in a moment! Don't let the fact that there is a 2016 VW Eos on sale now for $4,000 less than previous years. It's dead and it would seem only spiders and targas stand to survive the Hardtopocalypse!
*Side note, does anyone else hate when people place "-ocalypse" at the end of words in order to form something that's impossible to say out loud?
With reports that the upcoming Z5 and AMG developed SL-Class will be softtops, it's unlikely many other manufacturers will bother with the R&D. I mean come on, if even BMW and Mercedes aren't offering a bodystyle then you know it's as good as gone! Combine all this with the fact that it doesn't seem like Audi (TT/A5), Lexus (RC), Cadillac (ATS), Infiniti (Q60), Buick (Cascada), Chrysler (200), or even Ferrari (California T) have plans to build a future front-engined hardtop, the life support system seems to be flatlining. I'd be surprised to see a hardtop in the future or after this generation of SLC-Class and 4-Series, not to mention anything from Fiat, MINI, or smart.
That all said, we know the Wrangler will be the only convertible SUV we approve of (sorry Evoque). So if you want a brand new hardtop convertible in 2020, then expect that engine to be behind you. That or you can always go with the answer that's always correct...