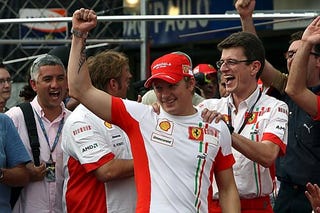 Seems appropriate -
http://www.bbc.co.uk/sport/0/formul…
Raikkonen is the first driver to return to Ferrari after a previous spell since Austrian Gerhard Berger re-joined them in 1993 after leaving them at the end of 1989 to join McLaren.

The Finn, who won the world title with Ferrari in 2007 but was replaced by Alonso at the end of 2009, has signed a one-year deal with an option for 2015.
But then again, its Andrew Benson. Who the heck knows?