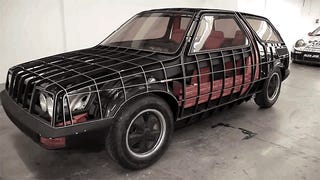 It seems that when your usual Jalopnik reader is asked, what is the perfect car, the answers can be depicted in this simple chart:
But if we were to design a car from the scratch, I am sure that we would find space for a lot more quirkiness & character.

For me, a good start is the Porsche FLA, made to last at least three decades is a nice contrast to today's throwaway approach to cars. Here is the full story of this Porsche:
Nonetheless, if I was given a blank canvas and unlimited resources to build a car, I don't know whether I would be able to settle for the practicality of an everlasting car.

Instead, I would make sure it has features like the BMW E30 forward opening hood, as well as 944 pop-up headlamps (albeit, those two may not work together very well).
I would put a Citroen DS mushroom brakes and Trabant column shifter for the manual transmission.

To finish it off, I would put the water temperature & oil pressure gauge right in the middle of the dashboard. Just so every driver would know where the priorities lay with this car.
Why would I do such things? Mostly, because I hate the feeling of boredom I get in most cars, to the point where they become a generic product. I can illustrate this example, with something that happened to me today.

I was helping a friend purchase a 2012 BMW 120 Diesel. When I test drove his car, I suddenly remembered that I owned one of these BMWs for 2 months couple of years earlier!!

I have done 3k miles in that BMW few years ago, and yet, the car has completely vanished from my memories. It was a perfectly decent car, but so unremarkable that it has just blended with whatever was before and came after. Only when I drove the same model again, the poor rear visibility & an annoying lag in the power delivery reminded me of the fact that I used to drive a 120d on a daily basis. It's these flaws that triggered my memory with a sense of annoyance.

I have realized today that it is the quirky little things & the imperfections that push us ,enthusiasts, far away from the Toyota beigemobiles, & right into the land of Alfa Romeos & oil-stained driveways.
What quirky features do you guys miss in modern cars?