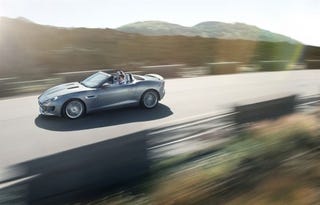 This post originally appeared on DrivingScene
This has never happened before. I've been in some epic cars. I've been in fast cars. I've been in nice cars. And I've certainly been in loud cars. The Mercedes C63 AMG, the SRT Viper, a Shelby 427 Cobra replica. But I have never, NEVER, driven a ride so ferocious and loud that the sound echoes off nearby hills and mountains. The Jaguar F-Type V8S is just such a vehicle.
The F-Type is Jag's encore to its reinvented and well-received current lineup. I've driven their sedans, the XF and the XJ and found them both to be deeply competent and worthwhile alternatives to Ze German's people movers. The F-Type raises the leaping cat's game to a whole 'nother level.
Coventry has done their absolute best to make sure every moment in their new coupe is special. Even before you get in. Not content with the traditional and frankly plebian method of vehicle entry, instead they have given you "deployable" door handles. These space-age (or Aston Martin Age if we're honest) fitments rotate outward to meet your hand when you enter or exit the vehicle, then fit flush against the door while the car is in motion.
Once you're in the cabin, you are surrounded by modern, aggressive angles and luxury leather snuggling you into place and behind the wheel. On the F-Type S and this V8S, the starter button, driving mode switch, and paddle shifters are covered in a copper-like finish Jag is calling Ignis. This bright orange color quickly sets these speed-racer controls apart from the rest of the cabin, and they just beg to be touched. It's these kinds of little touches that elevate the F-Type to not just toe-to-toe with the sports cars of the world, but arguably above them. The quintessential British sense of style goes a long way.
Grab the handle from the future, slip into the buttery leather seats, hit that Ignis start button, and hold on to your butt. Things are about to get real. At a certain price point, cars are no longer about getting you from point A to point B, but about how they make you feel. And the F-Type? It makes you feel gooooooooood. I put the extra "o's" in there because it makes you feel extra good. I dare you to even pinky-toe touch the throttle and not have a smile on your face. Throttle response is slower than I anticipated, but that critique falls away once you stop revving it in park and actually go somewhere. You're never wanting for power in the V8S.
This is a car that inspires confidence and plays along with you. It asks you to go faster. It enjoys speed just as much as you presumably do. And oh boy does it corner. Pick any speed you want, and the F-Type will tackle that next corner. Think you've reached your limit? You're just warming this car up. If you finally over-cook things, huge 15" brakes bring your momentum back under control. I know for a fact my first few cars had 15" wheels.
Back to that wonderfully pornographic noise. By now some of you may have seen an F-Type on the road and no-doubt enjoyed hearing it rumble by. Let me tell you that from inside the cabin, with the angry yowl under the control of your right foot, the noise is even more intoxicating. I wish an F-Type at full bore was my ringtone. Dive-bombing pedestrians and other drivers is seriously addicting. Everyone looks at the rumble, and most keep on gawking once they see the little muscular shape that is causing all the racket.
If you've got somewhere around $100,000 under your bed or 400,000 quarters in your sofa, I highly recommend picking up an F-Type for yourself. It will improve your life. You will be kinder to animals and more charitable. It will make you a happier person. And they told me money couldn't buy happiness…