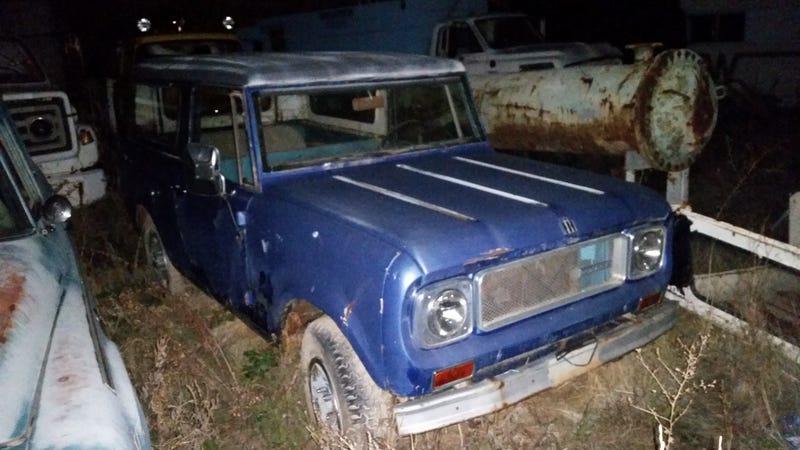 I got a call last night asking for help. A good friend of mine is an International Harvester connoisseur. His family has collected a handful of IHCs to eventually restore and piece together. They each have their Scouts that they drive but they also have collected several Internationals that were to be restored or used for projects. After 10 years of not doing much with the vehicles, the property is being sold from underneath them. The father does not want to work on selling or parting the trucks out, he plans to sell them all for scrap - the horror! I love old cars and I hate to see them go to the crusher, I also hate seeing old cars rusting away in a field, slowly turning into piles of iron oxide.
There are a handful of Scouts, an 800 pickup, and two Travelalls. One Travelall has a solid body with a trashed interior, the other has a decent interior. Combining the 2wd Travelalls with the 800 manual 4x4 drivetrain would be awesome.
There is a decent 1969 Scout 800 with a V8. There is a low mileage USAF Scout, a Scout II , and one of the Scouts is a Sport Back which is a very rare vehicle. There are also a large number of doors, Dana 44 Axles, Seats, hubcaps, etc…
I have a 13 year old son and I'm thinking that building the Blue 1969 Scout into a running truck together would be fun and great way to spend several weekends. But when restored Scouts are being sold for $5,000, it's a money pit bringing one back from the dead.
Is there a market for or will there be a market for Internationals? Should I try and save three of four of them? I have a good sized garden I could park a couple on. Should we put them up on eBay or CL?
The trucks are located in UT if you are interested in getting some International Harvester history for a really low price.
I'm sorry about the pics, I'll get some daylight photos when I get the chance.