**Crack a beer before you start and make sure you have at least one more in the fridge because this one is long**
"The first rule of the Jalopnik Film Festival is: You do not talk about the Jalopnik Film Festival. The second rule of the Jalopnik Film Festival is: You do not talk about the Jalopnik Film Festival!" – Matt Hardigree
I was unfortunately unable to make it to the first half of the opening night party at Classic Car Club Manhattan, but I feel as though that must have been part of an opening address that Mr. Hardigree (or one of the other senior writers) had given to kick off the party. I say that because three weeks after having been part of this awesome event I'm still wondering why I haven't seen anyone talking about it on this thing called the internets? To help fill that void I figured that I should share my Jalopnik Film Festival (JFF) experience. I just hope that after posting this a bunch of guys wearing masks don't show up at my door to kick the shit out of me because Mr. Durdigree doesn't like it when people break the rules…
For those of you who've been living in a hole for the past few weeks, the first ever JFF has come and gone and if you didn't go you missed out… like really, really missed out. Before the JFF, despite wanting to go, I had never been to New York City (NYC). So when I found out that I could go to a party at Classic Car Club Manhattan and then go see a bunch of awesome car films, all for the cool price of $50, I was sold… NYC here I come! Being the automotive enthusiast that I am the obvious mode of transportation with which to get to NYC was by car, and not just any car, something that fellow Jalops?...Jalopniks?... Jalopnikers?…I'm trademarking that last one in case Jalopnik ever wants to sell novelty underwear …. Something that people who frequent Jalopnik.com would give a thumbs up to. That car was…
…a 1990 E30 325i equipped with suspension that most people would say is unreasonably stiff, a stroked and cammed motor and an exhaust system that is loud enough to cause both mental and physical fatigue. This car is my track car, but it also doubles as my daily driver during the four days per year it's not a blizzard up here in cold ass Canada, so needless to say it's uncomfortable to drive for 50 miles let alone 500 miles. However since it's my only car it was (my only choice) the perfect choice for the trip. Coming from Southern Ontario to NYC is typically about a 450 mile journey. I didn't want to make the drive alone so I convinced another gearhead friend of mine to come with me. Knowing that taking a 20+ year old German sports saloon that's had all of the modifications done by a hobby mechanic with no actual training (yours truly) on a 500+ mile journey could leave us stranded we did the only logical thing we could think of and decided that my friend should take his own car… a 30+ year old German sports car… a 1980 Porsche 911sc…
Since the interstate highways are generally pretty boring to drive unless you're trucking along at autobahn speeds we felt that our cars would be better suited for cruising the rural highways in search of roads with some twists and turns. Keeping that in mind I plotted out our trip to NYC…
Although my proposed route only tacked on an extra 50 miles or so, taking the slower back roads extended the trip time from about 7.5 to 9.5 hours of driving. We wanted to be in Jersey City (where we were staying) by around 4pm on Wednesday so we decided to leave around 4am on Wednesday morning.
Knowing that I would be able to buy Canadian gas in the US cheaper than I can buy it in Canada (go figure right?) I made sure not to tank up until crossing the boarder. We don't have the Gulf chain of gas stations in Canada so, being a fan of Steve McQueen and LeMans, I decided to tank up at one.
And then the sun came up…
By around breakfast time we started making our way into some beautiful rolling green hills on HWY 417…
My GoPro was packed away in my luggage on the trip down and I wasn't really in the mood to fish it out and set it up, but my friend and I both agree that this section of the route on the way down was by far the best…
… specifically the side road bit that goes away from HWY 6. That section of road flowed really nice. The roads were a bit narrower, but the pavement quality was good. It would make for an awesome tarmac rally stage. After stretching our legs on the interstate, we made a quick stop to stretch our actual legs…
Not too long after that we rolled into Jersey City. We found out that we could park out cars in the Newport mall parking garage for $22 a day, which was pretty good considering the lot had 24hr security personnel monitoring the garage. After watching how some of the locals were parking on the streets we were happy to pay the money to keep our bumpers unscathed. The apartment we rented was pretty nice, and with a view of Manhattan for $80 per night (split two ways) we definitely couldn't complain…
After a much needed nap we woke up and realized that the party at Classic Car Club Manhattan was about to start. So after a quick shower, and taking the wrong path train into Manhattan and then a subway ride in the correct direction we strolled into the party around 9pm, right around when the GT6 panel was finishing up. This super cool Fiat 500 Jolly was parked out front…
Then immediately upon entering there was a wicked GT40 with a Gulf livery and a Shelby Cobra parked right beside it. It was clear that most of the cars had been cleared out to make room for the party, and that the room was usually twice as big as about half of it was curtained off to make room for the caterers to prepare the food. I'd definitely like to come back to Classic Car Club Manhattan some time when they are set-up for their day to day operations so that I can check out some of the other cool cars they have…
No more pictures were taken at the party because at this point I had made my way over to the open bar to make up for lost time… let me say that again… OPEN BAR… remember when I said you missed out? Paying $50 just for an open bar is a good deal let alone watching 5 movies. Anyway, I was thrilled when I found out the bar had bottles of Blue Moon, it's like the beer equivalent of Canadian gas, it's brewed in Canada but somehow it's way easier to come by and cheaper in the US. I have yet to see Blue Moon in my local beer stores back in Canada.
In addition to the open bar, the hors d'oeuvres that were circulating around the party were top notch. They had a variety of foods ranging from chicken fingers to fresh chocolate chip cookies. My personal favourite however were the strips of grilled cheese with the tomato sauce dip, those were gangster, I probably ate a dozen of them.
The GT6 simulators looked pretty fun, and I really wanted to try one out, but after seeing the waiting line I decided that my time would be better spent drinking. So instead I wandered around the party chatting with some fellow car enthusiasts. It was pretty cool to meet and talk with the people responsible for delivering the car related media which I read and watch on YouTube on a day to day basis. I briefly chatted with Mr. Musial at the bar. Then he introduced me to Mr. Orlove and we talked about his Baja Bug for a little bit.
Needing a refill I turned back to the bar only to meet Mr. Parente who was also in need of a refill. We briefly chatted about his recent foray back onto the track in the KRÜGSPEED Lotus Exige. After that, seeing as I drove an E30 to the event, I decided to get a few words in with Mr. Caswell. That conversation ended up going on for quite some time and ended off with Caswell giving me his number because he wanted to take my car for a spin on Friday morning to see what an M20 stroker was like to drive.
By this point the bar was about to shut down so I headed off to grab a fresh beer. They were out of Blue Moon so I had to settle for a Heineken Light. Tough times right? I proceeded to exchange a handshake and a few words with Mr. Farrah and then continued on to get a few words in with the always amicable Mr. Spinelli, who by that point in the evening had lost his voice, but nevertheless was eager to chat with a fan. By now the party began to disperse and my friend and I drunkenly navigated our way back to Jersey City for some much needed rest.
Waking up hung over on Thursday morning I realized that I wasn't going to be able to make it to Black Air in time. This was disappointing because my Father had owned an '87 Regal back in the day when I was just a kid. The Grand National was pretty much just a cooler version of my Dad's car so I've always had a soft spot for them. Definitely not wanting to miss Easier Said Than Done, my friend and I got our shit together and headed for Brooklyn.
Upon arriving at BAM Cinema I was ecstatic to see that the Jalopnik crew had provided some (much needed) complementary coffee, and it was some good ass coffee at that. In addition to that there were granola bars, popcorn, and some seriously awesome plantain and red beet chips. It was definitely a nicer spread than I was expecting to see.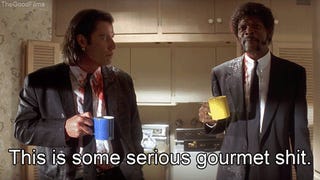 Easier said than done was an awesome documentary. The footage was beautifully shot and the people that the film profiled were genuinely interesting to listen to. It provided a unique insight into the struggles that talented amateur/semi-pro rally drivers have trying to fund their passion race rally cars. Mr. Orlove has already mentioned how you can get your hands on a copy if you're interested and the video of the discussion panel after the film can be seen here.
After Easier Said Than Done the movie Grand Prix was playing, and after that Senna. Since my friend and I had already seen both of those films we decided to take in a bit of the city and started wandering around Brooklyn. I took some really nice scenic photos, but there were only a few that I figured the readers here would be interested in seeing, such as a mint Saab 900 and a Buell motorcycle parked beside each other…
When I saw this Mercedes SL parked inside of a wreckers yard my first thoughts were of Gone in 60 Seconds… another car movie which Jalopnik could very well end up showing at a future film festival…
Next I came across a Cadillac DeVille parked in front of a wicked graffiti piece under a bridge and I was like... Yes!
And then on our way back to the cinema I saw this awesome fake BBS Style 5 hub cap hanging in front of a building along with a bunch of other hub caps …
When we got back to the cinema we were actually able to catch the second half or so of Senna, and to be honest I'm glad we did because it got me all revved up for Rush (shitty pun intended). It was also quite interesting to hear what the discussion panel had to say about Senna, especially the director of the movie Asif Kapadia.
Then it was time for the main event, the screening of Rush. To make things even more exciting, we had to line up and wait to get into the theatre, and in big movie fashion the line went outside the building and onto the street. Whilst waiting to get into the theatre, fans were kept entertained by cheering on a car trying to parallel park into what seemed like an impossibly small parking spot and then bursting into applause when the driver was able to do so without touching either of the cars he was parking between. That's when I knew that this was truly a group of automotive enthusiasts and having that kind of company to watch Rush for the first time made it that much more special.
There's not much more to be said about Rush that already hasn't been said. The movie was very well done. Ron Howard was able to strike a comfortable balance between keeping the F1 enthusiasts satisfied whilst not alienating the average person with nerdy racing stuff and the story between Hunt and Lauda was compelling enough that I wasn't upset that there wasn't more footage of the cars racing.
After the movie I was hoping that there'd be an announcement of an after party at a nearby bar or pub where we'd be able to reconvene and discuss the movie over a few drinks. Realizing that nothing of the sort was going to happen we retreated to the apartment back in Jersey City, but not before buying the cheapest scotch and cheapest cigars that Brooklyn had to offer.
We sat out on the roof of the apartment that night until 4am smoking cigars, drinking scotch and shooting the shit. The view wasn't bad either.
Waking up late Friday morning with a carpet of cheap cigars and whiskey lining my mouth I remembered that Caswell would have taken my car for a rip if he could get his hands on it, but after sending him a txt I realized that there wasn't going to be enough time to make it work. Oh well, rain cheque for next year Caswell?
Having all day Friday to see what we could of NYC we headed back to the island to get some breakfast…
…and spend the day wandering around seeing some of the sights…
…but more importantly mapping out the route for the return trip back to Canada…
Having just seen Rush, we were understandably eager to find somewhere to thrash our cars. Because of that urge, our return route ended up being even more ambitious than the route we took on the way down. The detour we added in order to hit a few roads that we thought would be fun added roughly an extra 100miles to the trip bringing it to about 570 miles total, or about 11 hours of driving assuming a 55mph average between the back roads and the interstate.
In the end we both agreed that it was worth it the extra hours of driving because the roads were beautiful and exciting to drive. For me personally, they are some of the best driving roads I've been on yet (I obviously still have a lot of driving to do because I know there are much more amazing roads out there than these).
It's been my personal experience that when the painted lines on the road end, but the road is still paved it's going to be a fun road to drive…
A bit further along we came across a small waterfall that was draining into a river bed, a small section of that road was being reconstructed which is why we are on gravel in the photos…
It's not a bad way to spend a Saturday afternoon is it?
We had left around 11:30am that day and I finally arrived back home in Canada at 11:45pm that night, making for the longest day of driving I had ever done. I went to bed that night feeling triumphant knowing that I had just driven my old E30 over 1000miles with no mechanical issues. It was either evidence of my abilities as a hobby mechanic, or a testament to the durability of these old German cars … or both of those things. The trip was a success, and I can't wait to do it again.
Well, I guess I've dragged this on for long enough… probably way too long actually. I'd just like to say thank you to everyone that worked to make the Jalopnik Film Festival happen. It was a big feat to tackle and you did it wonderfully. The final thing I'll leave you with is a quick dice up of some footage I captured on the GoPro on the drive home. The first 6min is some of the twisty stuff, the rest is fast flowing roads that would be amazing to drive at 100 mph if it were possible to do so without going to jail. Since the trip I've committed to buying an external mic and remote mounting it for any future outside shots because listening to wind noise sucks.
Thanks for reading!