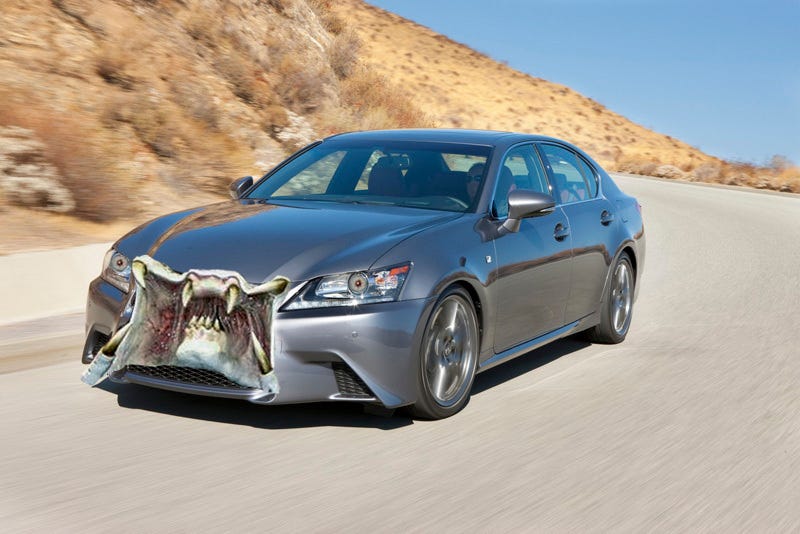 Everyone loves to make fun of the Lexus spindle grille looking like a Predator face, while complaining that it is usually poorly integrated with the overall design of the cars to which it's attached, and generally looks gaudier than people expect a staid, boring Lexus to look. But it's actually totally fine!
I realized recently that Lexus taking its styling in a more obnoxious direction hasn't and won't hurt their sales, because based on my totally unscientific research consisting of of observing cars on the road and making snap judgments of the people driving those cars, there are far more obnoxious Lexus buyers than staid, conservative Lexus buyers.
Hear me out.
When Toyota first launched Lexus, it was all about build quality and reliability. Basically, "here's a nice refined luxury sedan that's less expensive to buy, and especially maintain, than a Mercedes." Check out a typical early-90s Lexus ad.
But the truth is, Lexus quickly became an aspirational brand just like Mercedes and BMW, something people buy not only because it is a nice, reliable luxury car, but something people buy to show off in. They just want something reliable to show off in.
Sure, you have people who buy Lexuses because they're nicer Toyotas, and Lexus dealers kiss their ass, and they are staid, boring people. But more often than not, I see even the boring Lexus models like the ES and RX being driven by people who are trying very hard to look fancy.
Lexus advertising has been playing up the "look how fancy we all are!" aspect long before the styling caught up to that perception with its gaudiness. How long has that smug, awful, FUCK YOU LEXUS NOW I WANT TO THROW MY TV AT THE WALL BECAUSE OF YOUR SMUGGY SMUG SMUG COMMERCIAL big red bow nonsense been going on? A long time!

Effectively, the spindle grille, while making for increasingly odd-looking vehicles, makes them much more noticeable, which is exactly what people buying a car for attention want. It's very hard to ignore cars that look like this...
...precisely because of their gaudy, incongruous styling.
I've lost count of how often I see a typical relatively-affordable Lexus like an IS or ES that's got limo tint on it and some gaudy schmuck or schmuckette at the wheel with designer shades on.
"WHY YES, I DO IN FACT DRIVE A LEXUS, I AM OBVIOUSLY A PERSON OF GREAT MEANS AND WEALTH AND ALSO SMART BECAUSE I DRIVE A LEXUS AND NOT A MERCEDES, THANK YOU FOR NOTICING THAT I DRIVE A LEXUS. IT IS WHY I DRIVE A LEXUS."
Yes, I know, I'm saying this when I drive a gaudy metallic royal blue BMW coupe with shiny 19 inch wheels that makes lots of stupid turbo noises and has 4 inch chrome exhaust tips, and tinted (but only 50%!) windows.
Now let's look at Lexus sales numbers over time.
The spindle grille was applied to Lexus models in the following years:
2011 - LX mini-spindle
2012 - ES mini-spindle, LS mini-spindle
2013 - GS mini-spindle, RX mini-spindle, LX medium-spindle
2014 - IS, GX, CT
2015 - ES, RC, NX
2016 - GS, RX, LX mega-spindle
2018 - LS
If you look at the corresponding years of when the spindle grille appeared on different Lexus models, the only year that sales dipped was from 2015 to 2016. We'll see how 2017 shapes up, but that 83,961 is year-to-date through April. Multiplying that by 3 to give a yearly number yields only 251,883, but over time, the biggest sales months for Lexus tend to be, yes, November and December with those goddamned big red bows. May through August are also bigger than the earlier parts of the year. So we'll see. But if there's a decline in 2017, that's probably more a symptom of an overall decline in the overall car sales market this year than a shrinking of Lexus market share.
Which is all to say, in spite of alienating many non-Lexus buyers, the spindle grille is either not stopping Lexus buyers, or possibly converting more people into Lexus buyers.