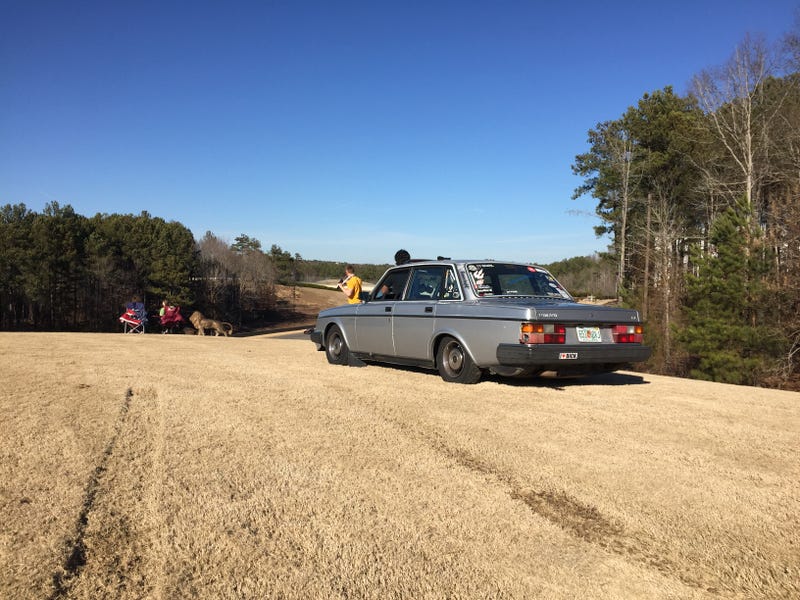 I'll start this tale off with a bit of a flashback, like all good tales do. A year ago, almost to the day, we were at Barber Motorsports Park driving our Lemons Mustang across the finish line of the first event we had actually managed to complete. After getting the car packed up and getting ready to roll back down to Florida, we all looked at each other and proclaimed that there was 'no way in hell' we would miss that event again the next year. As time would tell, the deadline for registration came and went and the Mustang was still sitting in the driveway virtually untouched from last years event. We resigned ourselves to finishing other projects and not stressing out over trying to get the car race ready again and decided to skip Barber this year. But then about 2 weeks ago I came to a very obvious revelation... Just because we weren't racing, didn't mean we couldn't go have some fun!
To make a long story slightly shorter, I talked two of my good friends into going up with me to watch some other guy we know race. They have an E36 convertible 3-somethingorother that they've now completed two events in and I figured going up to watch would be way less stressful than actually racing and it would be a relatively cheap way to entertain ourselves for the weekend. What was going to make this trip interesting was the fact that we weren't taking any of the newer, more reliable, more comfortable, or generally less likely to fall apart cars that we own, we were going to take my $400 ghetto-stanced '85 Volvo that I'm sure you've seen around there parts before. Duct-tape Swedish flag on the hood and all!
The trip actually went surprisingly smoothly on the way up, as well as the running around we did all day Saturday. The racing was great, our friends only had 2 minor issues all day and managed to turn plenty of laps. We watched the races all day, ate some kick-ass BBQ, and drank some local beers we'd never seen before. At this point we had no way of knowing what was about to happen...
Sunday morning started off much the same way as the morning before. We got in the certified hooptie and as soon as I cranked it I noticed something was off. A "I haven't heard that before" from me was met with a resounding "I don't hear anything, you're worrying too much!" By the second hill we had to climb at speed there was a noticeable knock when I loaded the engine up. We decide to pull over and check to make sure there was still oil in the thing, the noise was reminiscent of valvetrain noise and I do have a few slow leaks. Oil was still present and oily, but a quick glance revealed a complete lack of coolant. After refilling the system and starting the car again we see a small leak from a hose clamp and tighten it up and it stops. At this point we continue on towards the promised land!
A few more hills later and the noise is getting worse with each car length. I was having to give it more and more beans to make it up each successive hill. We could see the fabled Waffle Tacos on the horizon, so I decide to push on towards the gleaming beacon of hope that is Taco Bell at 10am on a Sunday! We make it into the parking lot and discuss our options over some AM Crunchwraps and Mt Dew. We decide to try a few extremely shadetree ideas to no avail, and decide to fall back on option number dos...
A craigslist ad was made and even more craigslist searching commenced! We found an '84 BMW 528 listed for $500 and from the pictures it seemed too good to be true. After a few conversations on the phone we learned that it needed a battery, the Volvo has one of those! It only goes into gears 1, 3, and 5, that'll get us home! It needs an alternator belt, Autozone has one of those! At this point I was going to take the first $500 offer on the Volvo and we were going to drive home a not so shiny, brand new to us BMW! We felt like there was zero chance of this being a bad idea and we were going to be jalop heros!
Long story short, the pictures of the Beemer were before the wreck apparently, it wouldn't go into any gears, and I highly doubt it would have even started if we had felt like throwing the battery in it. With this blow to our enthusiasm, and it growing late in the early afternoon, we decided to go stash the Volvo somewhere and get ourselves home. One 'For Sale' sign, a parking spot by the road, and a rental Corolla later we were on our way back to Florida with my trusty hooptie left to the vultures. If I had gotten a half serious offer on it I would have mailed the keys and title and been done with it, but with everyone scoffing at the fine specimen of Swedish engineering and a nasty call from the parking lot owner on Monday I decided I should probably go and get it.
Yesterday afternoon I had nothing too serious planned and a willing friend, so we embarked on adventure #2. I went and borrowed the truck and a trailer and quite a few hours, another Taco Bell meal, lots of coffee, and 2 hours of sleep later I'm sitting here between classes at school writing this tale. The Volvo is back in my driveway, I'm a bit loopy, won't have a chance to get to bed at a reasonable hour tonight but I can still say that it was totally worth it. I highly recommend roadtripping a pile of crap at least once, it makes for one hell of an adventure. We also witnessed a police chase with the perp on foot and the cops canvasing the area around us, which was almost worth the whole ordeal.
This leaves me with a few questions to ponder now though... What comes of the Volvo? Should I offload it and start another project, maybe pick up a motorcycle? Should I patch it back together well enough to be my in-town DD again? Should I source some engine parts and make a proper turbobrick out of it? I want to hear ideas and opinions, just keep it cheap!