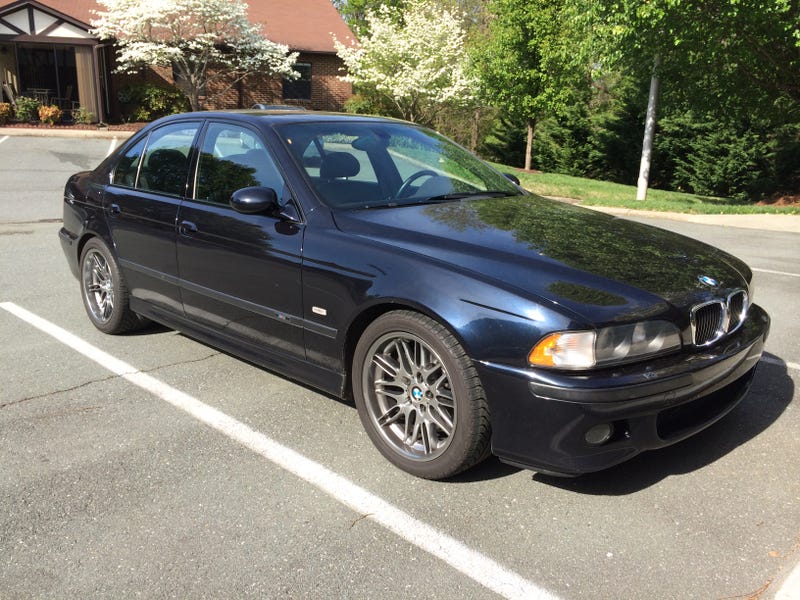 As I promised in an earlier post, my brother brought a 2000 e39 M5 to Easter dinner on Sunday. It was, as Matt Farah says, delicious.
A disclaimer upfront: this is not my brother's car or my car. He is a technician at a very upstanding and high quality BMW servicing operation called Bimmer Performance Center in Raleigh, NC. These are genuinely awesome and talented. They also love the hell out of cars, especially BMWs (my brother's daily is a 2003 330i ZHP. I love that car). So just to throw in a shout out to them, please consider having your car serviced there if you live in the area. They'll do pretty much whatever you want to your BMW or Mini.
But this isn't an ad for them, this is about the Bimmer! This is a customer car that he had to drive over the weekend in order to diagnose an electrical problem that caused it to shut off at random points. Thankfully, that never happened while I was in the car. It's Carbonshwarz metallic, a blue that's so dark, it's almost black. It's also got a six-speed. All hail the stick shift!
She's positively minty (it's pollen season in North Carolina, so please excuse the dirty appearance). Interior is great, even the LCD screen in the center stack. God only knows how that thing isn't a mess of dead pixels, but it ain't.
Because it is a customer car, I was limited to a ride along. That's also means no burnouts, donuts or other forms of hoonery. But it was fun to get a taste of one of my favorite cars. It's my opinion that the e39 is one of the best looking sedans ever made.
Thoughts: it's quieter than I prefer. I don't want a booming, obnoxious exhaust, but I prefer a little more growl below 3,000 RPM. These things respond pretty well to a quality aftermarket exhaust, so that's a must if I get my own (thinking about putting an exhaust on your M5? Why not go to Bimmer Performance Center! Sorry, last mention, I swear).
It'll certainly pull though, at least from what I could tell from the one or two brisk runs up to legal speed. It has a very smooth way of getting up to speed that leads me to believe I could get into a LOT of trouble in this thing. I would love the chance. Ride is great. My brother certainly preferred it to his ZHP, saying that is felt more planted. I contribute that to the longer wheelbase and M/// suspension tuning prowess.
Overall, it was definitely not a disappointment. I would love the chance to drive it myself so I could have a better impression, but I was glad to meet my hero.
One last thing, my brother and the other guys from BPC will be up at VIR April 26-27 for a performance driving school. My brother will be driving his ZHP, and the shop will be bringing its e30. This thing is monster. We're talking fully caged track car with the V8 from a e39 540i into it. Here's a video of it near finished. Shit is rowdy. Hope you guys will come out if you're in the area. I'll be the guy drooling over cars in the parking lot.
Thanks for reading!