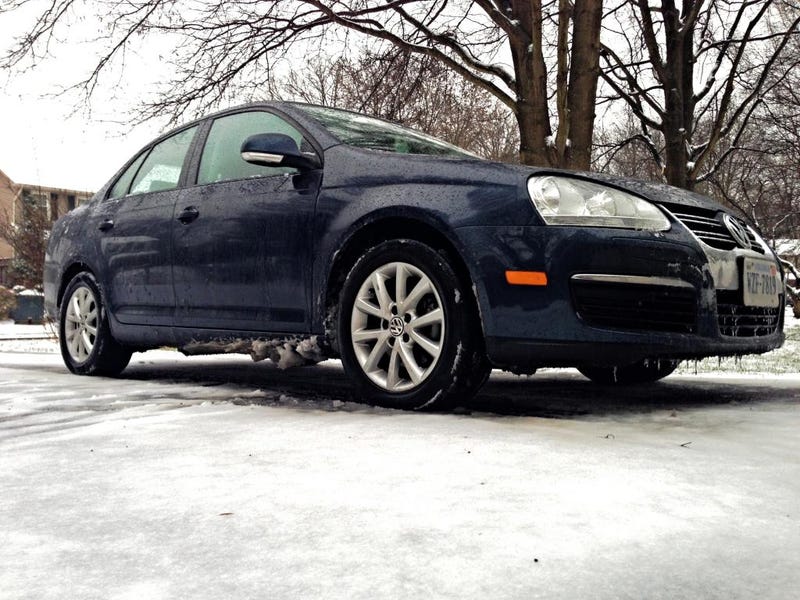 The Volkswagen Jetta gets a lot of hate around here, with phrases like "Beigekrieg" and "your ex-girlfriend's car" getting thrown around quite a bit. People call it unreliable and underpowered, boring and low quality. Sure, most of it is directed at the Mk6 Jetta, but there is a lot of spill over into previous generations. After owning and daily driving a 2010 Jetta Limited for about a year, I think this car is the most underrated car VW has ever made, and that the Mk5 Jetta is worthy of your affection.
So what makes the Mk5 Jetta so special? Well, kids, sit around and let me list them off for you.
1.) It's an economy car
Back in 2010, the Jetta 2.5 Limited Edition (which is the one I have, and was only offered in 2010) had an MSRP of $18,295, and was priced and optioned in between the base S model and the SE model. This means it was priced to compete with the Mazda3 iTouring, Honda Civic LX-S, and the Toyota Corolla XLE, so I'll be comparing them accordingly.
2.) The Interior
The interior is pretty fantastic. The dash is full of soft-touch plastic. The steering wheel and shifter are both covered in leather. The leatherette seats are really comfortable, and they have pretty good bolstering, and really efficient heaters. The backseat doesn't have a huge amount of leg room, but my fiancé's six foot tall sister finds it comfortable once the front seat moves forward a bit. Having been in a Mazda3, a Civic, and a Corolla the Jetta interior is far more upscale. In the comparable trim levels of the Jetta's rivals, you're stuck with manually adjustable cloth seats without lumbar support and in the Civic and Mazda3 you get no heated seats. The Jetta clearly had the best interior you can buy at that price point.
For the 2010 model year only, you got an updated instrument panel, center stack, and steering wheel that looks very modern and much nicer than the previous year. The picture above is a couple of trim levels up from my interior, so I don't have the navigation, the buttons on the steering wheel, or the sunroof, but you'll get the idea.
3.) The Engine
The VW 2.5L I5 catches a lot of crap. People claim that it was underpowered and a generally terrible engine, but it does put out 170 HP @ 5,700 rpm in the 2010 model (up from the 150 in the original model year). This gets you to 60 mph in around 8.5 seconds, which is not bad at all, especially since you only get 132 HP @ 6,000 rpm in the Corolla, 140 HP @ 6,300 rpm in the Civic, and 148 HP @ 6,500 rpm in the Mazda3. The I5 also produces more torque at a lower RPM than the three Japanese competitors. It also has a surprisingly nice exhaust note, which some people owe to the fact that it shares cylinder heads with the Lamborghini Gallardo. You also get to tell people that you have a 5-cylinder engine.
4.) It has a Multi-Link Independent Rear Suspension
The Mk5 was actually the first Jetta to receive this major handling upgrade. It was actually very similar to the one found in the widely acclaimed Euro-spec Ford Focus. It's actually rumored that VW hired the Ford Engineers who designed the Focus's suspension to design the Jetta's. The result is better handling, while maintaining comfort. I can confirm this; the car feels planted on the road, and has a surprising amount of grip when attacking interstate on-ramps. It just keeps sticking and sticking and sticking. Of its rivals, only the Mazda3 had this option.
Unfortunately, in 2011, the MKVI took over on a newish platform, which was essentially a lengthened version of the previous PQ35 platform. This resulted in a platform Volkswagen decreased the price of the Jetta to better take on the Civic and the Corolla, which involved several drastic cost cutting measures. The Jetta lost its Multi-Link Independent Rear Suspension, which was replaced by a cheaper solid rear axle. Due to the backlash, VW has started to put the MLIRS in the top of the line GLI and SEL Premium trim levels, but any trim lower is stuck with the cheaper option.
5.) The Automatic Transmission
When I bought this car I looked for a manual. I swear. I couldn't find one, and I needed a new car, so I got the Automatic. But the six-speed automatic is actually pretty clever. It learns how you drive, and then adjusts to match. For me it means it revs through the lower gears pretty quickly and sharply to get up to speed before it settles into the higher gears. When my fiancé borrows my car, it adapts to her driving style which is a lazy acceleration to no higher than 2500 rpm, with easy, smooth shifts. This means that when she gives it back, it's weird for a couple of minutes while it figures out how I want to drive.
There is also a Sport mode that actually changes the feel of the car completely. It basically keeps the car in a gear lower so you have more power on hand when you want it, and it increases throttle response a bit more. The car does feel more "sporty" when it is engaged.
The only complaint I have is with the Tiptronic shifter. In order to shift up, you push forwards, and pull back to shift down. It's completely backwards. You should pull back to shift up, and push forward to shift down, in agreement with the G-forces of acceleration.
6.) 4-Wheel Disc Brakes
The Mk5 Jetta had disc brakes behind every wheel at all trim levels, unlike the current Mk6, and unlike the Civic and the Corolla. They grab well, and confidently, even if the ABS does kick in fairly early in inclement weather.
7.) The Headlights
The Halogens have little VWs in them! How cool is that?
8.) The Stability Control can be turned off. Completely.
When the Mk6 came out, you were completely unable to turn off the ESP, and now you can only partially turn it off. It'll still kick in when you get a little wild. This is not the case on the Mk5, where you can totally defeat it.
9.) It's an Beast in the Snow
I have never driven a car that seems as planted in the snow as the Mk5 Jetta, and my previous car was a Subaru Outback. The Jetta is entirely predictable, relays road conditions to your butt and your hands, and when you do reach the limit, you'll understeer in a very predictable fashion. Unless you pull the handbrake, at which point it will rotate very easily. You also get heated door mirrors.
10.) Toys
For a car that stickered under $20K, it is remarkably well equipped. It has a 30 pin plug for an iPod or an iPhone 4S and earlier (which is actually kind of annoying when you have an iPhone 5, but hey, can't really fault them for that), Blueteeth, and a pretty good sound system.
11.) It's Really Freaking Clever
This is where the Volkswagen shines. I mean really shines. It is filled with tiny little features that were probably never advertised, and you never really realize that they are there until you own one for a while. These little things show that the engineers were really thinking about little things, and that's a nice thing to be reminded of. You may not even be aware of these in your VW. Other cars may have some or most of these features, but they're still really neat to see in an economy car.
The VW Jetta is the only gas powered car I know of that has an electric resistance heater to supplement a standard heating system (if you know any others, let me know!). This allows you to start heating your car up well before the engine gets up to running temperature. You can turn this heater on by turning the climactic heater control to 80⁰, at which point you will feel a small click, and the heater will start blowing warm air before the temperature gauge moves. This was absolutely fantastic when the thermometer was reading 4⁰.
Speaking of heaters, you know how in most cars your right foot gets really warm and your left stays chilly when the footwell heater is on? This is because the heating vent is usually just a hole in the center stack that ends up being blocked by your right foot. Well, the engineers at VW fixed this problem in the Jetta. The heater vent is in spread out above your feet, spreading nice, warm air equally over both of your feet, which is very, very nice.
Another cool feature is the intermittent windshield wipers. When you have the windshield wipers on and come to a stop, the wipers will slow down so they're not going hog wild when you don't need them. On the manufacturing side, if you get a big ding in your door, you can easily put a new exterior door panel on it, making repair cheaper.
See how the cup holder has two normal holes, and then one little one in the middle? That middle one is made for a skinny Red Bull can, or other drinks that may be too small for the normal cup holders.
The Jetta also has some pretty clever interior lighting features. If you don't have your lights on, instrument panel will be backlit if it detects sunlight. If it does not detect sunlight, it will dim those lights down to zero, making them harder to see. This feature subconsciously reminds you to turn your lights on. When you do turn your lights on, it illuminates the dash, and the controls are lit up in red and blue. There are also two little red LEDs in the overhead console that bathes the cupholders and center console in a soft red glow, making it easier to see things without ruining your nightvision.
All in all, the Mk5 Jetta is a clever car. It's a good car, and worthy of respect.
Picture Credits: Myself, Carpaper.net, Wikipedia, VWVortex
I love racing and cars. I talk about that a lot on Twitter. Feel free to follow me at@willkinton247. If you want me to look into a particular series or topic, or have any feedback, let me know!