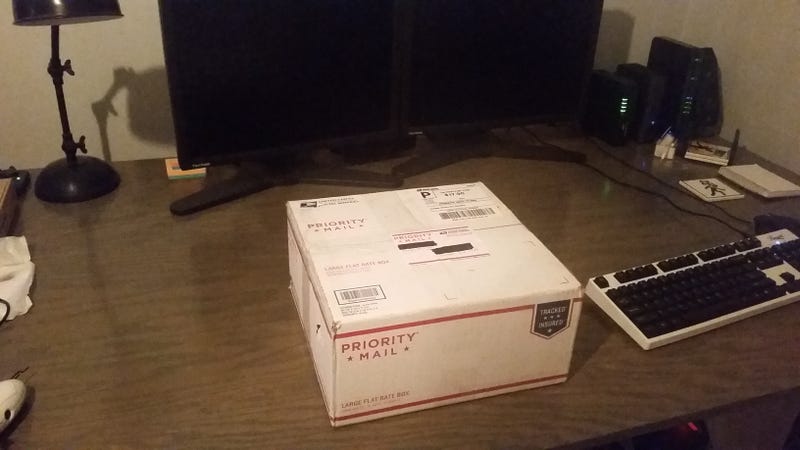 First, a big hat tip to XJDano. Thanks man - great collection of Secret Senna-ings! And we're almost closer to Christmas in July than real Christmas! But no, the delay was worth it - seriously. I'd also like to take a moment to apologize for the terrible quality of my potato pics taken in low light. It was late and I'm too lazy to reshoot all this.
So let's get to the unboxing of this... box.
Nothing poking out upon immediately opening, but we do have lots of paper showing. I'm setting the mood - shut up.
First item up: a glitter bomb! And no note asking that it not be sent right back to XJ! I'm going to have to think long and hard about who to send this to. It needs to be someone far enough away that they can't exact vengeance on my home anytime soon.
Next we have: Gloves! Two kinds of gloves! I promise these will go to good use.
And here we have a giant roll of orange what appear to be duct tape - turret for scale. (The turret has a broken leg that needs fixing. I was going to use model glue, but the tape may suffice.)
Muffler clamp (which you never have when you need one - so right into the garage this one goes) and what is probably the best box cutter I've ever used. Seriously. It stores extra blades in the handle and doesn't need a screwdriver to swap them out! It was hastily assembled to open the next portion of this gift.
[Update]
The muffler clamp is not a muffler clamp, but instead an s-hook 'biner/bottle opener!
Yo dawg, I hear you need a knife to open your knife.
But seriously - nice little knock-off leatherman with all the essentials to it. Blade seems sharp and it's got the saw on as well. Me gusta!
Coming up next is my personal favorite, the pièce de résistance if you will:
A piston and rod with wall hanger. That's right - come check out my big end. It'll absolutely be going on the wall in my office. Probably right about here:
/sigh Blurriest. Image. Ever.
Lastly, we have a set of fire/rescue MB cars. Now I have to start lurking LaLD more. Top to bottom: chief's car, antique engine, weird looking ladder, tanker, airport rescue.
Also included: a lot of paper towel packing material (which are shockingly thick - like I want to roll these up and put them in my garage levels of thick! Where did these come from? The cat will love them.)
And as I'm posting this last photo, I am remembering I left these on my office floor for the cat to play with but did not remember until just now that my dog has a nasty habit of shredding the ever loving be-jesus out of anything paper she can get her teeth on. Crap.
Anyways - Alex, you should absolutely let XJ stay in Secret Senna; this was worth the wait to me. Thanks again, Dano! And thanks Alex for putting it together! I feel guilty after getting a haul this good that I only sent the guy a book.
[Update]
The cat looks guilty as hell.