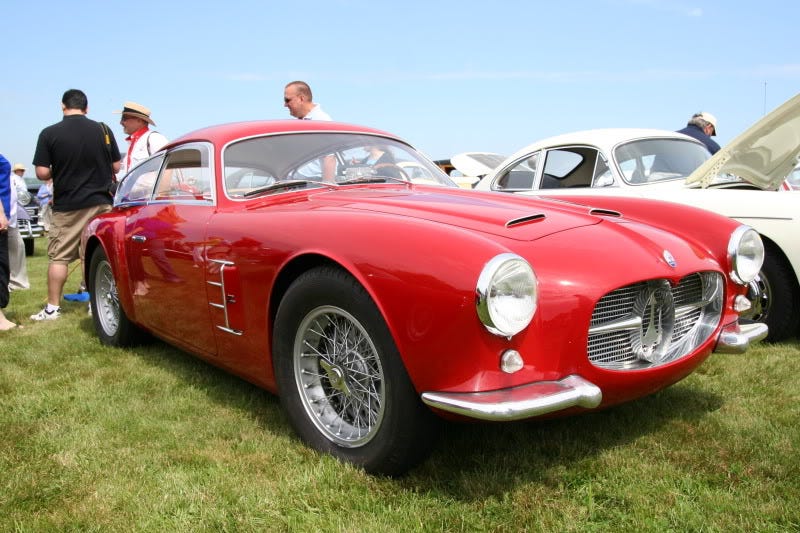 505 's post on a shop restoring two vintage Maserati's reminded me of this, the car that started my obsession with vintage metal.
I was young, 19, fresh out of college and working in personal finance. I had just bought myself a one year used S197 Mustang and, despite my managers plea's, continued to park it right outside my office window so I could always keep an eye on it.
I started working with a new client and he asked me if I knew who's Mustang that was outside my window. I told him it was mine, and then he informed me that he too was a car guy and had a Ferrari 328 and an 964. He also told me he had a spare ticket to get into the local concourse that was happening over the weekend and offered me the ticker. I gladly obliged.
Now there were some older car I liked, mostly muscle cars, but everything I wanted was newer. The concourse is nothing like that. Masterfully restored older vehicles. I walked around, drooled over the 599GTB (brand new at that time) that Ferrari brought along, and the R8 Audi brought, and there were a few other cars I stumbled upon that I knew from my childhood (like a 246 Dino). Most cars I simply passed on by.
Then I came upon this shiny red Maserati Shooting brake. I had never seen anything so magnificently beautiful. It was amazing, I could not stop staring. This car looked beyond beautiful from EVERY SINGLE ANGLE. I walked away a few times but came back to revisit it at least six more times.
That car single handed-ly sparked my interest in vintage metal, the beauty, complexity, and simplicity of the designs. Truly amazing. Unfortunately, this top pic is the only pic I have anymore of this amazing machine, but I will never forget its beauty.