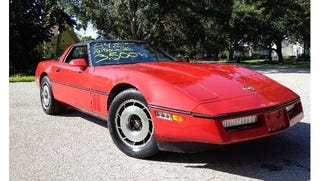 I won't try and list the number of things that are simultaneously wrong and hilariously awesome about the next craigslist advertisement, but it starts with a statement about the price being as firm as Selena Gomez and finishes with a quip about parachute pants.

Just don't click the link if you are easily offended because this might be what they call a trigger. Find this cougarific 1984 Chevrolet Corvette offered for $2,900 in Ft Meyers, CO via craigslist. Tip from dascpcu.

The C4 Corvette was designed by Jerry Palmer who had penned the sleek quad-rotor Aerovettea few years prior. The Aerovette was to be powered by a 420 horsepower melange of rotary powered mid-engine goodness, but was canned when the GM upper management sobered up. Many of the styling cues from the Aerovette ended up in the next generation Corvette, but with a conventional small block V8 mounted up front. The C4 is somewhere at the bottom of its depreciation curve, so get 'em while they're cheap.
Full contents of seller's post here:
First off this thing needs some work, just like the girls you can pick up with this 80's pimpin' whip, but it's cheap, just like the chicks you can pick up with this 80's pimpin' whip. Grab your gold chain and fluff up your chest hair and come on down and take this thing home. First year C4 generation, and everyone knows the first year is the best, hopefully it was built on a friday afternoon to, cuz nothing keeps you focused on work than thinking about all the hedonistic coke filled debauchery, and brain cells your gonna kill over the next two days. It runs and drives, starts right up, needs minor glitch stuff. Cougar magnet, this car is hardwired into the brain of the middle aged, cuz this was the car to be in when they were Kittens. You'll be finding wal mart brand granny panties and notes from divorcee's left and right under the wipers when you park it. Nicest car in the trailer park, at least it shines and looks good going down the road. Tons of tread, unlike dem cougars am I right? pick a side and work up some friction. Top is removable, but it is cracked, but it does not get wet inside (there is another cougar joke in there somewhere). A/C needs a combo line (I like combo's) Digital dash is wonky, yes I said wonky. Radio does not turn on but who needs it over the roar of the bad ass crossfire engine (there is a combo of words never uttered in the Corvette world) and the middle aged screams to slow this bad mutherphukkin road rocket to hell. After all this was one of the 6 fastest cars in the world that you could buy in 84. It's also the best handling (watch dem dentures girl) in the world with the optional Z51 suspension. Hark back to a simpler time with 30% interest, Flammable Micheal Jackson hair, and hours of moving a dot around on your TV screen, and get this too expensive to use as K.I.T.T. on Night rider ride. Comes with Members only jacket, new coke, and parachute pants (no it doesn't) Come see it at redacted N ft myers 33903 ask for Magnum.
Originally posted as Cougarific C4: 1984 Chevrolet Corvette on DailyTurismo. Image credits craigslist.