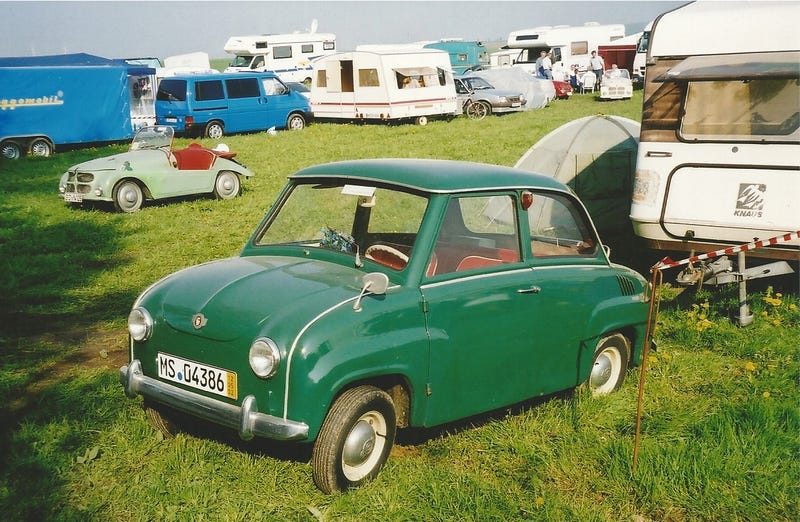 As some of you know, microcars are my jam. I wish I could have one of each. And it all started for me when I first saw a Goggomobil in person. It blew me away. The name, first of all, is just wonderful. Goggomobil. It's fun to say and is perfect for something that looks like that. Speaking of which, come on. It's just adorable. It looks like a normal car that was hit by a shrinking ray. And, that was something of a revelation when it was released.

Its competition was the Isetta, a rolling egg, and the Messerschmitt which looks like the cockpit from a crashed fighter plane that someone stuck a few tiny wheels onto. The Goggo was defiantly not weird. And, because of that it became by far the most successful microcar of the post WWII microcar boom. It was manufactured by the Hans Glas company, a mostly forgotten marque that was built from scratch by the Glas family into a highly influential and cutting edge car maker all while being run like a mom and pop shop.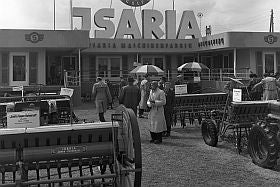 Glas was always a family business. Its beginnings go all the way back to the 1850's when a Bavarian farmer named Johann Glas started repairing, and then building his own farming implements for his neighbors in his spare time. Johann's little side-business turned into a company that would grow into the "Isaria" corporation, Bavaria's largest producer of agricultural machinery as it passed from father to son to grandson to great-grandson.
The great-grandson was Hans Glas, the most ambitious of Johann's grandson Andreas's 18 children. Hans's ambitions led him to America in 1910 at the age of twenty. There he expected to make his fortune in banking. He was an instant failure, losing everything when the bank he invested in went under. This left him destitute and, with 17 other siblings, he couldn't exactly write home for help. So, he swallowed his pride and got a job in an ice cream shop which also ended up going out of business. Things only got worse from there when he was nearly crushed to death by an elevator. Being a poor immigrant, he got lousy treatment that left him handicapped and in pain. Not being able to work, he lived in a park, surviving on the generosity of a German café owner who would feed him eggs and bread once a day. With no money and no prospects, his luck suddenly changed when he was caught rummaging through trash by a charitable cop who brought him to a proper doctor that patched him up. As it turned out, the doctor knew someone who worked for Ford and, upon learning of Hans's farming machine background, got him a job in Detroit where he got his first exposure to the car business. He later worked for Harley-Davidson before returning to Germany in 1924 full of experience.
His father put him to work managing the family factory now located outside the Bavarian town of Dingolfing, and Hans got married and had a son of his own who he named Andreas after his father. By that time, Isaria was owned by an investment concern that was on shaky footing. Saving his Marks, Hans ended up buying the company from them in 1937. He was determined to, from now on, stay independent, but unfortunately World War II had other ideas. The factory was soon taken over by the Wehrmacht for munitions production and young Andreas was drafted into service. Luckily for Hans, the factory ended up surviving all Allied attempts to destroy it and after Germany's surrender, he was given permission to restart production of farming equipment. With German industry mostly reduced to ashes, there was a farming boom just after the war. And with one of the few factories making agricultural equipment, Isaria's business was great. But, before long everyone who needed farming equipment had it, and as manufacturing picked up, sales flatlined. Andreas, fresh out of a POW camp, was now working for the company and he remembered an old college friend who had also been stationed with him during the war. His name was Karl Dompert and he was a pretty clever engineer who ended up working on an airplane line towards the end of fighting. Hans hired him and he came in and helped beat the company, which was something of a disorganized mess under Hans's autocratic leadership, into shape. Dompert simplified many of Isaria's pre-war designs which brought costs down. Still, sales continued to dive and Glas began looking for ways to rescue the business. They found it at a machinery show in Verona, Italy in 1949. Hans had already recognized that Germans needed cheap cars, but converting their factory to build automobiles was a huge undertaking as well as a big risk. In Italy, Andreas saw hundreds of Vespa scooters buzzing around and a lightbulb went off. The things weren't yet available in Germany, so why not build their own? So, Hans, Andreas, and Karl Dompert got to work on a prototype. And what they came up with was perfectly Teutonic, an incredibly robust bike with a distinctive design.
Unlike the Vespa, their scooter was sheetmetal over a tubular frame. It featured a unique front suspension with a telescopic shock absorber on one side of the fork, and a stretched spring on the other which carried it over rough roads smoothly.
It was powered by a 125cc ILO motor mounted transversely with an enclosed chain case. It had an electric dynastart, 10" wheels, and a 3-speed transmission. It ended up being one of the best built scooters ever made. Hans decided to name it after his new grandson who was nicknamed "Goggi." They tweaked that to the catchy "Goggo" and when it went on sale in late 1951, it was an instant hit. It was soon offered with bigger 150cc and 200cc engines.
Since it was so well built, it easily took a sidecar and many were sold with a sweet looking Steib attached. There was a also a 3-wheeled version with a cargo box.
Glas sold over 50,000 in just a couple years, but while driving one home in the rain one day, Hans and Andreas decided their future lay with something with weather protection. The general public agreed with them. The economy was improving a little by the early 50's, and people were starting to buy microcars, which were basically scooters with a roof.
---
Most of the ones for sale like the Kleinschnittger and Champion were tiny, very underpowered rickety things, and of course Hans thought they could do better.
And, buoyed by the success of their home designed scooter, they decided to do everything in house. Which is pretty nuts if you think about. Before the scooter, they were best known for their seed drills and a car is a long way from one of those.
But, Hans had learned a lot back at Ford all those years ago, so he felt confident. He wanted their car to look and feel like a full-sized car, not a covered scooter. It had to have 4 wheels all on the same track. It had to be durable, but powered by a 250cc or less engine so category 4 licensed drivers could drive it. And it had to be priced under 3000 Marks to make it significantly cheaper than a Beetle. It was a pretty tall order and it took every Mark the company had to make it happen. But, Dompert and the two Glas men pulled it off. Hans and Andreas were mostly responsible for the design with Dompert handling the engineering as well as coming up with an assembly line to build the things.
The car they penned had an amazingly efficient use of space. It fit two adults comfortably up front with room for two kids or some luggage in back. It had swing axels front and back, and each wheel was fitted with a proper shock absorber and coil springs. Drum brakes on all 4 wheels were unusual for a microcar. It had rack and pinion steering, and handled better than cars twice its size.
---
They hired Felix Dozekal, an engine designer at motorcycle maker Adler, to engineer an air-cooled two-stroke motor. He designed an ingenious 250cc fan cooled parallel twin that made 14 horsepower. That doesn't sound like much, but he wanted it to be durable, so it was quite low revving for a two-stroke. It was also incredibly light with what looked like a dinky flywheel that was a carry over from one of his Adler designs. And because of the car's tiny size and nice handling, the power was just enough. But, cleverly, it was designed to be expanded should they want to add power later which they did eventually.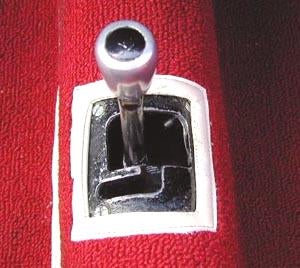 It was fitted to a 4 speed transmission with a differential gear. The set up meant it had a quirky shift pattern where you go side to side as opposed to forward and back. So, second is where third usually is, and third where second should be, etc. It takes a little getting used to, but it's pretty neat to drive. The gearshift is tiny and the throws are pretty short.
---
By the end of 1954 they had a prototype for the Goggomobil. One weird thing Hans did insist on that was inspired by the Isetta was a single front door.
He felt it would make getting in and out of the little car easy, but of course the kids would have to climb over the front seat to get in back. Everyone they showed the car to thought this was pretty stupid especially with the rest of the car trying so hard to look normal. So, at a New Year's Eve party that was partially a celebration of the car, one of Hans's friends, a little drunk, snuck out to the workshop and took a saw to the side of the prototype, cutting a door into it. He proudly showed his work to Hans who was shocked, but it did convince him that a side door worked just fine. It also meant they could install a proper dashboard with at least one gauge.
Production started in mid 1955 with everything done in the now former agricultural machinery factory. The only thing they farmed out was the production of stamping machines. And it all cost just over 100,000 Marks, about a tenth of what BMW spent getting the Isetta into production. The first run of cars were all screwed together because they didn't yet have welding equipment. Like the scooter, the car was a success right off the bat. There was a certain stigma to driving a microcar, but since the Goggomobil looked like it did, people were proud to drive it. They even attracted VW buyers. Reviewers noted that its performance was comparable to a full-sized Opel. By January of 1956, they had sold 10,000, an amazing clip for a micro.
Hans invested all the profits from the car back into the company, expanding and improving the factory. They began to offer 300cc and 400cc versions of the engine which widened the customer base and allowed them to begin exporting cars. They also sold licenses to build cars in Spain and Australia.
In 1957 they added a beautiful and sporty "Coupe," and the commercial Transporter van (which also came in pickup form). The vans were mostly sold to the postal service who found them perfect for tight city streets.
They also developed a brilliant electronic pre-select gearshift. You'd use a little arm that stuck out of the dash to pick a gear which would then engage via solenoids when you pressed the clutch.
---
By spring of that year, 200 cars a day were leaving the factory. But, Hans being who he was, was thinking bigger. Based on his experience with the farming bubble, he correctly anticipated that people would stop buying microcars in favor of larger proportioned vehicles.
So, he and the boys came up with something they thought would rival the Beetle. A 700cc powered sedan and wagon they named the Isar in honor of the old family company name. They expanded the factory again to build it and were now employing 4,000 workers.
It was all run almost single-handedly by Hans in the same manner he had managed the business before the war with him keeping the books and production records by hand. When sales of the Isar disappointed, cracks began to show. Glas was determined not to go into debt. He would take out small loans from time to time, but refused all offers of larger investors. By the end of the 50's, the company was on shaky ground. The German government proposed combining Glas, BMW and Auto Union into one company (imagine that!), but Hans refused. He was determined to stay independent. So, he doubled down and came up with a properly normal sized car, the 1004.
Its style was a little ungainly with a short wheelbase under a droopy design, but it featured a revolutionary inline 4 cylinder engine that had, for the first time in a production passenger car ever, belt driven overhead cams. Plus, it had a hemispherical combustion chamber. It was offered in 1000, 1200, or 1300cc sizes and was a good performer for its class. Dompert also came up with a smart little hatchback variant.
Hans then hired Pietro Frua in Italy to pen a sports car version, and it was absolutely gorgeous. For the first time, the bodies would be built somewhere other than Bavaria at Frua's coachbuilding shop in Turin, and this proved to be a problem as these Italian-bodied cars were prone to rust.
Frua also designed and built a 4-door saloon, the 1700 which was followed by the most widely known non-Goggomobil Glas, the 1700 GT, a bigger, more powerful version of the earlier sports car with a slightly tweaked body.
These later cars had every modern feature possible, front disc brakes, panhard rods, leaf springs, 6 volt electronics, and horsepower was up to 100. Glas was now a truly serious automobile manufacturer. And, while they had abandoned the Isar by the mid-60's, they were still building Goggomobils along with all these new models. Hans still held the company in his grip, but it was becoming unwieldy. And sales were lagging well behind the bigger competitors like BMW. Only 40,000 1004's were built and sold, and the numbers were even worse for the 1700 which stalled at around 20,000 cars. The cars were good performers, but Glas didn't have the money to further expand production. It was also hard for Hans and Andreas to oversee the whole affair. There were some quality issues, especially with those Italian bodies. By 1966, they were in over their heads and Hans's health was beginning to fail. He finally looked to banks for help, but when they saw the relatively outdated factory with cars still being built largely by hand, they refused a loan. As a last gasp, Glas introduced a prototype for a sweet looking V8 powered car, but they didn't have the means to manufacture it.
The company was about to go under when the German government convinced BMW to save them. But, they would only be saving the factory and jobs, the Glas name would be phased out by the end of 1967. The main reason BMW was interested in Glas was for the overhead cam engine.
They kept producing the GT, but with BMW's double-kidney grille stuck on, roundie taillights, and with a 1600cc BMW drivetrain. They also did end up putting the V8 car into production briefly under the Glas-BMW name. It was a highly advanced car with De Dion suspension, double Solex downdraft carbs, 160 horsepower, front and rear disc brakes, and striking Maserati-like styling, but less than 1,000 were built.
One car did retain the old Glas "G," though, until the very end of the decade. People still bought the tiny Goggomobils; mostly the 250cc ones to those class IV drivers. So, BMW kept building them as long as they had bodies. The last one rolled off the assembly line on June 25th, 1969, an incredible run for a little car. By the end, almost 300,000 had been built. An astonishing number that's almost double the amount of Isettas made. So, they did beat BMW with one model. A few months after that last Goggo puttered out of the factory, Hans Glas died bringing an end to a truly amazing century of Glas products. As a post-script, some remaining Goggomobil chassis and engines were sold to the A.W.S. Shopper company who built 1400 of these primitive little things in the early 70's.
BMW also sent the tooling for the 1700 sedan to South Africa where it was built as a BMW for a few years. And, of course, Glas's legacy lives on at the BMW factory in Dingolfing, one of the biggest automobile factories in the world. Today, there's a strong following for Goggomobils. My friend Uwe Stauffenberg bought the Goggomobil name and sells newly manufactured parts to collectors around the world. It's definitely one of the most useable microcars ever made. I owned a U.S. spec sedan and drove it all over Boston when I lived there. I didn't bring it with me when I moved west, but not a day goes by that I don't think of that car. It really was rock solid and a joy to drive. Here's hoping future generations continue to appreciate Hans, Andreas, Felix, and Karl's incredible, homegrown designs.
This is a still from an old movie where this woman walks by a Glas dealer. I grabbed this years ago and I could have sworn it was a Bond film, but now I'm not sure. Maybe it's a Hitchcock movie? If anyone recognizes it, let me know. It could just be some random old movie, but it's cool nonetheless to see the Glas sign since I can't find any photos online of old dealerships that sold their cars.
Read more stories written by me about funny little cars here: