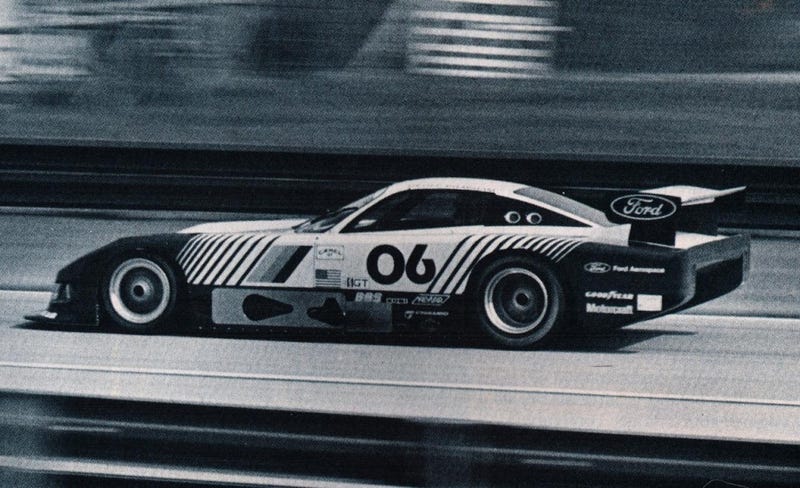 IMSA GTP. Add one big drop of Zakspeed Capri from Germany, and add Ford USA trying to make a front engined GTP car. It was ruthless for sure. It had power, and lightness, and it took no prisoners, especially of it's own engineers. Overall, It sucked and the lead engineer said it was the worst project he ever worked on. It wasn't reliable and Zakspeed refused to work with Cosworth to get it to last. Roush wanted to use his own V8's in it but Ford refused, wanting a high tech image but ford didn't give the budget enough zeros.
This was your ultimate Mustang SVO. Carbon fiber Nomex sandwich chassis that weighed just under 100 pounds. It had a huge venturi tunnel out the back, designed to make as much down force as possible. The whole thing was less than 1800 pounds ready to go. They had very high power Zakspeed built Cosworth BDA based turbo engines. 600hp from 2 liters. The heat soaked the cockpit. The car handled like garbage when light on fuel. Undriveable. It was the little things. The project ended after 1984 being too high of a mountain to make it work.
Personally, I love the idea. If NASCAR really wanted to turn heads and make something unusually great in it's whole Daytona Prototype idea, it would have made them front engined GTP cars like this one was and the Panoz later on. That would be GT racing. Putting the GT style car back on top.
Not to be. Not to be. But, here check out the opening of this 1984 riverside race where the excellent guys from Diamond-P sports show us a bit about the car as it took POLE position!...so it was good, briefly. It took off and led the race. the exhaust fire in the braking zone is really nice to see.