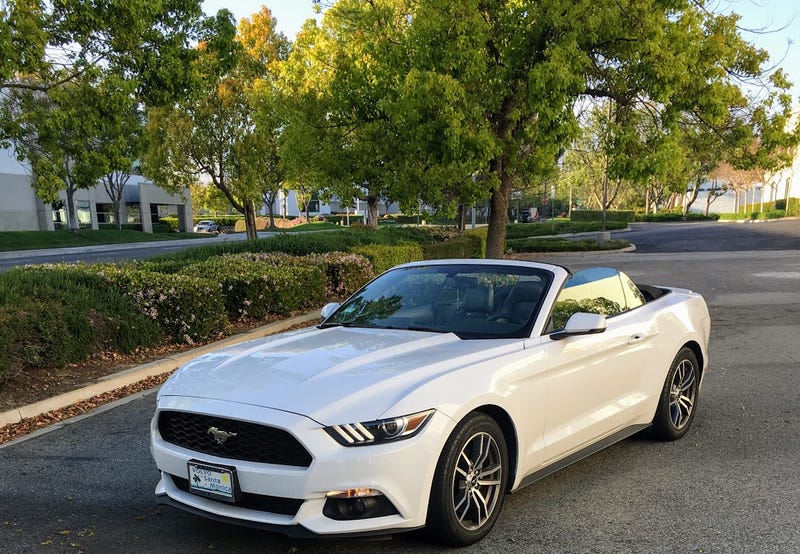 The Mustang Convertible of the current generation offers some of the best top down driving in my opinion. Its fun, but it also has its flaws.
With the girlfriend gone for a few days to the Carolina's to visit family, I thought it would be a good time for me and my 6 year old son to have some fun bonding time. Not the " don't tell your mom I let you go to bed at 10" kind of fun, more like " don't tell your mom I let you eat In N Out with that Dr. Pepper in your undies while playing video games" kind of fun. Just relaxing. No better way to do that than in daddies convertible he picked up after work last Friday. So me and my son spent the weekend in LA with some top down motoring.
My 2015 Mustang Ecoboost wasn't my first choice. In fact, if some of you remember I had settled on the V6 because V6. But upon closer inspection, the V6 Mustang looks too rental spec. To the trained eye of those of us in the known, you can tell a V6 Mustang from the others just in the way you could tell a first gen Chrysler 300 base and Limited models from the 300C. And in person the V6 didn't look good to me. From the black plastic areas where the fog lights should be, to the 17' wheels that look too small, to the dated looking center console with the tiny LCD screen and phone keypad numbers on the side, it just screams Hertz Fun Collection.
The Ecoboost on the other hand doesn't look rental spec. The wheels and fog lamps make it stand out, along with the "premium" interior. New though with the options I have, it rang in just under 40 grand. Like $915 bucks off. I got mine with 31 thousand on the odo for right over 24k OTD. Not bad but a hell of a drop in value in a littler over 2 years.

Let me start off by what I love about the car.
Likes:
It looks great with the top down, which is usually the case with some convertibles. I didn't expect the looks and attention I would get from people. Now could it have been because of the looks, or the fact that my son was acting like he was shooting zombies out the back with the top down, or both, I'm not sure. But I got thumbs up, shouts that they loved my Mustang etc. The downside of that is that with that attention, everyone wants to stoplight race or race on the freeway. To the non automotive person, they see Mustang. Mustang=Fast. Which means they have to prove to me that they can go fast like I can. Which ends up with someone cutting me off or trying to when they see they aren't as fast. A lot of people, and I mean A LOT, wanted to race. From the guy with his family in their Accord, to the Yaris on the on ramp, to the old man in his beat up Sebring, its funny at first, then it gets annoying.
The interior is excellent as well. Worlds better than Mustangs of the past. The soft touch materials, "metal" on the wheel, shifter and dash all feel good to the touch. SYNC is good along with the touch screen. I LOVE the the customization you get with the interior lighting of the gauges, foot wells, cup holder and door handles. Gives the interior a nice atmosphere.
The "could be hits but aren't" dislikes:
Lets start off with that gauge placement. This is literally my view from the drivers seat. I tend to sit with my set a little bit back. From there, as you can see I cant really tell what the temp of the engine is nor how much fuel is left. I don't know if its because the gauges were designed to go so deep or what. It also doesn't make sense that because of this, the steering wheel should at least adjust with the gauges but they don't. So if you want to see if you're overheating or about to run out of gas, you got to sit upon the wheel like your grandmas friend does in her Avalon.
Like I mentioned earlier, SYNC is good. Not great. Mostly because its laggy. Put too many inputs in the touch screen and its liable to take a few seconds to change to the next screen.
The same goes for the steering wheel controls. One of the things that annoyed me is the phone buttons here along with the answering system. If someone calls, not only does it take about 5 seconds to show who's calling on the display, but once I press answer, they cant hear me for another few seconds until the Bluetooth picks up. So the person on the other end is saying "hello,hello" even though I've already answered. Once that call ends and I press the disconnect button, it doesn't disconnect right away. You have to press it ( and I counted) at least 4 times before it hangs up the line. This might seem trivial to some of you " Its a Mustang. You shouldn't really care about that kind of stuff". But to me if you are going to put an infotainment system in a car for convenience, at least make it, you know, convenient.
The Shaker Audio system sucks. It sounds like someone is lightly holding a towel over the speakers. This is even after me adjusting it to my preferences.
The flip switches are a good old school touch. The ability to switch driving modes at the literal flip of a switch along with steering feel at a stop light is cool. But at the same time the main thing that bugs me about them, specifically the driving modes and steering feel, are the fact that they don't switch up and down just up. Say I want to put the car in Sport+ mode with Sport steering. You do so by flicking the switch and looking at the indicated mode on the LCD screen between the gauges. But say I was flipping too fast and passed Sport+ up for Track. I cant switch down to go back. I have to go all the way though Track, Snow/Wet, back to Normal and then back to Sport+ instead of simply being designed to switch back one mode. Again it might sound trivial, but little stuff like this is annoying to me.
Now the main thing I wanted to get too: The 2.3L Ecoboost Turbo 4.
We all know the specs. ( and really Ford? A 40 thousand dollar convertible with one of your most advanced engines, and you guys couldn't put gas struts to hold the hood up? How come you guys can invest in ride sharing and bike sharing services no one will use but not simple things like a gas strut?) 310 hp, 320 ft-lbs from a 2.3L turbocharged 4 cylinder. On paper its impressive numbers putting down close or besting horsepower from pre 5.0 GT's and shaming cars from 15-20 years ago. It has good power that's readily available at the moments notice, especially for passing. Those people that always say that you will wish you had a V8 need to daily drive it. 310 hp is plenty power.
Around town cruising though? I'm not impressed. I akin the Ecoboost to diet soda: yea you get less calories or no sugar. But its still soda and not any better for you. For one the fuel economy sucks. And this is with me driving normally. I seen just over 19 city. Highway was better at almost 26. But this thing is thirsty and not as fuel efficient as you would expect. Put it in Sport+ mode and gets worse. I drove around in Sport+ for about 15 minutes and saw my average mpg drop down by 3. And the sound. Ugh the sound isn't befitting a 40 thousand dollar convertible, let alone a Mustang. The vacuum cleaner or some-kind-of-machine turbo engine swooshing is ok at first but can become kind of annoying because it sounds artificial. This seems to be the case with most Ecoboost equipped cars from the Expedition on down. Inside its not much. It sounds ok under hard throttle, but around town motoring it sounds unrefined. Typical 4 cylinder engine groan you would expect to hear in a Fiesta or Focus, not a Mustang.
Despite my nitpicking though, it is good for what it is, an all American muscle car that's great for SoCal fun in the sun. It's great to spend time with my son in it, got us to great places, got us to the Petersen Automotive Museum, and he loves it. And if he loves it, that's all that matters really to me.