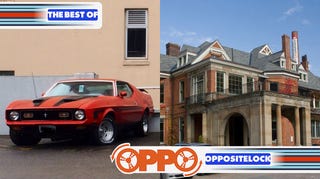 Assembled here are the best Oppositelock posts from Wednesday and Thursday. Today we've got an abandoned Mustang, hidden treasure, a Focus between the SE and ST and more.
Seen around Seattle: the Mystery Mach 1 - rpM3
I've been in my current office for about a year and a half, and I quickly noticed that this mystery car never seemed to move. Always parked at the same angle, in the same spot; I started almost unconsciously checking for it every time I walked into my office. I've spent late nights at the office, come in at odd hours and on the weekends; it makes no difference, the car never moved, and I could never conclusively identify it. I'd even buy lunch from places near the garage it was parked in, but never bothered to hike up the stairs and see what it was. Until today.
---
The story of Stan Anderson, and the Mansions on Jarvis - TokyoBayAquaLine
I think my grandfather heavily influenced my addiction to automobiles. If he didn't, then he sure as Hell was an instigator, because every time I went to see him he always had some sort of a toy car for me to have and to play with. He also kept gumballs in a jar in a dilapidated 1950's era fridge that didn't run, in his apartment. With each twist of the lid to give me one, he'd tell me not to tell my mother, and would lure me into a certain colour of gum with a monotonous, repetitive "Wow Wow Wow Wow" as he plucked one from the jar.
---
2014 Ford Focus Sport: (Ford should be) Raiding the Parts Bin for a Perfect 'Tweener - JarrodL
The standard Ford Focus shuffles through life partnered with a perfectly adequate, but none-too-thrilling naturally aspirated 2.0L inline 4-cylinder making 160 hp... The aesthetically more aggressive Ford Focus ST delivers 252 hp and 270 lb/ft courtesy of an Ecoboost 2.0L through a 6-speed manual (thankfully no automatic option available here). The ST also benefits from a host of suspension upgrades that have garnered positive reviews. I think that leaves a little room for something between the mighty ST and the basic SE hatchback.
---
Should Prius Drivers Get Special Parking Next To The Handicapped? - Tiny Toy Viper
Welcome to Connecticut, where driving a hybrid vehicle entitles you to privileges typically reserved for the disabled. Now this is how to fight global warming! Isn't it called climate change now? Global warming sounds so 90's. Whatever it's called, most scientists agree that the climate is changing. What remains to be proven, however, is whether exclusive parking for hybrid drivers does anything to slow or reverse the Earth's changing climate.
---
Sorry Torchinsky, but GM's Ecotec 3-cylinder is the Future of Gasoline Engines - One Quick Turbo Brick
Let's face it. Small engines are here to stay. Big V8s are being replaced by small V6s. Small V6s are being replaced by little I4s, and now little I4s are being replaced by tiny I3s. Ford was first to the premium pint-sized engine party with their 1.0L Ecoboost, but now GM is showing off its Ecotec line.
---
Using Cars As Tools To Possibly Better The World... - J. Drew Silvers
I do things for people - things I want them to experience in life without them knowing who was behind the action… I keep a stack of blank greeting cards in my car at all times. Particularly in the mornings, on my way to work, I will write a little, personal note on one of these cards, throw it in an envelope, and leave it on the windshield of a random car outside of a store, gas station, or where ever I happen to be at the time. I put no salutation behind my words other than "Someone Who Cares".
---
"TailHappy" thinks he found his first car - Takuro Spirit
Yes, the TailHappy moniker came about from the times I spent getting my first car, a '77 Firebird Esprit 305ci automatic, sideways on the dirt roads around home, and elsewhere when I was young. Dirt only, because the boat anchor of a V8 could barely even spin a tire on wet pavement, not to mention dry. Dirt was a BIT easier. When I started doing things online and needed a "Screen Name", TailHappy is what I chose. Seemed to fit.
---
Heinously Unreliable Used Car Battle of the Week: American Muscle - APiDAOnline
Welcome to the latest installment of HUUCBOTW, where the cars are actually more reliable than CNN's reporting. This week, we turn our attention to the greatest country in the world: this one! (Results may vary). Is there anything more American than squeezing ridiculously pitiful amounts of horsepower out of oversized, lethargic engines? If you answered no, then you're wrong! The answer was "over-optimistic misguided patriotism." However, seeing as this is a car-related website, let's just pretend the first answer was correct.
---
Rust Repair: A Beginner's How-To Guide - BJohnson11
My 74 C10 has some rust issues. While the truck is structurally sound, there are a couple of areas on the outer skin that have completely rotted through. Yesterday, I started tackling these issues, and I figured I'd write up a little step by step guide to repairing rust.
---
We must save the Viper - xmarkedspot
Conner Avenue is closed, folks. A few select women and men are using their hands to do any number of things this morning, but they aren't using them to put together Vipers. If I used my hands to put together Vipers last week, and did anything other than that this week, I would be sad. I would be even more sad if on my way to do whatever mundane task my life had become, I happened to be passed by a new Corvette.
---
Detroit can't get over itself... - BrownDogWelding
I'm not from the city, I'm not even from the SE Michigan area. I grew up in the Bible Belt just south of Grand Rapids. I'm a middle aged white guy, so I'm sure whatever I have to say on the issue will be considered less relevant than the youth native to Detroit. But I learned to weld, I became a tradesman, and I honed my craft in Detroit. I worked in the city for the better part of a decade. I'd like to set up my own shop down there one day, if not for certain life obstacles I've face the last few years I'd be there already.
---
Speaking of Sound: Ex-F1 Driver Doing Hot Laps in Formula E Car - Gabor Vajda
Formula E is getting ready to kick off its first season this year. It has to be said, not even two weeks has passed since the Formula One Grand Prix in Melbourne. One of the hottest topics in open-wheel, single-seater racing on the consumer front recently is the soundtrack. F1 went quieter, Super Formula followed suit and the Internet blew up shouting "No Formula Hoover".
---
How hybrid power should be used in racing - JonathonW8
We all think of Formula 1 as the most technically advanced and most powerful auto racing around right? Well today we saw the brand new Toyota WEC entry, the TS040. The Toyota was revealed at Circuit Paul Ricard, and what also was debuting was the figures for this year's new car. Last season the TS030 made 530hp from the 3.4l naturally aspirated V8, and 300hp from the hybrid system giving them a total of 830hp to work with. Not bad. This year, the TS040 uses the same naturally aspirated V8 but detuned a bit to 512hp. However, the brand new Hybrid system delivers 470hp! That's a total of 985hp!
---
Hypothesis: Why being a "Speed Freak" may define you as an Alpha - TokyoBayAquaLine
Clearly, most of the people visiting Jalopnik enjoy speed; It's a website about cars and motive transport, come on! The hypothesis of what I'm about to speak about is based on my own individual findings, in and around large groups of car guys and girls.
---
2008 Saturn Vue XR: Owner's Son's Review - Logansteno
Ah yes, the Saturn Vue. The nicest car my parents have ever owned in terms of quality and luxury somehow. It rolled off the assembly line in Mexico in November of 2007, and then we bought it off the lot that following May. We've owned it 6 years and 64,000 miles, with many more to come. And I shall now review it.
---
The Best of the Rest
Distraxi took photos at the Ellerslie Car Show. Inline Six attended a BMW i3 Driving Event. McMike scanned in some old photos. Twinturbobmw shared video from C&C Portland. AncientOfDays updated us on his AMC Eagle. DatASSun made some more progress on his Datsun and got a new tattoo. Slow4o posted video from his COTA track day. Oldirtybootz bought some new wheels for his Dart. Doodon2whls got new struts on his Neon ACR. Enginerrrrrrrrr and his girlfriend got laps in a couple of exotics. DrivingImpaired shared his highlights from the Atlanta autoshow.
---
As always, If I've missed something and you would like me to include it, let me know.
Discussions
There were several posts that asked questions and sparked some good conversation on Wednesday and Thursday. Take a peek and chime in on some of those listed below:
Just the #tips
These posts have already been shared with Jalopnik directly but deserve to be mentioned again because they were first posted on Oppositelock:
Want to participate on Oppositelock? Check out the handbook for posting on OppositeLock as well the Oppo tools to help you get started.