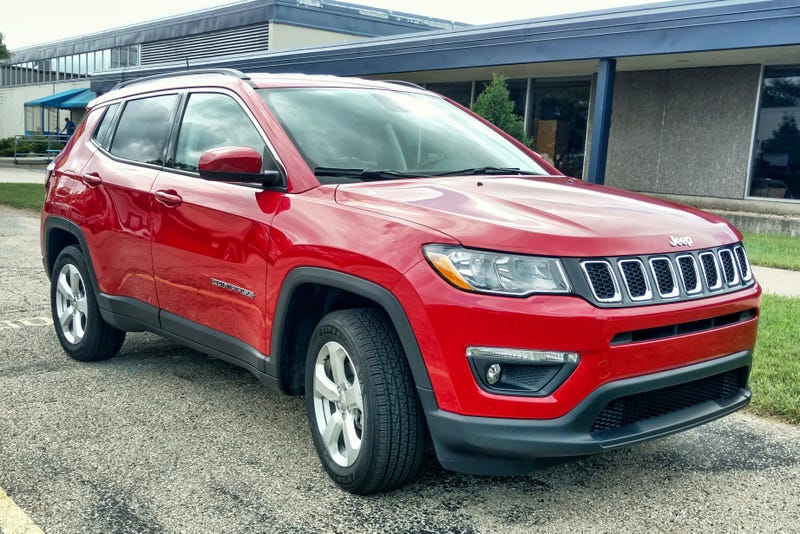 All the press photos of the new Jeep Compass featured a contrasting black roof panel. It looked good. But the black roof isn't standard. My soon-to-be former company has this not-quite stripper Latitude model that they're testing out as a possible company car for field sales reps. The black roof looks way better.

The contrasting roof especially helps in in the back of the car, because it helps minimize the appearance of the chunky D-pillar in relation to the little bitty quarter window, and flows into the design of the rear spoiler and window trim.
Whereas if you have the body-color roof, the chrome trim that separates the roof from the body feels much more tacked-on and unnecessary. The body-color spoiler feels disjointed with the black rear window trim.
It's not bad, but I feel like the black roof makes the design flow much better, and the chrome trim that flows from the top edge of the side windows, along the D-pillar and into the hatch makes much more sense when its purpose is to separate the black roof from the rest of the body.

On the plus side, the OE tire on the Latitude trim is the Firestone Destination LE2, which is a perfectly good on-road SUV/truck tire that is solid in the winter. OE tires that suck in the winter on vehicles specifically marketed to have good winter capability piss me off.
I'm not sure the exact OE tires on the other trims, which I tried to piece together from press photos. The Cherokee and and Renegade Trailhawk usually come with Firestone Destination AT all-terrain tires which are also solid. But the press photos show the Compass Trailhawk with the Pirelli Scorpion ATR all-terrain, the Latitude with the Pirelli Scorpion Verde truck all-season, and Limited with Continental ContiProContact all-season car tires that are unfortunately mediocre in winter.
Personally I think the Trailhawk is the one to have, it's got the contrasting roof, black trim instead of chrome, plus with the all-terrain tires and extra gizmos in its awd system is a nice capable little package.