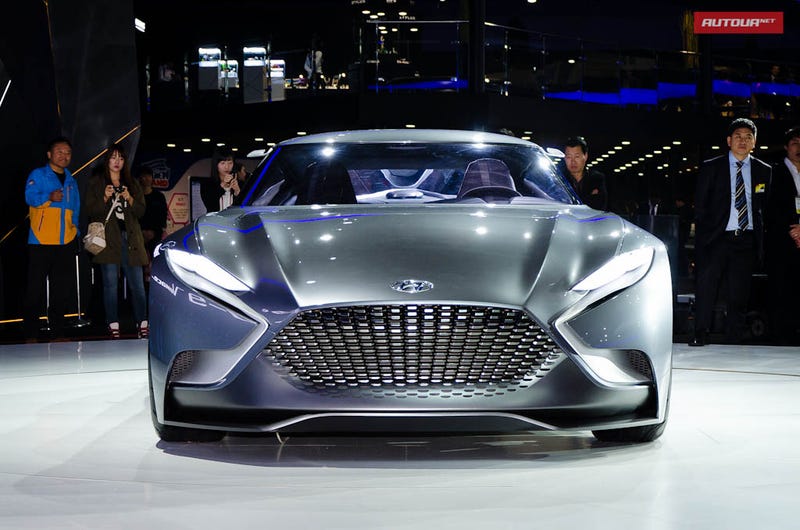 If the new generation is truly going to move from entry level sports coupe to compact luxury coupe, then we have some price changes coming our way. Now the HND-9 concept was pretty much 4-series sized so it seems like the Coupe will stay a class smaller than the sedan of the same name. This is good because it means the pricings should be lower than the sedan equivalents!
Now we know that the Genesis Sedan is a 5-series value proposition. The 300hp BMW 535i starts at $55,850, xDrive is $2,300 more, and the 445hp 550i starts at $66,300. The 310hp Genesis Sedan 3.8l is $38,000 and an additional $2,500 for AWD, and the 420hp Tau V8 starts at $51,500. So there is around a 68% value on the low end and a 77% value at the top end of the Genesis Sedan against the 5-series. How will this impact the next GenCo?
Well the 300hp 435i starts at $48,150, xDrive is an additional $2,000, and the 425hp M4 starts at $65,400. I would reason the next GenCo will start with the 3.8l since they discounted the turbo 4-cyl in the current generation. Using the same value figures would place the price at around $33,000 to start and $50,350 for the twin turbo V6 model or V8. If they go V8 then this thing will pretty much be a Lexus RC rival with less drivetrain tech but a better weight for the class. However, if they go with a 400hp TTV6 then it would mean Hyundai is serious about taking on the luxury performance scene and they could very well do a 450hp N model for under $60,000.
Worst case scenario is they set the $50,000 version as part of their full on N brand because that would place their big performance brand just barely relatable to M-Sport. We all know that with a 640hp CTS-V and a 420hp CTS V-Sport, Hyundai is going to have to bring it now or be out of date once all top performance trim compact coupes become 500hp standard. I was happy the Genesis Sedan V8 wasn't an N model because Hyundai could theoretically add forced induction to the Tau and make a 520hp Lincoln. Hopefully Hyundai noteds that Lexus made the right engine but placed it in a shortened 6-series instead of a proper compact. Don't go after the RC-F because you can't get away with that kind of misstep.
On another note, has anyone noticed that Lexus, Infiniti, and Acura seem to have backed off from competiting with top German performance? Obviously Acura isn't bothering, I haven't heard anything about IPL, and Lexus F doesn't seem to be attempting to keep up with M, AMG, or RS. In the place of the Japanese trio it seems like the new non-Germanic trio will be Cadillac, Jaguar, and Alfa Romeo. I think Hyundai can fall short and still be running with the Japanese at this point.