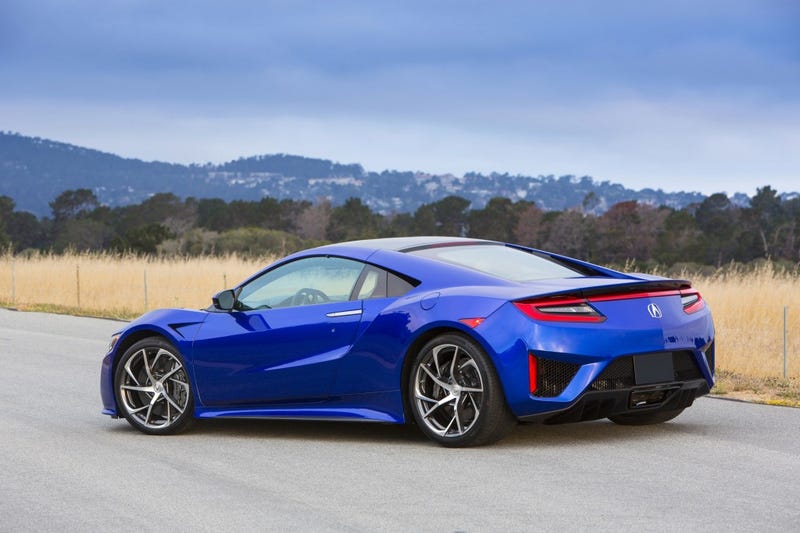 We finally got some numbers on the lo(ooooooonnnn)ng awaited second gen NSX. We're looking at 573hp 3,803lb and around $170,000, so where does that put the new Honda?
By power to weight (or rather lb/hp)

BMW i8 9.17
Audi R8 V10 6.80
Porsche 911 Turbo 6.76
Mercedes AMG GT-S 6.68
Acura NSX 6.64
Porsche 911 GT3 6.64
Jaguar F Type R 6.61
Aston Martin V12 Vantage S 6.50
Dodge Challenger SRT Hellcat 6.47
Nissan GTR Nismo 6.43
Porsche 911 Turbo S 6.32
Audi R8 V10 Plus 6.29
Ferrari 458 Italia 5.74
Lamborghini Huracan 5.73
Chevrolet Corvette Z06 5.42
McLaren 570S 5.37(est)
Dodge Viper GTS 5.32
McLaren 650S 4.99
Ferrari 488 GTB 4.92 (probably dry weight)

By price

Chevrolet Corvette Z06 $79,000
Dodge Viper SRT $84,900
Jaguar F Type R $99,000
BMW i8 $139,500
Mercedes AMG GT-S $129,900
Porsche 911 GT3 $130,400
Nissan GTR Nismo $150,000
Porsche 911 Turbo $151,000
Audi R8 V10 153,900
Acura NSX $170,000(est)
Audi R8 V10 Plus $173,00
Aston Martin V12 Vantage S $182,400
Prosche 911 Turbo S $182,700
McLaren 570S $184,900
Ferrari 458 Italia $239,300
Lamborghini Huracan $237,300
Ferrari 488 GTB $242,700 (2017)
McLaren 650S $265,000

Yes yes yes, I know, numbers aren't everything. But when you're bored sitting at work it's fun to see where everybody stands. As of right now it looks like the NSX will line up nicely against the ten cylinder R8 and the spooled up 911s. Perhaps it will defy it's power/weight ratio like the the GTR, though that seems doubtful to me. Maybe history is repeating itself, the original NSX set out to fight the Ferrari 348 and never rose to meet the 355. This car benchmarked the 458 and MP4-12C only to find the 488 and 650S when it finally goes on sale.