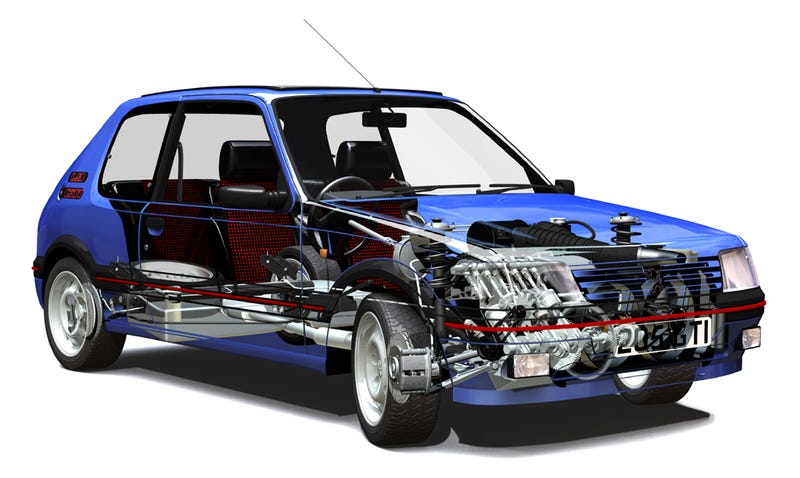 For buying, selling, researching, restoring, or any other reason you would need info on a particular car, mod, scooter, or what have you. Contact the following people in this list, or for being included in the list please leave a message in the original post. Bait is cool, hopefully kinja will include a messaging feature in the future that will make this much more relevant. Alot of us are on Oppositetalk on facebook too for direct contact (friend requests to me are welcome from all OPPOs). As always with OPPO, these people are doing you a favor by sharing their knowledge that you might not find anywhere else. Don't be a dick.
Also on another note I am proud to be a part of a community like OPPO with such a diverse knowledge base. Thanks to all who contributed and want to contribute! This is a rough draft, but it will continue to evolve from here. Any suggestions on segmentation/layout are welcome! I will continue to curate this as people continue to tell me their strengths. If this is helpful to you in any way chime in and let me know who helped you out!
Now on to the good stuff, by make:
Acura:
JDM.ITR - 94-01 Integra, RSX, K series
Alfa Romeo:
BlueMazda2 - 159, Brera
505turbeaux - post war, pre 1995 all models including Sud and 6. VM diesels
Aston Martin:
EL_ULY - '92+
Audi:
jkm7680 - B5 and B7 A4 models, including mods
TFritch - All since 1980-2012 or so (5000, 80/90, 100/200, A4/6/8), high level on Ur-quattro, 4000, B5 A4, worked for 034 Motorsport, so mods, and hot rod Audis are also specialty
mr_gofast - 08-12 all models
505turbeaux - Early FWD (65-91), quattro through generation III, 5000 all years, 80, 90, 100, 200
ShiftsAndGiggles - B5 including S4
BMW:
EL_ULY - e28, e34, e36 (including M models)
Carl Levine
Tfritch - All 1965-2010, specialist in 2002, E21 (euro models too), E28, E30, E36, E46
505turbeaux - pre 95 models, especially E3 and E9, early 2000 sedans, 502 all models
TotallyThatStupid - pre 03 models, BMW tech level knowledge
Leadbull - history
SmoresTM - BMW 2002 repair and information
BlueMazda2 - 08+ BMW all models
AM3R - E9x BMW connoisseur
bkempert - 325e e30
Cadillac:
Benjamin J. Rolland - '00+, older slabs, lowriders
Citroen:
halkyardo - BX, Xantia, XU9 and XU10 engines – repair, purchase, knowledge of hydropnemuatic suspension/brakes/steering system
505Turbeaux - SM, DS, ID, Dyane, 2CV suspensions, general
Chevrolet/GMC:
camaroboy68ss - Restoration and factory correctness on pretty much everything pre 72-73. Camaro- Trim tags decoding, correct options, factory correctness and high knowledge on entire camaro production 67-02. Chevy V8s- Small/big block and w motor background
Crowmolly - '67-'02 F-Body, '68-'72 Chevy II/Novas, '63-'82 Corvettes, W-body, Yenko, Nickey, Baldwin-Motion, Small Blocks Gen 1-3, mark IV Big Block, almost all RWD autoboxes, Muncie, Saginaw, Super T-10 and T56 manual boxes, GM rear axles
Lumpy44 - Sonoma, S10, Jimmy, Bravada
AMGTech - 90-early 00's era. Northstar
Agrajag - 4th generation B body (LT1)
Ramblinrover - GM 1980s "square body" trucks: general information, diesels
crazedclay - 3800s
Montegoman562 - 4.3L V6's, Corvettes
Stapleface - 2nd and 3rd gen F bodies, 1st Gen S10/S15/Sonoma, Bubble B Bodies
Travis King of Spun Bearings - 80's GM G-bodies (Monte Carlo, Olds Cutlass, Buick Regal/GN, Chevy Malibu, and Pontiac Grand Prix) repair - purchase - restoration, C3 Corvettes repair- purchase - restoration, S-Trucks and Blazer repair - restoration, Small Block Chevy (All generations) repair - rebuilding
theLoudMusic - LS engines, GM pickups
thebigbossyboss - J Body
Hammerheadfistpunch - '90+ pickups

Goshen (formerly Darkcode) - GM performance
JordanWPhillips - GM Atlas engine

JawKnee - 1966-72 Chevelles restoration, 1976-78 C3's, G-body's Olds experience mostly, HHR'S
Logansterno - random GM information
Takuro Spirit - TRANS cAMry - Trans Am

roundbadge - Epsilon platform 04-07, first gen S-10
Chrysler (incl. Dodge, Ram, Plymouth, Imperial):
Crazedclay - 80's all models, purchase and performance, 1.4t and Dart
Montegoman562 - 3.7L V6's
Denver - Mopar
roundbadge - Dodge Dakotas
Milky - Crossfire purchasing and maintenance
Conan - Crossfire purchasing and maintenance
Fiat:
BlazinAce - Tipo sediciovalvole
505Turbeaux - X1/9
Ford (Mercury, Lincoln):
MrTheEngineer - Mustang 65+ all years, F Series '94+ incl. 6.0 diesel
Camaroboy68SS - Early Fords, building hot rods, and restorations of many pre war (WW2) Fords
Racescort666 - US Market Gen 2-3 Escort (91-04)
NaturallyAspirated - Gen 1, 2, and 3 Ford Taurus SHOs (1988 - 1999 inclusive) - general maintenance, suspension
Montegoman562 - Ford Muscle (60's early 70's), Mercury, 5.0 V8s and the Ford Windsor line up, Fusion/Milan/MKZ
AlfalfaRomeo - Thunderbirds - ninth and tenth gens. Along with the shared platform Cougars of the time, of course. Also the Modular V8 that was used in them was also in the Crown Vic, some F-series, and a few others. Repair, maintenace, and purchase.
theLoudMusic - Ranger
Jordaneer - Ford Escape gen 1, Explorer/Mountaineer gen 2
Tfritch - F150 ''93-96 & 97-03, Mustang '65-70, 90-93
Honda:
Stapleface - Mid to late 80's models
Sanettika - D-series motors and related cars, Del Sol, CRX
RustyShitboxIsTheNewFast - d series cars, civics, crxs, cr-vs, 1988-2000
JDM.ITR - B series, 88-01 Civic, 92-01 Prelude
Hyundai:
JKER - 03-08 tiburon
Fractal Footwork - Genesis coupe 3.8
Jeep:
Party-vi - knowledge and build knowledge of early CJs (2A, 3A, 3B)

MrTheEngineer - Wrangler '12+
NaturallyAspirated - Jeep XJ Cherokees - general maintenance, cooling system, and modifications, incl. lifts, longarm / y-links, and lockers
Garrett Davis - XJ Cherokees, CJs, and YJ, TJ, JK Wranglers, etc. Off road building and knowledge in general.
Lamborghini:
Saf1 - Diablo
Lancia:
Tfritch - Flavia 61-65, good overall marque knowledge
Land Rover:
Ramblinrover - W123/W124: some diesel information, knowledge of parts sourcing, repair and general details
AMGTech - 87-04 all models
Lexus:
EL_ULY - All
Lotus:
EL_ULY - '02+
Mazda:
Racescort666 - 989-1994 Mazda Familia (BG chassis, 323, Protege)
NaturallyAspirated - NA1.6 Miatas - general maintenance, cooling system, highly opinionated suspension preferences
I am Sam (Mcseanerson) - NA Miatas, 1.8 repair and purchasing
Takuro Spirit - TRANS cAMry - All models
BlueMazda2 - 07+ Mazda 2
julienjj - mazdaspeed3 and mazdaspeed6 maintenance, tuning, common issues or troubleshooting
Tfritch - Miata/MX-5, NC and SpecMiata
MG:
halkyardo - MGA – repair, restoration
Mercedes-Benz:
EL_ULY - '96+
Tfritch - Pretty good: W108, 111, 113, 140, 164ML, Expert: W163ML, 201, 202, 211, 220, Rain Man Level: R107, W123, 124, 126, 210
505Turbeaux - pre '80 and w123, w124, w126 and all diesel models
AMGtech - 80+ AMG specialist
Agrajag - W123 purchase advice, general repair
Crazedclay - W201 purchase and upkeep
Ramblinrover - W123, W124, timing chains and valves to air conditioning actuator and valve stuff, electrics, and even the dreaded W123 300D turbo oil return pipe seal replacement
ShiftsAndGiggles - extensive experience with diesel Mercedes w115, w123, and w126. Also owns a w108 and have a good general knowledge of all Mercedes from the late 70s through the 80s
Mini:
Dasupersprint - Original Mini (non BMW)
Twincharged - R53 ownership, R50 accessories
Tfritch - Original Mk 1 and 2, also BMW Mini '02 through '12
Mitsubishi:
MrTheEngineer - gen 1 DSM, Dodge3S platform
Nissan (Datsun):
TotallythatStupid: pre 1990
RustyShitboxIsTheNewFast - anything with a V, 300zx to maxima, pathfinder, xterra, truck, nothing turbo, anything before odb2(1996) and a little after
Big Bubba Ray - Datsun 240Z
Tfritch - 240Z, 510, S13, S14
Peugeot:
KirkyV - 106, 90's models
505turbeaux - pre 1991 US home market models. 505, 504, 404, 604 + diesels to '85
Porsche:
gmporschenut - 914 and 914 accessories
Tfritch - 356, 911 1967-73, 912,914, 924, 944/951, 928, 993, Cayenne/955 - expert level in 911 '74-77, 964 '90-94, rain man level in 911SC '78-83, Carrera '84-89. Extensive marque & race history knowledge as well
Rover:
halkyardo - SD1, V8 engine – repair, purchase
Saab:
MrTheEngineer - GM era
505Turbeaux - 99, 900 classic, 9000 all, 2 stroke and V4 era all models
Carl Levine - all models 1950-2011
Reborn Phyrric - 70s-late 90's all models
Subaru:
Boxer_4 - extensive general knowledge of all models, some mechanical (hands on) knowledge, moderate knowledge of common issues, moderate knowledge of part compatibility
Tfritch - WRX 02-07, Legacy/Outback 99-07
Decay - BRZ all systems
NaturallyAspirated - N/A, general maintenance, engine work including headgaskets, suspension work
Stapleface - Crosstrek XV
Hammerheadfistpunch - '00+
RustyShitboxIsTheNewFast - Ea82, '84-96
Takuro Spirit - TRANS cAMry - '95-99 Legacy
bkempert - 2004 WRX wagon
Toyota/Scion:
Boxer_4 - 97-01 Camry, 5S-FE 4 cylinder model
Decay - FR-S all systems
Hammerheadfistpunch - '90+ (land cruiser - especially 80 series)
JordanWPhillips - off road
RustyShitboxIsTheNewFast - Older Supras and Corollas, 83-96
Pabuuu, Defender of stance - Celicas
EL_ULY - '86+
Takuro Spirit - TRANS cAMry - Camry
roundbadge - 2nd gen tacoma
Tfritch - FJ60/62 Land "crushers" :) also expert knowledge in Pickup & 4Runner 89-94, Tacoma 95-03
SidewaysOnDirt - AW11 MR2s inside and out: trouble spots, what to look for in a used one, upgrade advice, secret handshakes, troubleshooting, etc. 4AGE engine used in the AE86 and FX16 Corollas. Good overall knowledge of MKII Supras and Toyobaru Twins.
Trabant:
Reborn Phyrric
Triumph:
halkyardo - 2000/2500 series, 6-cyl engine – repair, purchase
Volvo:
EL_ULY - 86 +
505Turbeaux - RWD models, post war, 850/v70R and AWD pre-01
Halkyardo - 850, early V70 – repair, purchase, specific knowledge of R models
Carl Levine
Tfritch - 122, 140 series, S80, 740, 850, 940, 960, S & V60/70 & 90, XC70, XC90 with a special prowess for the 240
VW:
jkm7680 - MkIII Jetta
505turbeaux - air cooled resto, preservation, mechanical, advice. mkI-mkII water cooled, Scirocco, Quantum, Vanagon, diesel proficiency
ramblinrover - mk1 Golf, diesel, front suspension
Decay - MkIII
Halkyardo - Scirocco, Mk3 Golf/Jetta/Cabrio, JH and ABA engines – repair, purchase
Denver - All
TotallyTheStupid - pre-2011, ex service advisor
Tfritch - Expert: Type 3 (Squareback, Notch, Fastback), Eurovan (gak), Corrado, B3 Passat, Mk5, Mk6, pretty much any others I'm probably repressing memory of. Love TDI's, lots of experience & knowledge there. Rain Man: Type 1 Bug '60-up, Type 2 Bus '60-'78, T3 Vanagon/all incl Syncro, Mk1 Rabbit/Golf, Mk2, Mk3, Mk4, B5 Passat. (also has a note to not ask about 411, 412, Dasher, Quantum aaggghhh flashback noooooooooo.......)
Wartburg:
Reborn Phyrric
Other related:
General Automotive Systems:
MrTheEngineer
AMGTech
Crazedclay
turbos/forced induction:
Crazedclay
Racescort666
Diesel:
JordanWPhillips
505Turbeaux - european diesels, VW IDI/TDI, Mercedes, Peugeot
Heavy Diesel, Hydraulics, Heavy Equipment:
ly2v8-Brian - CAT, John Deere, general
Bosch injection:
Tfritch - Some D-jet experience. K-Jet/CIS expert. L, LH-jet expert. Motronic 1.0-9 or so, expert or near. Small amount of old Porsche/Bosch MFI experience. I work for a Bosch Service Center so if I don't know it, I have or can get the manuals for it.
Carburetors:
Tfritch - VW, BMW Solex 1 & 2bbl downdrafts, Expert. Weber down & sidedrafts, expert. SU/some experience. Zenith/some MBZ & BMW experience
Electronics and stereos:
Crazedclay
American car general knowledge:
Camaroboy68SS - Pre 72 wide variety of info on just about anything from small facts to car identification.
Japanese cars:
RustyShitboxIsTheNewFast - 80's-00's wrenching
Pabuuu, Defender of stance
Hypercars:
mr_gofast - anything that can crack 200+ mph
Hot Rods:
Camaroboy68SS - high level of knowledge from over 20 years of being in this sector of the car hobby.
Rear Ends:
Crowmolly - Ford 9", GM, Mopar, Dana
Importation from Europe:
Duurtlang
505Turbeaux
Custom Fabs:
AMGTech
Cebu
Van Conversion:
G_Body_man
Exposed Fastener Etiquette:
Takuro Spirit - TRANS cAMry
Torlon:
Saf1
JDM:
Aya
Model Histories:
Kyle Cheromcha
Inner City Automotive culture:
Benjamin J Rolland, PHD
Small Engines:
Ramblinrover
Vince the roadside mechanic -
Metalwork:
Crowmolly (restoration and tools)
AMGTech
Travis King of Spun Bearings
R/C:
EL_ULY - Traxxas
G_Body_man. - Duratrax, Traxxas, Redcat, Exceed RC
Dekotera:
Pabuuu, Defender of stance
Busses:
Aya
Scooters:
Decay - 2 stroke
505Turbeaux - old Puch, Vespa, off brands through 1980
Aya - JDM scoots
Car Design:
Cebu
Stance:
Pabuuu, Defender of stance
SmoresTM
Anime:
Cebu
Bosozoku:
Pabuuu, Defender of stance