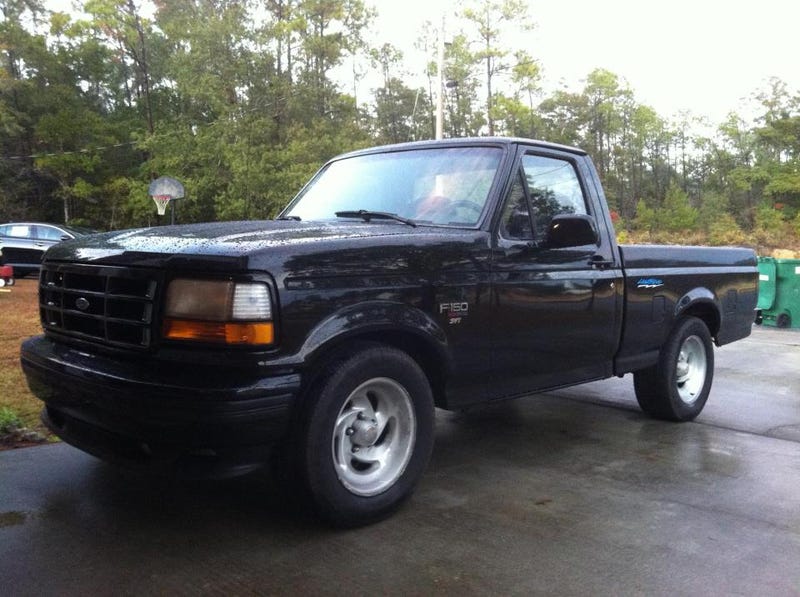 In 2012, I finally got to purchase one of my most-coveted dream cars. I had just gone through a really bad relationship with a Fox body 5.0 LX hatchback that was a total impulse buy and a complete turd in every sense. I decided I needed a break from Mustangs for a while, and started thinking about my next move. I had always wanted a Gen 1 Lightning... the '92 to '96 F-series is my favorite body style of any truck, and the sheer badassery of the original Lightning was something I grew up fawning over. But could I 1) afford one and 2) find one?
I shopped for months, drove hours to test drive total pieces of crap, and was about to pull the trigger on a sight-unseen red '95 for $6,500 when a no-pictures, 1-sentence ad popped up on the local CL. "1993 F-150 Lightning. Runs good. Was daily driver. $3,500". I called immediately. It sounded sketchy, but at that price, I had to check it out.
It had clearly been sitting for quite a while. It was filthy, the door panels were laying inside, one headlight housing was melted from the bulb falling loose on the back of the housing, there was no A/C and the E4OD's 1-2 shift felt like being rear-ended by a freight train. But... $3,500 was too good. I handed him the cash and came back for it later that night.
It cleaned up really well, and was a freaking BLAST to drive. It handled better than a '90s pickup truck ever should and with the 351w and 4.10 gears it could really destroy tires. I had a local muffler shop bend up an exhaust with 2.5' pipes going through two 4" round Magnaflows and dumping out of two 4" straight cut tips... The noise was sex.
The transmission issue ended up being a totally trashed ECU. One of the capacitors failed and burned a big hole through it. One reman ECU later and the E4OD shifted waaaaaay too lazily, and the torque converter clutch started slipping. I bought a Lincoln Navigator torque converter (stronger lockup clutch) and a Punisher street valve body and it was just perfect.
I had the truck nearly perfect... all that was left was to get the AC working. I had all the parts, but the spring of 2013 was busy- I got married that June! So, with the hot FL weather and no AC, the truck sat quite a bit. After the honeymoon, my wife went to Wisconsin for a couple of weeks to visit family. I resumed my life of working graveyard shifts for the Air Force. One night I decided to take the Lightning out for a trip to Wal Mart, and since it was such a nice night and I loved driving the truck, I'd go to the far-away Wal Mart.
The next day... I noticed this...
Some slimey little communist shit twinkle toes cocksucker at the Wal Mart hit my truck and drove off... Since I walked up to the truck on the driver's side, I didn't even notice. Many angry words flew about, but at the end of the day I was left to fix it myself.
This is when the shit hit the fan...
Saturday June 22, 2013... I had planned to get up early and finish the carb rebuild on my Waverunner, but I had found a prefect fender for my truck 2 hours away in Mobile. Should I stay home and work on the Waverunner, or should I go get a new fender? New fender it is!
After an extremely hot trip to Mobile and battling heavy traffic, I had my new fender and was turned around heading home. That exhaust sounded so angry when I dropped it down a gear in the I-10 tunnel. Traffic was booking along at 70 MPH over the bay bridge and I was just hanging out in the left lane when all of a sudden the 2 cars in front of me dodged to the right line and there it was- a 2008 F-150 King Ranch Supercrew 4x4 at a dead stop due to a sudden slowing of traffic not 40 yards ahead of me. To my right- another car... To my left, a concrete barrier and a 100-foot drop into the Gulf... What followed was a great deal of tire smoke and an extremely hard offset impact to the right front of my truck.
He's dead, Jim.
That picture was taken after I had yanked that corner about a foot forward with my Jeep's winch so I could get the hood open and really survey the damage. The frame was utterly trashed, the firewall was damaged, the accessory drive was ripped off the engine... that was it. I sold it a few days later to a fellow member of the National Lightning Owner's Club as a parts truck because every time I saw it I just felt sick to my stomach.
This one hurts the most... Of the 60-ish cars I've gone through, this was easily my favorite. It took the most effort to find, and was the one I coveted the longest. The guy I bought it from had owned it for 15 years and teared up when he signed the title over to me. After just 8 months of ownership, it ended like this. I've loved many of my cars, but I can imagine them with a new owner in a warm garage being loved, whether that's true or not. This one? I knew it would be chopped to bits and the pieces would be sent to the far corners of the earth, albeit to keep other Lightnings alive.
This was the only car I've ever had a significant crash in, and to this day I wish I would have just stayed home and worked on the damn Waverunner.
Also- the 2008 F-150 I hit? They drove away with minimal cosmetic damage. Remember that next time some old timer says "they don't make 'em like they used to."
What car have you lost due to an accident, theft, vengeful ex or meteor strike that still hurts to think about?