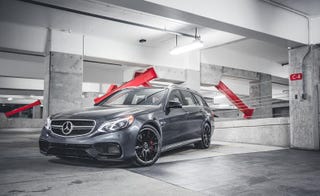 When we think "supercar" certain marquees come to mind: McLaren, Ferrari, Lamborghini etc… But what is a "supercar," how do we define it? Is it about top-speed? Exclusivity? Overall performance? I think we can all agree that a "supercar" does things regular cars do but in a superior way.
The thing is most supercars are only superior to other cars when we look at a vehicle's basic functions of: acceleration, cornering, and braking. Ferraris, Lamborghini's and the like can out run, out handle, and stop shorter than the vehicles that mere mortals drive. But people don't purchase cars just based on the primary functions. Buyers want luxury, features, and space. What if there was a car that excelled both at the primary in addition to the secondary functions of: cargo volume, passenger capacity, technology, and luxury? That my friends would be truly "super."
There is only one car for sale in the US that shatters the expectations on both the primary and secondary front...the Mercedes E63 AMG S 4matic wagon.
Primary functions: It will go from 0-60 in 3.4 seconds, it has a top speed of 184mph, can stop from 70mph in153ft, and throw down .97g on the skidpad.
Secondary functions: It can seat 5 comfortably, has a bevy of creature-comforts and technology, such as heated and cooled seats with massage, navigation, adaptive suspension, and it with the 4matic all-wheel-drive it will even handle inclement weather. Finally, with a cargo hold of 57.4 cu/ft it will swallow practically anything.
What more could you want? Ok, a third pedal would be nice…if rowing your own is a must you can still find one of these around-
Sadly, Cadillac has discontinued its "supercar." Maybe this is why Europeans get all the great "supercars," because they understand the concept better than most Americans.
Of course people don't buy "supercars" because they are concerned with the secondary functions. You don't get a 458 for it's trunk space, you get it for the sound, the look, and the speed. While the E63 AMG doesn't invoke the same "passion" as the prancing horse, I still think it deserves a place among the greats. But I am a little biased.
@AutomatchTom is a professional car buying consultant, lover of all things automotive and a bit wagon obsessed. You can find more ramblings and plenty of carporn here.
(photos and specs via Car and Driver be sure to check out their full review here.)