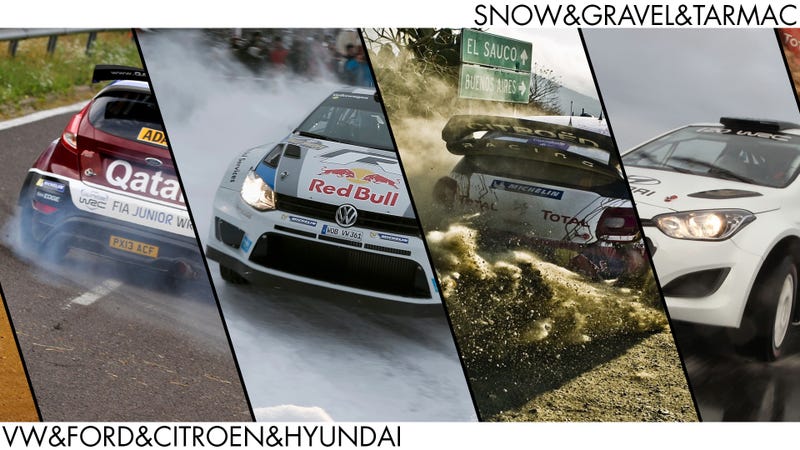 I. What is WRC?
WRC is the FIA World Rally Championship. It is one of only 4 motorsport World Championships besides F1, WTCC (Touring Car) and WEC (Endurance sportscar).
II. What happens at a WRC event?
Okay, here's the very brief description: Take a twisty, hilly road near you. Preferably one that is only used by tractors and other offroad/utility vehicles. Close that road. Now invite the drivers with the most courage and car control in the world and let them drive the road 2 times in normal speed in a road car while taking notes with their co-drivers. They call that the recce and the teams use special, slightly modified road cars.
After you have done that, let them bring out their beefed up hatchbacks and go all mad over said route while having it described during driving by their co-pilot. Let them do this on about 18 roads in 3 days and you have yourself a WRC event.
Badass? You bet. There is a reason for the saying "As a F1 driver you see one corner 1000 times. As a rally driver you see 1000 corners 1 time."
Points are given out "F1 Style" for the best 10 drivers with the winner getting 25, the second place finisher 18, and the third best driver will get 15 points. WRC also has a Powerstage: On one of the last stages of the event the 3 fastest drivers on this single stage will get 3,2 or 1 bonus points. A perfect result therefore would be 28 points in total - 25 for the overall win, 3 for the Powerstage.
III. What cars are they using?
Hatchbacks. But they are modified heavily to handle heavy abuse. Basically only the raw body & chassis comes from the production car. The teams will weld in heavy duty roll cages and special suspension. Also 1.6l turbo engines are being fitted. Those little engines are powerful and make around 320hp and 420NM of torque. That's enough to move the 1200kg cars quickly and light up the Michelin tires. 0-60 mph? 3.9 seconds. Of course that just works thanks to AWD.
IV. Who is driving?
Oh, there is great variety. You have frenchman Sebastien Ogier, current title holder and dominant 2013 driver. Jari-Matti Latvala from finnland is his teammate, and while he is super fast, his favourite hobby is finding random stones and objects in the middle of the road to crash his VW against.
Ford will be trying to make it as hard for VW as possible with ex-F1 driver and GP winner Robert Kubica. He prooved to be super fast and recentley even could keep his car on the road. Mikko Hirvonen returns from Citroen and wants to prove that he is still one of the best rally drivers.
Citroen had a terrible year after 9-time-in-a-row-champion Loeb retired, and they will try to win single events with young talent Mads Östberg and not-so-young-but-talented Brit Kris Meeke.
And finally, newcomer Hyundai managed to secure the hottest driver on the transfer market: Thierry Neuville from belgium. He gave Ogier a run for his money in 2013 and managed to secure 7 podiums. The second Hyundai will be driven by different drivers, starting with asphalt ace Dani Sordo.
V. Where are they driving?
Everywhere around the globe. Traditionally Monaco is the opening round and will provide a great mix of tight mountain passes covered with asphalt, snow and ice. The night stages at legendary Col de Turini are called "Night of the long knifes" for a reason. Afterwards Sweden will set the stages for the only full snow rally of the year. The rest of the calender consists of tarmac and/or gravel rallys, for example the legendary "Finish GP" Rally Finland where cars will be jumping at 200kp/h through a forest.
Here is the whole 2014 calender:
VI. If it is that awesome, why can't I watch it anywhere?
That's because you just touched the WRCs main problem: Media coverage and public recognition. In Europe F1 rules everything and in the US NASCAR gets people to turn on the TVs.
All that has been made worse by non existent contracts with TV stations. Also the rally format itself is rather hard to capture in comparison to a traditional motor race on a circuit where everything happens on the same track at the same time.
So here is a quick action plan to get the best coverage possible:
1. Check your local TV stations for WRC coverage. For example, in the UK ITV4 is showing summaries according to this table. Some Internet streaming websites also offer a program selection based on the sport you want to watch.
2. Live Timing of the stages is provided on the WRC.com and on the private, but excellent Netrally.hu site. Try to check it now and then.
3. Facebook and especially Twitter are great for getting interim results. Here are a few feeds, but please add your personal sources in the comments, I will happily edit them in.
Twitter: @OfficialWRC @The_Rally_Guru @CitroenRacing @HyundaiWRC @DovenbyHall @TwitWRC
Facebook: Official WRC Site Rally-Magazin.de WRCFacebook
4. WRC TV always has short daily summaries, so make sure to watch them in the evening of every Event day.
5. Independent Youtubers do a great job of catching the greatest sights. They often are even more spectacular than the WRC TV's own videos. Definitely follow Bestofrallylive and rallyelange.
VII. I love it. What else can I do to have some Rally fun here on Oppo?
You can should consider Fantasy WRC. Dusty Ventures has done a great job of setting up the rules. Go HERE for the Monte Carlo thread and join!
VIII. Anything else?
Not from my side. But I bet I forgot something. Feel free to punish me for it in the comments.
This post has been written for Oppo/Jalopnik readers who like the idea of cars going fast through the wild but just couldn't get their heads around the concept of WRC. I have read a few questions about the championship and how to follow it last year, so that's why this article exists. I hope it helps.