Last month I upgraded the tires on my 2004 Cadillac Seville, from the god awful General HP max tires the previous owner put on to a brand new set of pirelli cinturato p7 all season plus. The Generals were god awful in every way, they tracked poorly, always seeming to wander all over the road. Wet and snow traction was a joke even despite having more than 50% tread life left on the tire. Cornering and dry traction wasn't much better. Even though My car does lay down some hefty power those tires broke loose way too much for any sort of comfort for me.
Any ways those are in the past. the shitty dark past that stands as another but a reminder that General tires are never worth what you pay for them! they were a liability as winter got down and dirty, trowing it's worst at me, thus getting me stuck numerous times. I had enough! So with my tax return in hand I started my research. I looked over the pro's and cons of many tires. before choosing the pirelli cinturato p7 all season plus, but no matter what I looked at and no matter what I read I kept going back to these guys. according to some reviews I saw they kept pace with or out preformed tires running as much at $30 their premium!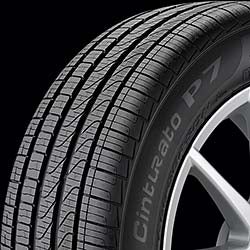 So on Valentines day I took my love over to Dunn tire for some new shoes and an alignment! AT a cost of $118 a piece for my size they were a good deal.
Over the last month I have tested them in the wet, in snow and as of last night a full on ice storm. I can finally say with 100% confident these tires are great! In the snow they find traction in even the deepest of stuff, in the wet they rooster tail nicely pushing that water out of the way to find traction. I encountered a fairly good sized patch of standing water on the highway this morning and didn't notice any hydro planing. But they most surprised me last night during our ice storm! my traction control did not kick in even once, nor did I find any loss of control or confident. Breaking was solid and steering was true. these tires excel in the wet, snow and ice. for an all season this impresses me to no end.
As with every all season there must be a con, a give to the take, for these tires. All seasons are in the end a compromise by their very nature. So then what are the cons of these tires? Well to be honest I haven't found it yet. The road noise is low, tracking is great, stopping is great, ride comfort is great, cornering is great and wet/dry/ice traction seems to be endless! to top this all off they claim to be made with low rolling resistance compounds, which to me usually means noisy, traction-less POS tires but so far this doesn't seem to be the case. My MPG goes unchanged as I have still be seeing 26 MPG high way and fuck all city (but that's not the tires fault). Still digging deeper for a con Pirelli rates these as a 70k tread life tire. now this is pure
conjecture but I don't think for a moment this is going to be fact. these tires just seem to sticky and soft to get any where near that tread life, how ever only time will tell!