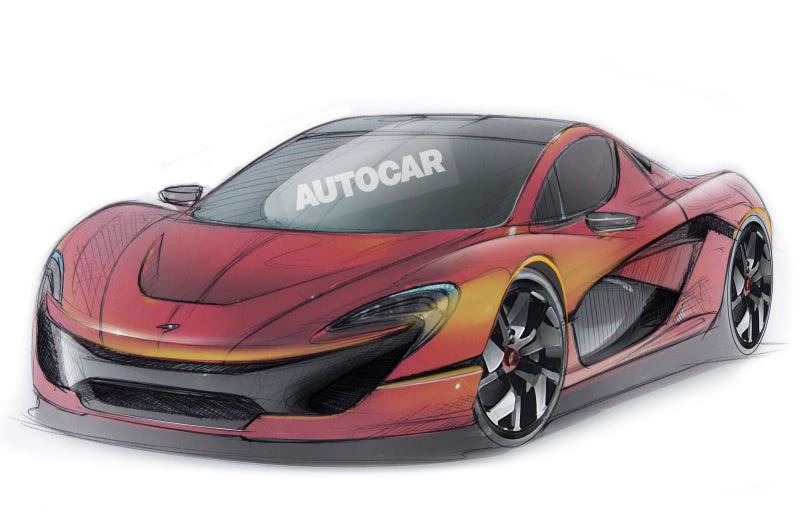 The forthcoming McLaren P15 will slip into the stream between the generically fast McLaren 12C and the ungodly fast McLaren P1, utilizing the same basic engine, chassis, and styling components that make McLaren the only supercar manufacturer able to truly challenge the likes of Maranello since Lamborghini.
Still to undercut the supercar-bred speed that McLaren currently produces, the P13 is due to arrive sooner, and cheaper still, opting to take on the 911-owned market instead of endlessly chasing red. Remembering that McLaren doesn't have the luxury of being owned by a Fiat or a Volkswagen, as do Ferrari and Lamborghini, the British automaker must continue to meet evermore rigorous emission standards, placing their constant use of twin-turbocharging in a more tolerant light; this helps explain why they have opted to strap them to an already potent V8 in the upcoming P13.
McLaren have taken the intelligent route by effectively creating 4 separate models from one. The Woking firm will only share the carbon monocoque chassis and the base V8 engine (and possibly some other small miscellaneous parts), which were both developed for the 12C. This asset sharing ensures cheaper research and development costs for a new model as a whole, or better yet, a transfer of development costs from the main components to crazy-inbred-supercar-gadgetry; considering the recent rumors of Jedi-trickery, probably the latter gadgetry.
recent picture of the McLaren headquarters in Woking, UK. The building on the left was recently build to accommodate the british automaker's increase in supercar production.
AutoCar's inside sources have revealed some early details surrounding the purported P13 and P15 models:
Pricing for the two models will also differ wildly, with the P15 likely to go on sale for around £400,000. By comparison, McLaren is pitching its P13 at a price point of £120,000.
With McLaren already planning a 458 Speciale competitor and the P1 racing with LaFerrari, the question arises of what Ferrari model they were targeting as a competitor for the P15; perhaps none.
The 12c sealed out the chassis and components, the P1 stormed the hearts of the enthusiast (elevating the brand), the P13 will bring the ideas back to earth, and the P15 will capture the profits.
The McLaren strategy is obviously more complicated than described above, and I'm not trying to suggest that none of the other models make money, but in a nutshell this is our view of the birth of a true supercar corporation that can challenge Ferrari, and perhaps move on to challenge the global market as a just a plain and simple car brand.
[sketch and quote from AutoCar]