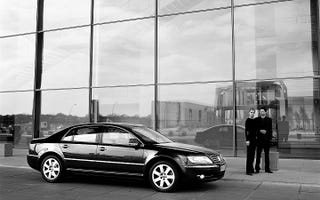 From its beginnings, the Volkswagen Phaeton was a car that got people talking. When it launched in 2003 for the 2004 model year, the car-buying public was stirred by what it saw: a full-size luxury sedan proffered by a non-luxury brand. In the U.S., the Phaeton was offered with two engines: a 335hp V8 and 420hp (later 444hp) W12. In Europe, a V6, V6 turbodiesel, V8, V10 turbodiesel, and W12 were available. Volkswagen took a decidedly ambitious leap, adding a $100,000 12-cylinder luxury flagship to an otherwise non-luxury lineup. The base price of the V8 model in 2004 was $64,600, and $94,600 for the W12. In Europe, prices were even higher, with the V8 model starting at €73,350 ($82,500). By comparison, Volkswagen's most expensive sedan prior to the Phaeton was the Passat W8, with a base price of just $37,900.
The Phaeton was an enormous investment for Volkswagen, which spent approximately $900 million on its development. Volkswagen's initial U.S. sales target was 5,000/yr., but annual sales never topped 1,500. Citing high losses in the North American market, Volkswagen pulled the Phaeton in the fall of 2006, after just three years of sales.

The Phaeton's U.S. failure can't be blamed on marketing, at least not entirely. It just wasn't a car that clicked with any American target audience. Non-luxury buyers couldn't afford it. New-luxury buyers (for whom status and image are strong purchase-drivers) weren't drawn to the brand. Old-luxury buyers avoid the new, sticking with tried-and-true. So just what was the market for the Phaeton in the United States?

Volkswagen's answer: "transcendent drivers." In other words, Volkswagen marketed the Phaeton to luxury buyers less apt to judge luxury by a nameplate. "It's the people who go into Starbucks because they like the coffee but pour it into a generic cup because they don't like the label," said author James Twitchell. The problem is that this kind of American is a rarity. Volkswagen found more transcendent drivers in Europe, and even more in Asia.

Volkswagen invested considerable time and money in its efforts to sell the Phaeton. This included research, advertising, promotional events, special lease offers, and cash incentives. VW first enlisted the help of wealthy socialites in Los Angeles and New York; these socialites each invited a total of 50 friends to dinner parties, which Volkswagen marketing staffers attended anonymously. The hosts were encouraged to steer the conversation toward cars, and guests collectively voiced a strong allegiance to BMW and Mercedes-Benz. Only one in eight was identified as a transcendent driver.

Volkswagen again approached American luxury consumers in 2003 when it partnered with W Hotels. The automaker and the upscale hotel chain collaborated to stage test-drives and exhibits for W guests in New York, Chicago, San Francisco, and Los Angeles. Invitations were mailed to 50,000 BMW and Mercedes-Benz owners. What followed was a series of onsite test-drives and shuttles for preferred W guests. Volkswagen presented a bottle of wine and corkscrew set to each person who took a 24-hour test-drive. The W/Phaeton campaign subsequently won the Promotion Marketing Association's "Reggie" Award for best regional market promotion over $1 million.

In Germany, movie stars were transported to the 55th Berlin International Film Festival in Phaetons in 2005. The Phaeton received prime exposure at the festival, which attracts 16,000 film industry professionals each year.

In 2005, Phaeton sales went into a steep dive in North America. While Volkswagen AG ambitiously promoted the Phaeton in Berlin, American dealers offered large cash incentives on remaining 2004 Phaetons. The annual sales target was lowered to 2,000. Volkswagen mailed offers to 100,000 owners of BMW, Jaguar, and Mercedes-Benz vehicles to test-drive the Phaeton for 48 hours. In November 2005, the announcement was made: the Phaeton would ride out the 2006 model year, and then withdraw from the United States. While German sales of the Phaeton were averaging a steady 2,000 – 3,000 a year, U.S. sales dropped steadily, sealing the car's fate.
A Noble Effort
Over the car's 3-year run in the U.S., executives, dealers, and journalists reached a near-unanimous conclusion on the Phaeton's U.S. failure: a non-luxury brand does nothing to enhance a driver's image or status. Jim Sanfilippo, analyst with AMCI Detroit, predicted the Phaeton's failure in the American market shortly after its launch. "Phaeton is a spectacular automobile, up and down. The dilemma is that the car's all there [except the] badge, and that matters because the people who buy these things aren't purists. Many buy on reputation and instant prestige, and autophiles know Audi is [Volkswagen's] upscale product."

While not a volume seller, the Phaeton enjoyed relative success in the German market. Not altogether shocking; to Germans, it was a domestic product. While the term "import" carries prestige in America, Germans historically do a better job of supporting their own economy by buying German products.

Engine variety may also have been the car's saving grace in Germany. The European Phaeton is available with five engines, including two V6s and two diesels. When launching a full-size luxury sedan in the U.S., however, automakers are limited in the engines they can market. Historically, luxobarges with anything smaller than a V8 have been criticized as underpowered in the U.S., and diesels are still gaining acceptance. Volkswagen didn't launch anything beyond a V8 and a W12 in America because nothing else had a chance.

Volkswagen knew the Phaeton was a risk. Moving a brand upmarket is a difficult task, especially when that brand tries to move up with a car that, when fully equipped, costs more than $100,000. The Phaeton, says David Menzies of the journal Marketing, was simply too ambitious. "It's easy to bring a brand down-market. But bringing a brand up-market – even an established, world renowned brand – is extremely difficult, perhaps impossible."