I scored a pair of New Quad wheels for the rear of the trike for less than half of regular price (Blems).
Next I have to wait for a deal on 2 Swamp Lite Tires in a 22x10-9 and the rear is done.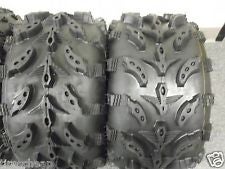 Mmmm Swamp Lites. These are some freaking awesome ATV tires here.
The front is going to be a bitch. To get the tire I want up there I have to swap the triple tree, Master Cylinder and hub from a different machine on. Mainly because I want to dump the front cable operated Drum brake for a Hydraulic Disc. Or.. I could go cheap and find a 9" steel wheel that I can adapt the Drum brake to. Still iffy on that.
In the mean time I still need a gas tank, front fender, re-pop sticker set and "dashboard" assembly to correct the cosmetics.
Then I can start working on the other trike..
You think you hate it now? Wait till you ride it!