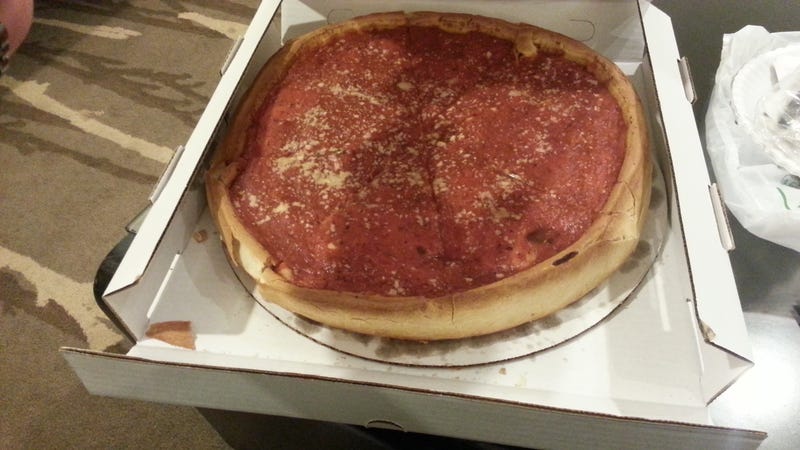 An unplanned overnight in Chicago at a hotel one mile from a Giordano's meant a full belly. Behold a true Chicago pizza. The "Old chicago's" chain is bullshitting you. [EDIT: improved review!]
So I called them on the hotel van from the airport and asked, "How big is the large?" Their answer?
G: "14 inches.....Well, how many are you feeding?"
Me: "Three hungry guys!"
G: "A medium should do that."
Me: "Send the large Special!" And it arrived an our after the call. It's so deep it takes a while to cook. We're talking about an inch and a half deep.....and $36.50 delivered.
Unboxing:
1 of 8 slices. It sort of looks like a disemboweled sea creature with all the cheese. I powered through 2.5 slices. Of us three, one single piece made it out alive....but it's in my hotel refrigerator now waiting for later today to be split up.
And to keep it a car related thread...here's another deep dish.
In summary, the special is Sausage, mushroom, green pepper and onion. The sausage pieces are true nice chunks of italian sausage, the mushrooms are sizeable and real ones and the GP and O are good strands and not chopped up alot. It's a great treat once in a while but I can't imagine eating it with the same frequency as we all eat our usual delivery or red-baron stuff. You'd be as big as 'the refrigerator' Perry. KNIFE AND FORK!