In case you've not heard of this, it's a 24 day endurance rally driving the road to Mandalay starting at the Raffles Hotel, Singapore, and drive up through Malaysia into Thailand and on into Burma, finishing in Rangoon after driving the road to Mandalay.
One car that will be taking part is a 1973, Datsun 240Z from Raceworks Motorsport here in the U.K. they have teamed up with Gtechniq to provide protection for the vehicles paint making it more repellent to dirt and mud and also easier to clean (it may sound odd but Gtechniq have been providing this service for Subaru for the World Rally Team from 2009 and Force India Formula One Team).
14.01.2015
Gtechniq joins Raceworks on the road to Mandalay
Leading ceramic surface protection manufacturers have reaffirmed their support for motorsport, today (Wednesday 14 January), this time backing a team embarking on the road to Mandalay.
Northampton-based Gtechniq, the surface protection experts, have joined forces with Raceworks Motorsport, to increase the efficiency of their Datsun 240Z during the Road to Mandalay endurance rally, this February.
The 24-day rally across Malaysia, Thailand and Burma is set to test the cars and their drivers' performance and skills. Gtechniq's C1 Crystal Lacquer and EXO Ultra Durable Hybrid coating have been used to prep the car, making it easier to maintain during the almost month-long journey.
Rob Earle, managing director of Gtechniq, said: "People underestimate the impact that having a dirty car can have, not only on safety, but on the performance of a car too.
"With Gtechniq coatings on the Raceworks Datsun, dirt particles, which are often unevenly distributed on a car, are less likely to create drag as air particles cling to the grime. It will obviously also help the driver to ensure the car stays much cleaner in the dirtiest of environmental conditions."
From Sunday 1 February 2015, well-known historic car racing driver and owner, Grant Tromans and his navigator for the event Simon Russell, will be embarking on this Endurance Rally Association venture in the Raceworks Motorsport prepared 1973 Datsun.
Mike Purse, a director of Raceworks Motorsport, said: "We have been treating our circuit racing cars with Gtechniq products this season with great results, so we are really looking forward to testing them to the extreme with our Datsun 240Z on this endurance event covering so many types of terrain."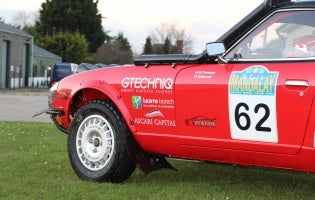 Pictures below are from the London to Cape Town Rally.
The list of cars taking part is impressive and varied.
This is what cars are made for. Not to be garage queens but driven and driven hard.
I guess an interesting couple of cars to watch are number 15 and number 16.
| | | | |
| --- | --- | --- | --- |
| 15 | Mike Butler(GB) / Georgie Machell(GB) | 1939 - Chevrolet Coupe | 3400 |
| 16 | Bill Shields(USA) / Scott Herbstman(USA) | 1938 - Chevrolet Coupe | 4500 |