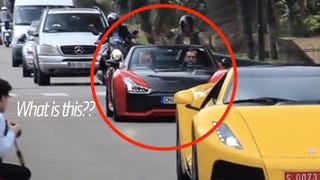 Earlier today, our very own Deputy Editor in Chief could not identify a car! Ugh the travesty, the humanity, the gal, the….I can't think of any other sayings so we can stop there. I recognized the car immediately by the shape and distinctive front grill. The only problem was I couldn't remember the name either! I apologize for earlier remarks. I knew it had been on Tech Toys 360 so I did a little googling and found it fairly quickly, The Roding Roadster. Now the rest to come is to acquaint everyone with the car that allows billionaire playboys in Monaco to go under the radar and get Auto Journalists all confused.
The Roding Roadster is the creation of the Roding Automobile Company. The company was founded in 2008 after a team of students won first place for the Engineering Design Award. The Chair of Industrial Design at Munich TU, Professor Fritz Frenkler, led the company's founding with the other company prinicipals include Gunther Riedl, Georg Kasmeier, Robert Maier, and Ferdinand Heindlmeier. However, Roding Automobile GmbH was set up by Johann Stangl and Stegan Kulzer. None of which have graduated high school yet!
(Just joking, but seriously what have you gotten up to lately?)
The Car
Roding says that the "design characterized by strong personality and the sportiest handling – the Roding is solely designed for your individual personal expectations." This car is serious performer. It may not be the normal supercars of Monaco with their million horsepower and five billion pound feet of torque, but it can handle, or at least so I'm told, anything you throw at it due to its lightweight construction. Speaking of the lightweight construction, this car weighs nothing and gives this car the agility and performance of much higher horsepower cars. It only weighs 960kg. And combine that amazingly low weight with 320 hp out of a BMW sourced transversally mid-mounted Inline 6 cylinder and you have one serious machine. Roding is quoted that the car can achieve 1.4g off the line. The car is constructed of a carbon fiber tub with a hybrid of carbon fiber and aluminum front and rear sections. The carbon tub, and hybrid sections allow the cars chassis to only weigh 120kg. Which is almost me!
In addition, what's even better news than a super low weight, it comes in a proper 6 speed transmission! Three pedals for all…well the very wealthy of Monaco at least. The power from the Inline 6 is sent through the transmission to a conventional Limited Slip Differential for all your honing purposes. The designers say that the car even sideways is very easy to handle and is very nimble through the corners, and given the low weight, the manual box, and the hp figures I am inclined to believe them. The car can also be optioned with a semi-slick tire compound for maximum performance, giving the car a much more race car feel. Additionally to the more racing style tires, the car has fully adjustable suspension setup allows the individual user to change the load settings for the type of driving they will be doing, such as for the track or the street, and in Monaco, the street is the track so your pretty much golden.
What's also great is that this car is a Targa. Oh yes you read that right. The carbon fiber tub is strong enough and rigid enough that the designers were allowed to chop the top off this car without losing any of its performance credentials. Targa's make every car better. Do you hear that Toyota, I want a Targa FR-S, with a bit more power!
(That guy in the passenger seat looks suspiciously like our Dictator in Chief?)
The car's outer design may be a bit wonky from certain angles, such as the ¾ front facing angle, but it is undeniably a cool looking car and one that was bred and designed to tear up the streets and tracks. The wide body, the gapping fender flairs, and the exposed bare carbon all give it a fantastic look. While at home more on the track, it is obvious why this car belongs in Monaco, and with a price tag of a whopping $266,000 it's pretty much the only place that someone would buy one.
You can find me here on Twitter
Also check out Sittin Waitin Wishin with the Volvo S60 R Design
And 3D printing from Local Motors
Photo credit to Roding Automobile
Technical Data
Sorry it's a bit wonky.
| | | |
| --- | --- | --- |
| Dimension | LxWxB [mm] | 4106 x 2024 x 1190 |
| Wheel base | mm | 2495 |
| Track front/ rear | mm | 1620/1610 |
| Weight distribution front/ rear | % | 40/60 |
| Trunk volume | [L] | 330 |
Weight
| | | |
| --- | --- | --- |
| Kerb weight | kg | 950 |
| Weight/power ratio | kg/PS | 2,98 |
Engine
BMW 6-in line gasoline engine, transverse configuration, with exhaust turbo charger, charge air inter cooler, 4 valves per cylinder, direct injection and Valvetronic.
Displacement
ccm
2979
Nominal power @ RPM
KW (PS) @1/min
235 (320) @ 5800 - 6000
Max. Torque @ RPM
Nm @ 1/min
450 @ 1300 - 4500
Fuel type
Super Benzin
Emission class
Euro 5
Drivetrain
Rear wheel drive, manual six-speed transmission with mechanical limited slip differential (TORSEN system with up to 40 % locking ratio).
Suspension
Fully independent suspension in double A-arms (CNC milled), shocks with premium valve technology, rebound and compression rates adjustable by two numbered wheels, adjustable ground clearance, toe and camber adjustable, adjustable anti-roll bar front and rear, rack-and-pinion steering with optional servo support. Hydraulic two-cycle brake system with ABS.
Performance
| | | |
| --- | --- | --- |
| Maximum longitudinal acceleration | g | 1,3 |