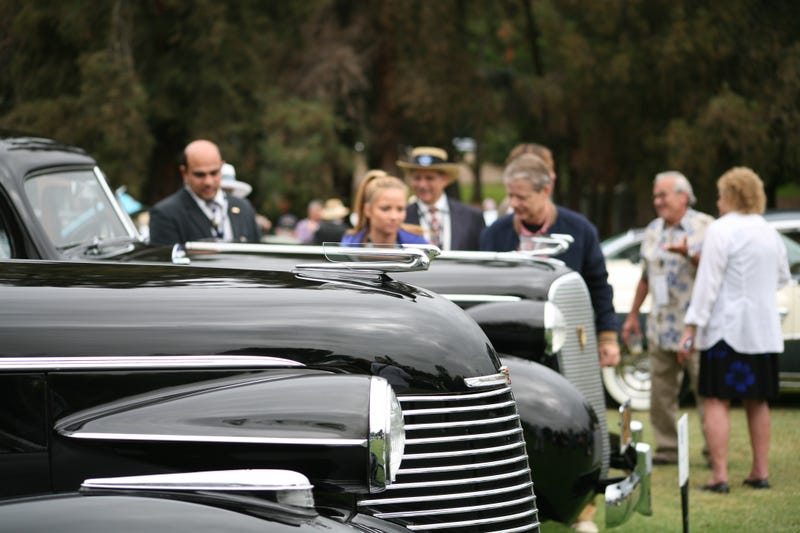 The word Concours has meant something special for quite some time, and the San Marino Motor classic was the perfect reminder of just exactly why. A vast number of perfectly restored or preserved rare cars took over a park and filled it with the joyous smell of gas for a day.
Fortunately, as of last year, the San Marino Motor Classic now allows Japanese classics in. Though the class was small and comprised of less than 10 cars, it was a fantastic example of quality over quantity. Other than this Nissan Figaro, there was also a perfect condition Celica A60 convertible, a Datsun 240Z and 2000 Roadster, a Mazda Cosmo, and the true oddball of the bunch, a Hino Contessa.
The ever so lovely Lotus Evora 400 was brought out by the Sage Auto Group and West Covina Lotus. This is 1/2 currently stateside, both preproduction cars.
Though it isn't as great an example of perfection as most of the other cars on display, this Maserati Sebring was one of the best examples on display in the preservation class. Check out those classic Arizona plates too!
Boattail? Boattail. The details of this car were absolutely spectacular.
It's good to know the factory already flogged the car before you got it.
It's beautiful to see how woodys wear. Just look at that joint!
Let's see if anyone recognizes what this Czech masterpiece is. They sold it well prepared!
And yet another masterpiece, this one coachbuilt.
It's loud. Really, really loud.
Who needs a Daytona when you have a GTC/4? Well, everyone with style...still a very cool car though.
This is the first Ferrari 400i I've actually liked.
See that engine? It and the 6-speed gearbox behind it were robbed from a 575.
Yes, there was an F40, F50, Enzo and LaFerrari next to it, but the 288 is always the real star in my eyes.
More woody love.
The Muntz is one of the most simultaneously hideous and stunning cars at the same time.
Gullwings on Gullwings on Gullwings.
This beautiful Esprit V8 was owned by the owner of the Evora 400 and GTE, along with a race-prepped Elite.
Oh you know, just cruising around in my Bentley 4 and 1/2 liter.
My absolute favorite car there wasn't worth absurd money, but it was sure something special. Yes, that's a Cord. No, it doesn't have the original engine.
Instead, it has an LS1. I know, I know, but wait a minute before you grab the pitchforks. Attached up front (yes, front) was a Porsche G50 gearbox, along with some Rolls Royce hydraulic parts in order to make it work properly with the factory preselector!!!
As the awards were given out, some more spectacular cars that I missed before were driven by.
Too drained to take any more photos, I sat down and just watched the amazing parade go by.