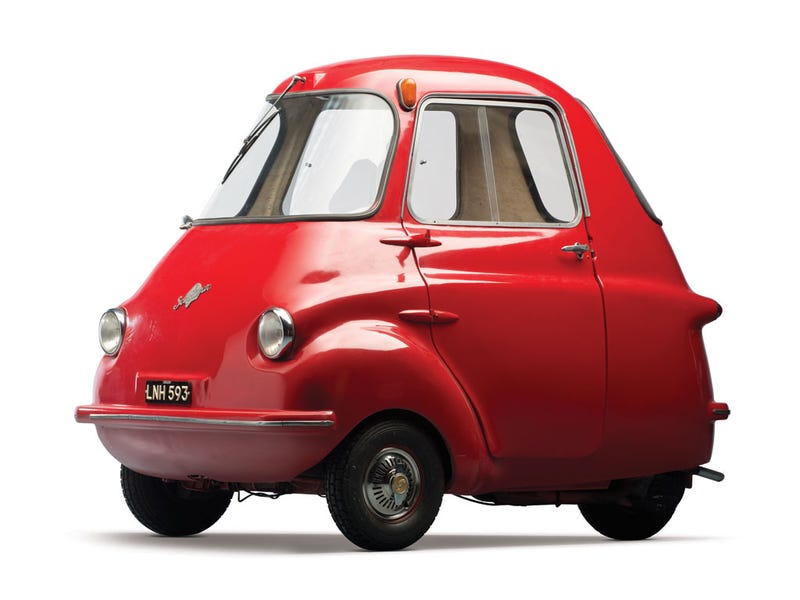 The Hunslet Engine Company is one of England's oldest locomotive manufacturers. In 1957 they hired Henry Brown as new products manager. Brown's previous venture was "designing" and building a microcar called the Rodley. It was maybe the worst car ever made.
Looking like a 5-year old's drawing of a car, it was the cheapest 4 wheeled vehicle available at the time and featured a 750cc air-cooled twin in the fully enclosed engine bay in back. Of course an air-cooled motor needs air to, well, keep cool something the Rodley's design inexplicably failed to take into account. It's thought they built around 50 of them and most of them overheated and then burned like a new Ferrari. Somewhere 1 survives.
Still, when one of the directors at Hunslet's wives wanted a car that was easier to park than her Jag, they turned to Brown since he was the only one with any kind of automobile experience. Microcars were a hot market in England in the late 50's and Hunslet figured why not toss their hat in the ring. Brown penned and built a prototype for a 4 wheeled microcar that again constantly overheated. I don't know what the guy's problem was, but he clearly had a blindspot in his car engineering skills. But, then he came up with a novel idea. He got a trusty Villiers 200cc single cylinder motor that powered many a British micro, put a chair over it and sat down. He then had an assistant draw a chalk outline on a board next to him and, voilá, he had designed a car.
It was a three-wheeler which meant it fell it the lowest tax bracket for motor vehicles, a big selling point in those days. The Villiers remained and the body was made of sturdy and light fiberglass. The body shell was made in two pieces, left and right halves for easy construction. It had a strong steel floor for rigidity.
The seating arrangement was unusual to say the least.
It was advertised as a covered scooter, which is pretty accurate. It even had handlebars instead of a steering wheel, but the rest of the controls were car-like. The Villiers made 8.5 horsepower giving it a top speed between 45 and 50. It went on sale in 1958 for £350. Even though Hunslet had only made trains, or maybe because of it, the Scootacar was quite well built and got good reviews. It wasn't as crude as a Bond or Reliant and, as requested, its size and shape made for miraculous parking in crowded London. For some reason, though, Hunslet barely promoted the car and took it to no motorcycle shows which is where microcars always debuted.
Still, word got out and a few hundred were sold. After a year of production, Hunslet decided it needed a facelift which turned into almost a complete redesign.
Even though the original was fairly roomy inside for a car that small, they pushed the nose out to give it even more space for a much more comfortable interior.
It's downright luxurious. The driver has a proper seat now and you can fit a full sized human in the back which I can vouch for as I've ridden in one.
As the 60's dawned, however, people were seeking out cars that looked more like real cars. Hunslet tried a "performance" version with a 324cc twin engine that was apparently a screamer relative to other microcars, but it was too expensive for what it was and Hunslet was back to building solely locomotives by '64 having not made any profit on Scootacars. At least that lady wasn't struggling parking her Jaguar any more, though.
My favorite Scootacar story comes from when they were testing the car at a track in Belgium. Drivers were told to go as fast as they could. One guy, motorcycle trials rider John Wilkinson, took this to heart and was really hooning when he went off the paved track and hit a grassy bank. The nose of the Scootacar apparently dug in which caused the car to roll forward and onto its roof. Momentum kept it going and it performed a perfect somersault ending up on the wheels again when Wilkinson gunned it and finished his lap! That's a heck of a trick. Despite looking unwieldy, they were actually quite stable which I noticed when I was in it. The center of gravity is low enough that it won't tip and probably helps when you want to try acrobatics.
A great detail on the mark I cars was the badge which featured a little Scootacar.
There are a few here in the States. There's a rough one about an hour from me here in southern California and that white mark II lives at the incredible Lane museum. I bet you could talk Jeff into trying some stunts with it.