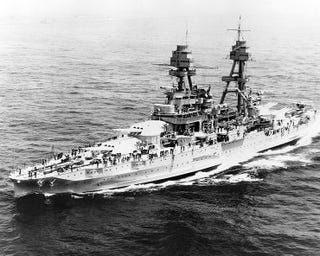 Both Pennsylvania class battleships, USS Pennsylvania and USS Arizona. Both of these ships were state-of-the-art prior to America's entry into WWI with 12 rifles of 14-inch diameter and would've been competitive with even the best European battleships of war's end, 1918. During the inter-war periods the battleships were massively upgraded including better command and control facilities (a vastly expanded bridge and tripod towers replacing the dodgy "cagemast" towers) and the removal of the rather useless "casemate" guns originally designed to destroy torpedo boats and smaller destroyers, now outranged by inter-war destroyer and especially cruiser armament. The tonnage saved on their removal went into dual-purpose guns that can shoot at both ships and aircraft. They had remained at this state up to December 7, 1941. The fate of USS Arizona is now a part of the very fabric of the basic history of this nation; USS Pennsylvania was in drydock which ended up providing useful shelter to the ship. Pennsylvania received a single bomb hit to one of the aforementioned dual-purpose guns which was readily replaced. The biggest impediment towards returning Pennsylvania to service was clearing and cleaning up the harbor itself for passage, particularly USS Nevada's grounding (more on that when we get to that ship) and two heavily damaged destroyers sharing drydock space. Pennsylvania would later serve in a number of campaigns including Iwo Jima, Okinawa and the Battle of Surigaio Strait, the last battle in naval history where battleships engaged other battleships. Pennsylvania, an ancient and worn-out ship by 1946, was expended as a nuclear bomb target. After multiple nuclear bomb hits (one each test) the vessel was loaded with other items such as planes and small boats that had been irradiated from the same testing and pummelled with torpedoes until the ship finally went under.
Both Nevada class ships, USS Nevada and USS Oklahoma. More or less slightly older versions of the Pennsylvania class with only 10 14-inch rifles instead of a full 12. Again they had received massive upgrades to the same standard by 1941. Oklahoma was caught moored on the outer edge of "Battleship Row" and capsized after multiple torpedo hits. Oklahoma was consequently raised and righted; there had been serious plans to rebuild the ship back to fighting condition but the capsizing had been so catastrophic it would've been more beneficial to simply build a brand-new battleship with the latest warfighting technology (or better yet: an aircraft carrier). Oklahoma was unceremoniously sold to scrappers, but as if the sea itself thought such a fate distasteful, the hulk was caught in a storm while under tow and sank in deep water where the vessel still lies today. Nevada actually tried to make a run for it in between the first and second wave of attacks, having recieved light damage during the first wave; caught during the second wave, Nevada received enough damage that the captain ordered her beached to prevent a more catastrophic sinking. Although a heroic action with consequences that couldn't have been ancitipated in the heat of battle, the beaching of Nevada ended up doing arguably even more strategic damage by restricting harbor access, but such is more than outweighed by the lives onboard saved. Nevada was consequently moderately rebuilt to the standard depicted in the above photograph, with modern dual-purpose 5-inch 38-caliber guns as featured on the latest destroyers and battleships, and more importantly, a radar setup that gave Nevada a major advantage in the Battle of Surigaio Strait. Like Pennsylvania, Nevada was expended as a nuclear bomb target and when those failed to sink the hulk, more modern Iowa class battleships and naval aircraft pummeled the wreck in successive target practice use until finally sinking.
Two Colorado class battleships: USS West Virginia and USS Maryland. They were the very last battleships built during the WWI period, actually launching and seeing service in the 1920s and were the very last new American battleship construction allowed under the Washington Naval Treaty which outright banned battleship and aircraft carrier construction (but which the Germans and Japanese paid little ultimate attention to). They were equpped with just eight rifles, but eight 16-inch diameter, 45-caliber rifles which not only made them among the most powerful fighting ships of the 20s but allowed them to be competitive with even modern WWII-era battleships in terms of raw firepower. They also carried new design and thinking of battleship construction right from launch, from which nearly all other battleships in the fleet would be upgraded to (aside from retaining the, uh, cagey cagemasts). Thus both Maryland and West Virginia were little changed by 1941. Maryland was actually protected by Oklahoma's sacrifice, recieving two bomb hits and quickly put back to service. More effective, newer-model dual-purpose guns would be installed, and the aft cagemast would be cut down and converted into an anti-aircraft platform, but other than that little changed during the numerous campaigns the vessel fought in. West Virginia, like Oklahoma, suffered major damage eventually sinking and settling into Pearl Harbor's muddy bottom.

West Virginia would be raised and rebuilt to a radical standard, ending up a unique vessel in the US Navy apart from her former sisters. So extensive was the rebuild that the ship wouldn't be available until late 1943 when the war had already shifted to the Allies' favor. West Virginia would still be active for a number of campaigns, including with her sister Maryland at the Battle of Surigaio Strait where argubly she was the most powerful vessel present. After the war both ships would be scrapped after spending decades in mothballs.
Both California class ships, USS California and USS Tennessee. The California class was identical to the newer Colorado class except with 12 older 14-inch rifles instead of the newer 16-inch 45-caliber rifles, and likewise would receive only paltry modernization up to 1941. Both of these ships would also be sunk, settling into the mud like West Virginia. And like West Virginia, they would also be massively rebuilt to the same standard with a much wider hull with much improved torpedo protection and modern 5-inch 38-caliber dual-purpose guns and resembling much newer battleships instead of their prewar counterparts. Again, both ships would later go on to serve in a vast number of Pacific battles starting from late 1943 - and again were present at Surigaio Strait, an action that's sometimes referred to as "Pearl Harbor's Revenge." The most modernized vessels and the vessels with the most raw firepower - California, Tennessee, West Virigina, Maryland and Pennsylvania, all Pearl Harbor survivors - would contribute the greatest damage done to the Japanese battleships during that action. Most of the credit for the American's success would actually go to the advanced radar sets the battleships had been rebuilt with, particularly Tennessee, Caifornia and West Virginia's Mk 13 fire control radar which was practically a state secret at the time. Tennessee and California would be scrapped in mothballs decades after the war, California's name being stricken for reuse on a new kind of wonder-ship: the nuclear-powered guided-missile cruiser.
One Florida class battleship, USS Utah. The Florida class was considered outdated even before the US entered into WWI, and most of the class had been phased out and scrapped before WWII. Utah was in fact spared for use as a target ship and was being refitted for yet more target practice on December 7. Due to extensive planking covering the ship for this target duty on that date, it's theorized the Japanese Navy pilots had mistaken the vessel for an aircraft carrier, considered most prized of all as targets during that attack (as it happened to be, the US Navy's critical aircraft carriers had deployed to sea, sparing them for the war-changing battles to follow). Despite the target practice nature of the ship, there had been a number of personnell onboard outfitting the hulk; these men and the ship itself still remain at Pearl Harbor as a designated war grave. If these personnell had managed to escape or not be present, most likely the Utah's hulk woul've been raised and immediately recyled of its badly needed raw material.
There were also numerous cruisers, destroyers and other ships present. Of the three equally precious cruisers damaged, all of them - Helena, Raliegh and Honolulu would be returned to service after suffering only light damage. Raleight, an Omaha class light cruiser (the first class of cruisers in US Navy service officially designated as such) was a fast and advanced ship when launched soon after WWI, but was outdated by Pearl Harbor. Despite listing from a torpedo hit she was quickly returned to service, but the Omaha class' obsolecense mostly meant secondary actions througout the war (a few were actually freely leased to allies, namely the Soviet Union). Both Honolulu and Helena (pictured) were members of various subclasses of what had become the standard pattern US Navy interwar light cruiser - no less than 15 six-inch diameter rifle barrels across five turrets, the fifth turret sitting hunkered down between the forward two batteries and the superstructure. Both ships would fight repeated battle after battle against similar Japanese Navy vessels. Honolulu would in fact lose her bow at the Battle of Kolombangana and would get a new one before retiring after the war and being scrapped in mothballs. Helena would be sunk in the Battle of Kula Gulf with devistating loss of a life, an incident almost as remembered as the Pearl Harbor attack itself.
Image from Navy.History.mil
Perhaps one of the most iconic images of the Pearl Harbor attack is this image, of USS Cassins resting against USS Downes. Despite being in the protection of drydock both ships were heavily damaged and declared total losses, their internal components such as engines and other machinery as well as armament being shipped off to be incorporated into a pair of new destroyers commissioned with the same names and even hull numbers. All two (or rather four) ships were Mahan class destroyers, which were behind the Fletcher class ships then under construction but still very competitive with the typical European or Japanese destroyer. Both ships had served in a number of Pacific campaigns before retiring after the war and eventually being scrapped.
A third Mahan class destroyer, USS Shaw, would also be sunk, requiring a very extensive rebuild (as pictured here). Shaw would later return to service and after a large number of campaigns would also survive the war but not the scrapper's torch.
Another iconic vessel of the attack is the USS Vestal, a repair ship named in the then-US tradition of auxiliary repair ships being named after Roman gods and goddesses. As anecdotal stories go, Vestal was spared all but light damage as her relatively light draft allowed torpedoes to simply swim right beneath her and slam into the vessel Vestal had been moored alongside - USS Arizona. Vestal would continue to be a valuable repair asset until the end of the war when this ancient WWI leftover would be scrapped.