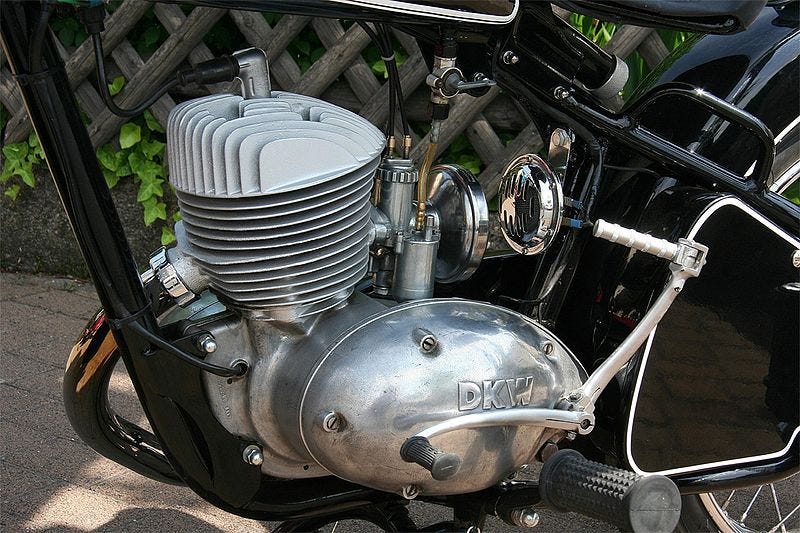 Yesterday I made a post on the single cylinder engine I would want to make. There was some confusion on feasibility with the concept that I'll clear up in this post. Plus some advantages and disadvantages with the engine.
The main gain a single cylinder engine has on something like a I3 or V12 is simplicity. There's only one of everything and so long as it's a two stroke they don't have a valve train. As our V Twin lover friends (should) know that most two stroke engines use carbs. Most single cylinders are the same way, but have a gain in lightness, torque, and simplicity. In most applications the vibrations of a single cylinder is manageable, and others intolerable. They also need more flywheel effect, and need strong components to keep the engine from shaking itself to death, thus more weight. An obvious drawback is the lack of hp. The highest recorded so far has been 70 hp from the KTM 650 Duke R. Though it doesn't sound like a lot it pushes the bike well past 150 mph (2014 model).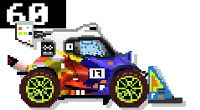 To start off the single cylinder engine I came up with is based off a 8-bit hillclimb micro car with a 1197 hp 1cyl engine. My concept doesn't make nearly the same horsepower, but well over 70hp. To lead into the build, the engine would be two-stroke (compared to the earlier four stroke from my last post). It would be air cooled to keep it light and simple. To increase horsepower, torque, lightness, and fuel economy it would be direct injected. The block would be aluminum lined with steel. The same would go for the crankshaft though more steel than aluminum would be used. The headers would be magnesium. The piston would be aluminum. There would be three spark plugs to increase power, have a cleaner burn, and if one goes out the engine can continue to run.There would also be a nicely sized fan to help keep the engine on the cool side.
Now onto the big guns...the ELECTRIC SUPERCHARGER...the main power house to our est. 100+ horsepower single cylinder. The very large compressor would be made of CF and be lined inside with aluminum to keep any air from leaking from the the walls and be pushing around 70-90psi. There would be no lag and be light weight since there isn't an exhaust turbine to restrict building materials. The supercharger would have a fairly large, rear mounted intercooler. To keep vibrations low while not having to go big with counter balances and flywheel effect, the revs would be under 8000 rpm (can't put all this stuff on and not have super high engine destroying revs). The engine mounts would also have dampers to keep the vibrations minimal. The transmission would be a 5-speed manual or a semi auto cvt to to hopefully lessen the chance of liquification.
With all that I would est. about 150-190 hp in a car smaller than a BAC Mono and lighter than a SMART Roadster + great aero would make a very power full single cylinder car. I'd really only use this engine in short races and hillclimbs instead of something like the LeMans for cooling reasons. You'd look like this guy in the drivers seat pretty much:
What do you guys think? Better? More confusing?
*Disclaimer: THIS IS A JOKE. I KNOW THIS IS A RETARDED ENGINE I MADE IT THAT WAY. I WAS BORED DURING LUNCH AND THOUGHT TO FUCK AROUND A BIT JEEZ.*