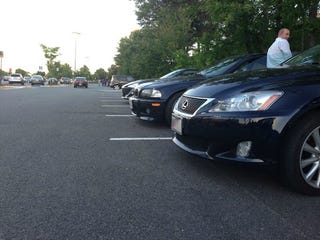 Welcome Jalopnik readers to a new segment where, I, as your intrepid reviewer get ten minutes to drive three cars and make some sort of meaningful, ideally insightful and maybe even witty, comparison.
The goal is to take less than ten minutes to test the cars, less than ten minutes to write the comparo, and less than ten minutes to read it. I can say now, that as the inaugural version, I am going to blow by ten minutes in writing time because I want it to be legible and suck as little as possible. Your results may vary with regard to reading time.

(Full Disclosure: Lexus wanted me to drive this particular 2009 IS250 so bad that they gave me 72 months to finance it. The BMW and FR-S belong to friends who I was having dinner with in order to plan some fun automotive video productions. Stay tuned to Jalopnik for that!)
(Additional Disclaimer - Since I got so many replies from folks who didn't read the fine print, this was not a manufactured test, this was three guys standing around after dinner who all had interesting cars (well they did, I had a Lexus). I realize there are better comparisons to be made. Stay tuned, ideally I will be providing just that in the near future (with their help); maybe with some hi-jinks thrown in for fun.)

On to the review. Today's contestants run the price gamut and can be purchased today at your local automotive dealership type lot starting around $20,000 and peaking around $30,000. They feature naturally aspirated engines and hail from Japan and Germany. And Japan. The model years span almost a full decade starting with the 2004 BMW E46 M3, making a pit stop circa 2009 for the IS250 AWD and ending with a brand new 2013 Scion FR-S. Two coupes and a sedan. Two six cylinders and a 4 banger. Similarities abound, but so do differences. Clock is ticking, up first, the BMW.

2004 BMW M3 SMG

Looking very sharp in Carbon Black, this particular car is a very clean exemplar of the E46 designation. More full disclosure, I am looking at purchasing a fun car and the E46 is one of the cars at the top of my list. Sporting the cheapest entry level price of the three at around $20,000, the BMW still looks modern and attractive after almost a decade of wear and tear and a design that first appeared on the market way back in October of 2000. I gave it high marks for exterior styling, the aggressive fender flares and wheels give it a DTM touring car look that is still a dominant feature on new M3s.
My quick jaunt in this particular model was focused on one big question; whether or not I was OK with the SMG, also known as "sequential manual gearbox" or whether I would be purchasing the manual tranny. I can say after running it through the 6spd SMG I was impressed, and that was only on setting "3" which refers to the dial just below the transmission that controls how aggressive the car shifts. More on the transmission later. Of course that all happened AFTER the owner gave me a quick class in how the damn thing works. I felt like I was setting up launch control in a Ferrari, pull this paddle, and push the transmission stick to the right. Is that it? Ok, I got it, time to drive. The solid three minutes of drive time, combined with a mercifully open road allowed me to make good use of the 333hp coming from the 3.2 inline six. It's quick. Not just quick for a decade ago, it's quick by today's standards and hides its 3,415 lbs well. Did you know that, at the time, this was the second highest specific output naturally aspirated of any engine ever made by BMW? Coming in first was the mill found in the McLaren F1. Not bad.
Inside, the cinnamon leather seats were still comfortable and supportive, if showing a bit of wear after years of use. Unfortunately I didn't have time to have Mr. Manlove and his UK CSI crew come through and perform an evaluation of what was on the floor or the seats, but maybe that's for the best. I can't say I got a chance to test the audio or tech toys in my short encounter, but those are the hazards of being a ten minute test driver. It said "Harman Kardon" on the speakers, I'll assume it's pretty good. I still have two cars to go and only six or seven minutes to do it so let's head to the next car shall we?
2013 Scion FR-S
I can say I was quite happy to get the chance to test the new offering from a torrid one night stand between Toyota and Subaru. Sporting the Asphalt color scheme, this particular car was basically a stripper and I can say that she is quite the dancer. More on that later. Walking up to the Scion, it has presence. Motortrend called it a "missed opportunity" from a styling perspective, but I'm not sure I agree. It's got that something special that makes people who don't know anything about cars notice the FR-S. The owner has actually had it for a year and was one of the first in the DC area to have one. He said it was pretty relentless when he first took delivery, people asking how much it was (common guesses were "$40K"), who makes it, etc. Now they are a bit more common, but I can say that I still notice them as they go by, and that is something special these days.
Upon sitting in the Scion it's clear that if the other two luxury cars in this comparo are fancy pants Persians compared to this "kick you into a deep hole" Spartan. The seats are something out of a motorsports catalog and cradled my 6' 180lb frame like it was form molded for my body. That begs me to ask what fat people buy who are in the market for a car like this because I can't imagine being much larger than I am (and I'd love to ditch 5-10lbs but that's another story) and being comfortable in the Scion for more than a few minutes. Looking across the cabin there isn't much aside from HVAC controls and a radio. This car is all business, you get what you need to drive, and if you want luxury, I get the impression it would tell you (in a Japanese accent) that you are weak and will never be a samurai warrior. I'm not even sure what that means; damn I'm wasting my 10 minutes.
So how does it drive? I'm not breaking any ground with the revelation that it's underpowered. Does that matter? Well over my three minute jaunt, it didn't. Performing the exactly same route that I had just gone through with the BMW I cranked it through the gears and experienced a precision that few cars can match. The clickety click click 6-spd box is heaven and the chirp that I heard as I pulled it into second put a smile on my face and, sadly for the SMG I had just driven, wiped out any possibility that I would buy anything but a manual for my fun car. Braking is solid as the light weight (2,758 lb for the manual) of the car reduces the need for anything too extensive to clamp down on your speed. As to whether or not I could live with 200hp at 7000 RPMs and 150 torques at 6600 RPMs on a daily basis, it's hard to say. But I can say that the Scion makes a great case for itself and hopefully will continue to evolve and get even better over time. If you are looking for an inexpensive, fun new car, there isn't much better.
2009 Lexus IS250 AWD
As I led off with, this is my car. It's a very nice car, but very different from these other two. It is the only sedan of the trio, and weighs a few hundred pounds more than the M3, which isn't fantastic considering its scant 204hp. From the outside, it has come a long way from the Altezza days of yore. In fact, the Altezza name ceased to exist when this new model came out in 2005, being consistently badged as a Lexus from then on, even in Japan. Gone are the clear taillights that made the original so widely known; in its place is an attractive, sleek sedan. Lacking the aggressiveness of the M3 or the svelte shape of the FR-S, the Lexus still did not look totally out of place backed into a parking spot beside its two competitors.
2009 saw a styling refresh along with some suspension and steering tuning. This particular Black Sapphire Pearl example is pretty much loaded with every gadget and gizmo offered in the IS lineup circa 2009 and has made for one of the most comfortable commuters I have every owned. From the 10-way adjustable, heated and cooled seats, to the 13 speaker stereo, it's a nice place to be inside the cabin.
So how does it compare to its sportier rivals? Well as you guessed it's less sporty than its sportier rivals, but more comfortable. The AWD system is useful, if less fun than the RWD systems in the others. There are no tire chirps off of the line, it plants and goes. The butt dyno says that it isn't any slower than the Scion, but it is. The extra torque and AWD traction give you the sense that it is accelerating faster than it is which tricks the brain into thinking it's quick. The "sport" mode for the automatic isn't all that amazing, shifting quite slow through the paddles or via the stick. It will rev high though and allow for some redline reaching shifts which is better than other systems I have experienced which don't allow for high RPM driving.
In the end, the Lexus is a great car, but it's not in the same league as the other two in the fun category. But man it's comfortable, and on my one hour commute each way, that's huge. For those reasons I will be keeping it, but augmenting my stable with something a lot more like the BMW or Scion in the near future. Stay tuned.
Ratings
| | | | |
| --- | --- | --- | --- |
| | 2004 BMW M3 SMG | 2013 Scion FR-S | 2009 Lexus IS250 AWD |
| Exterior | 8 | 7 | 5 |
| Interior | 7 | 5 | 8 |
| Acceleration | 9 | 6 | 5 |
| Ride | 8 | 8 | 9 |
| Handling | 9 | 9 | 6 |
| Gearbox | 7 | 9 | 5 |
| Braking | 8 | 8 | 7 |
| Audio | 8 | 5 | 8 |
| Toys | 7 | 5 | 8 |
| Value | 9 | 9 | 5 |
| TOTAL | 80 | 71 | 66 |
Apologies for the lack of photography, this was sort of a spur of the moment "here, go drive it" moment. I pulled some pictures of their cars from Right Foot Down, where you will likely get a glimpse of the M3 and the Scion (and some amazing photography) since both owners manage and contribute to the site.