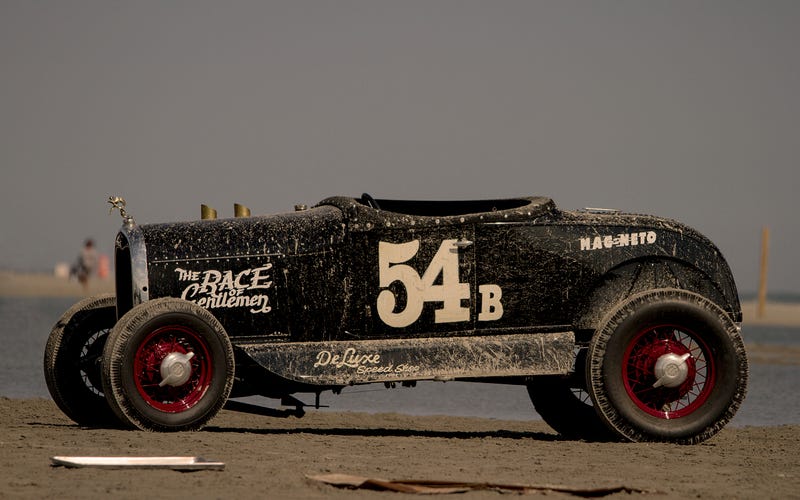 The Oilers Car Club invaded Wildwood for the second year in a row and made quick work of mayhem all over. It was 100% pure awesome in extremely high doses. The event is comprised of several days all put together, I was there Friday night, Saturday and left Sunday evening. While I missed being able to take pictures of some of these cars getting loaded onto their trailers, it was impressive nonetheless to see just how much goes into this event.
Even Tom McParland was able to spot one of the masses of cars taking over Wildwood, one parking lot at a time.
Friday Night
We arrive to see Atlantic Ave blocked off by the Starlux Motel, with a ton of cars in the way. Now I've got to head over and look. There were tons of motorcyles, primarily Harley Davidsons, but a healthy mix of others as well. There was a gravel lot on the corner were drivers were talking to others, tending their cars and quickly wrapping them up in order to prevent them from getting soaked by the rain storm early Saturday morning.
There were cars and bikes, many of which were part of the races, but with probably an equal number there just for show. Totally worth not getting to bed anywhere near when I wanted to. The level of detail in many of these cars is incredible, especially considering that many of them get raced. These are not garage or trailer queened cars by any stretch of the imagination. They get trailered to Wildwood from all over the country to get raced and whipped around on the sand.
Many of the cars were either old Four Bangers or Flat Head V8 motors, with a couple straight sixes in the mix. There was no room for kit cars with this crowd. I'm sure they're appreciated for what they are, but these cars are all the real deal. Keeping true to the idea that keeping them on the road will keep them running.
Saturday Afternoon
Lacking a day pass tried my luck with going around to the end of their 1/8 mile drag strip to see what was going on. Unfortunately high tide was rolling in at the same time so I missed any racing, but luckily was let into the pit area to walk around and take pictures of the cars and watch some of them do donuts in the sand.
These are some of the most amazing cars. The Race of Gentlemen is an amazing thing in and of itself. They take cars that many people would be scared to drive, and they whip them around, get them filthy, and do it again, for a whole weekend. Many, if not all of the cars do actually get trailered into Wildwood, but once they're down there, for the length of time they stay, those cars are the kings. They get driven around, do burnouts, and cause mayhem, just as they should. They have fun, and that's exactly what car culture is about.
Several high profile magazines had come by, most notably was Hemmings and Hot Rod. I wasn't able to tell whether the cars were officially entered by the magazines, but the teams were very active with very interesting cars in the mix. It brings everyone back, and deep into the feeling of what these cars are all about.
This Chevy is among my favorites, simply because they're so uncommon. It was powered by a straight 6, and was one of the fastest cars on the sand. I didn't really take much of a look at the brackets and progress, but from seeing how well this car did on the sand during the races, it must have done well.
Sunday Morning
I finally got to buying a day pass which let me wander just about anywhere along the race as long as I didn't go to the other side of their fence. Walking back and forth the make shift drag strip is quite the workout, but incredibly rewarding when you consider what's going on just feet away from you.
The races are held at the edge of the water, with just a tide pool or two separating the cars from the ocean. The sand is pretty hard, and the cars do amazingly well. Last year there were a couple cars running pretty aggressive treads, but this year, it looked like everyone was sitting on street tires. How do they go on the sand so well? They turned up the fun to 11.
Up on the car is Mel. He's a huge part of this event. He's ridiculously funny, and a great guy all around. Nothing really goes on without him being involved, an awesome thing, considering how much has to go into organizing something like this.
Here's Mel riding down to the end of the strip to tell some beach goers that they need to clear the area, because they were right were many of the cars and motorcycles were doing their U-Turns to head back.
The above car was brought along by Hemmings, supported by a similar vintage wrecking truck.
With plenty of friendly competition between the drivers, the driver of the 117 car had exited the pits as I was walking along the road between the pits and the staging lanes. I overheard him yelling out to a couple of other people that another driver hadn't been beat yet, and he was going to head out to change that.
Most of the races were pretty close coming across the finish as long as everything went okay. That I know of, there were no accidents during the races, and things were really tame for such a big event this late in the season.
This was probably the closest race I saw all Sunday. Most people around me didn't even know how to call it, but luckily, I snapped the shot, and it was 232B by a wheel.
Over at the starting line, they were digging in a bit towards the end of the day, but it was still awesome. Some of these cars were close to their stock form, and some were hot rodded so far, you're left scratching your head wondering how they came up with it. Of all the cars, #117 is probably one of the most unique setups that was being driven all weekend.
Several members of The Oilers could be seen wearing a number of different styled shirts and jackets from throughout the history of their club.
This Chevy was driven by someone sporting a Hot Rod Hill Climb shirt and hat.
I'll keep adding photos to this flickr album as I get through them, and any more gifs will be added to the post directly.
Most of the photos are wallpaper sized, so enjoy them in your rotations!