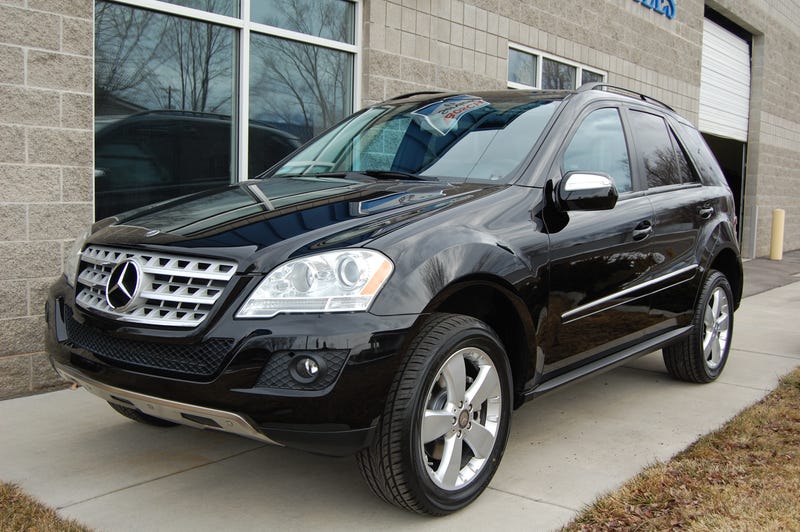 Back in 2015, when my dad was looking for a 2006-2009 Mercedes ML350 as a gift for my mom (on account of mother's day), I made a great family story that I still tell every now and then for the laughs, I'm telling it here now, here's how it it goes:
When my dad was looking for a surprise mother's day gift for my mom, we encountered a nice 2007 ML350 with all boxes checked off: navigation, backup camera, and I think there was even lane-departure assist, all for $8,000 on Craigslist. What's the saying, too good to be true? because it was.
When we went to see the car in person, it looked flawless, it had a nice dark green paint job like the one below, it had a nice beige interior (which neither of my parents like, but my dad was willing to compromise) and it had all the options the seller said it did. The interior was clean, too clean.
Heres where the sketchy and funny part come along. You see, my dad is smart in car buying, no matter what he always brings an OBD reader along for the purchase, whether from a dealer or CL. When we put the OBD reader in the car, about 11 different codes came up (1st flag), the seller told us they were normal, because of course he did. Next we noticed the about 15 different air fresheners in the car, the seller told us he wanted to make the car nice for the sale, because of course he did. After seeing more flags than in a UN building and me being the Gearhead of the family, I acted up. While the scumbag seller was talking nonsense to my father, I asked him "Is the car flooded?" Now this is the funny part: The seller was so surprised by a then 11-Year Old asking this question that he stuttered more than Porky Pig and started saying "nononono, its perfectly fine," I think he wanted to just sink back into his pants then. After that, me and my dad just left. Next week we went to a place called Sunrise Motors (now shut down) and bought a clean 85k mile black 2009 ML350 like the one at the top for $17k, now that is $2k more than our actual budget, but it was worth it "to see my mom so happy" (according to my dad).
Maybe this story isn't as funny as I thought it was, at least not through text.