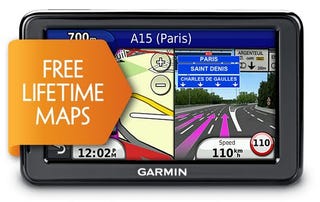 You may like to read what a normal Garmin user may face, with one of these cute and apparently harmless devices...
First part: the old GPS.
I've been using for almost four years a Garmin GPS navigator mod. nüvi 255W that was good for me, so that I even bought their Lifetime Map Update for €50. Till the day the built-in battery righteously failed. This was not good, since I'm used to take my GPS with me when I happen to walk in a new, foreign place so I started to search the web for a replacement battery and I found it in San Remo, 290 Km from my home on the Italian Riviera. I'm quite contrary to Internet buying and moreover I'm always not at home when the courier comes, so that I decided to have a trip and buy one at their shop. Did that on last Friday, and it was one hell of a trip, with rain, heavy fog on the mountains and a truck pirouetting under a tunnel while trying to overtake me, but this is another story that I already told previously… nevertheless, I got the spare battery and learned how to replace it from a YouTube tutorial. All well, until I connected to the Garmin web site to upgrade the maps. The site was not recognizing my Garmin anymore. It was like it never existed, for them. So I got the idea of checking the hidden service menu (another trick from the web), and I just scrolled it (ok, may be I pushed UP and DOWN a couple of times, but apparently nothing changed) but when I switched the GPS on (even if everything was looking normal) the effin' thing was not hooking any satellite anymore. It was seeing them, but it was not processing the signal. Useful like a doorstop.
Second part: the new GPS.
Then at 8 PM on Easter Saturday evening, I run to the mall to buy a new one: a nüvi 2445 LM (Lifetime Maps) with more bells and whistles and for only €129 (€20 discount). I take it at home and start configuring it. Didn't knew why every time I powered it on, it was always asking for the EULA acceptance but whatever. Configured it and connected it to the Garmin web site to get the Maps Update. Downloaded their Garmin Express software, loaded it on my PC and launched it. It connects to the Site, says a Map Update is available and to click "download". Then it says "no space enough for the full Europe Map". What the effin' fuck? I have the idea that Garmin get his software developed by some kinja minion: it was same also with the previous GPS. So I disconnected the GPS from the web and started to remove all the useless crap that Garmin loaded in it, like for instance the language files in Uzbek and such. Reconnected it and still the "no space enough for the full Europe Map" message. Disconnected the Garmin software and reconnected again, and now there was no space not even for the only map of Italy. Strong of my previous experience with the other GPS, went to delete the several Gb of temporary files created by the Garmin software, reconnected to the site and now there was space enough. Download started at 10:00PM, map upgrade finished at 02:00AM. Not mentioning that every 30-40 minutes it was telling: "the computer is not connected to the Internet. Reconnect the computer to the Internet to proceed", so that I had to scroll a couple of web pages, to make the Garmin software realize that indeed there was an Internet connection active… I say this for those that may righteously think: "I'll go to sleep a couple of hours, while it downloads the maps." The fuck you can do that: you must stay all the fucking four hours near your computer! And they would like you to update the maps every three months… the heck if I'll do it more than once per year! OK, maps updated and while I prepare to go to bed, I put the new GPS under charge. Went to check it after 30 minutes, and the Demo Mode was running and I was not able to quit it. Then, turn on the PC again and search the web for "exit demo mode". Found a forum and learn that I need to push and hold the upper right corner of the screen in the Volume Setting mode, to enter the factory service menu and quit the Demo Mode. Learn too that I'd better cancel any Demo (not found) or "Tutorials" (found, several Mb of tutorials, included the Uzbek language) folders, which I do. Pity that it was also factory resetted, so that I lost all my addresses that I had copied in it. Eventually, I put the damned thing under charge again, and went to sleep at 04:00AM. The next morning, I powered it on with a little awe but lo and behold, no more EULA! ..and the satellites were hooked as soon as the main screen loaded! Tried to power it OFF and ON several times, put it under charge and removed it but apparently it's now perfectly working. And now I wonder if aunt Beth did the same when she bought her Garmin. I have the strong feeling that 90 Garmin customers out of 100 never update their devices. Supposed they work correctly from the start, that is.