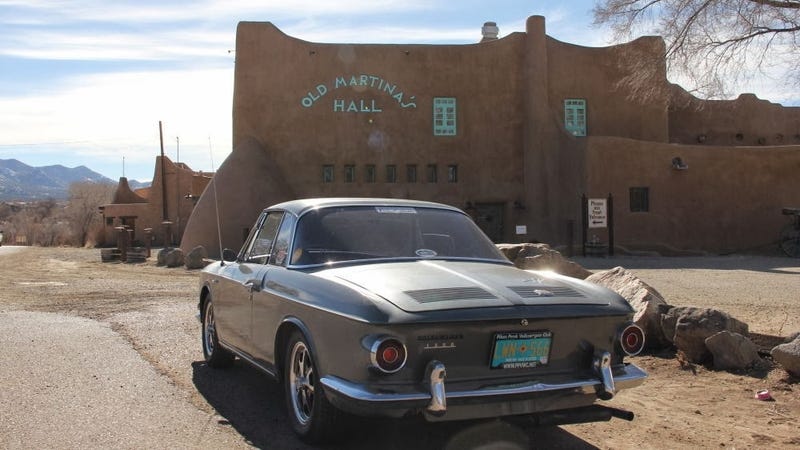 The Volkswagen Karmann Ghia Type 14 was built in Germany and sold in the USA from 1955 to 1974, but its planned replacement, the type 34, was never imported to the US market. It is a shame we never got the handsome Type 34 because it looks like a sweet mix of Chevy Corvair and a Lancia Fulvia.
Regardless, a few examples of the Type 34 have found their way onto US roads but are considered rare. Find this 1966 Volkswagen Karmann Ghia Type 34 for sale in Ranchos de Taos, NM currently bidding for $4,050 reserve-not-met and $10,500 buy-it-now with 2 days to go. Tip from Andy L.

The Type 34 Ghia is a good looking two seater, with crisp 60's styling that is much more modern than the Beetle or Type 14 Ghia. It was unfortunate that the Type 34 was never sold in the US market, as VW would probably had sold many more examples and we'd have more of them on the road today. This one has seen some action in its day (salvage title, some paint repairs needed...), but for the current asking price it does seem to pack a lot of vintage charm for the buck.
The Type 34 Ghia is powered by a 1.6 liter aircooled Type 3 flat-4 that is good for 54 horsepower and 87 ft-lbs of torque. Mated to a 4-speed manual gearbox the Ghia is good for a 90 miles per hour top speed and will keep pace with modern traffic if you keep it floored.
This Type 34 looks to be a project on the inside and out, but it could be driven as-is while restoration is contemplated and executed. Besides, it isn't like you are going to find another one for sale anytime soon.
See a better way to impress your aircooled V-dub friends? tips@dailyturismo.com
Originally posted as 10k: Rarewagen: 1966 Volkswagen Karmann Ghia Type 34 on Daily Turismo.