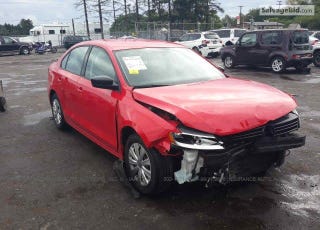 A few months ago, I saw a 2011 VW Jetta TDI roll through the auction block that was worth more dead than alive.

This repo looked like it got into a fight - and lost. The front bumper was smashed in. One of the rear doors couldn't even be opened. The wore out leather seats had been ripped and stained to the point where no sane person would have bid more than $2500 for it.
The bidding on this piece of Euro-junk started up at $3500 and zoomed all the way to nearly twice the reserve price.
This never happens at dealer auctions. Everyone is fairly aware of how much a used vehicle is approximately worth. As a long-time auto auctioneer for years, my weekly paycheck was based on selling cars as quickly as possible. A full minute on the block for this rolling turd turned into that often feared unproductive time suck when you have to use 200 words to sell 1 crap car.
This event at the auction was unusual enough for me to make note of it on Facebook. That Jetta ended up selling for an eye popping $6700- plus the auction fee which was about $300.

A few days later I received an email from a dealer who frequents my Facebook feed. He PM'd me a certified letter from VW that they are going to give him a check for over $18,000 on a car he bought for less than half that price just a couple of months ago. After reading my post about what took place that day, he bought one at a dealer auction shortly thereafter.
Then I got a real bombshell. One guy in my neck of the woods has bought 216 of them!