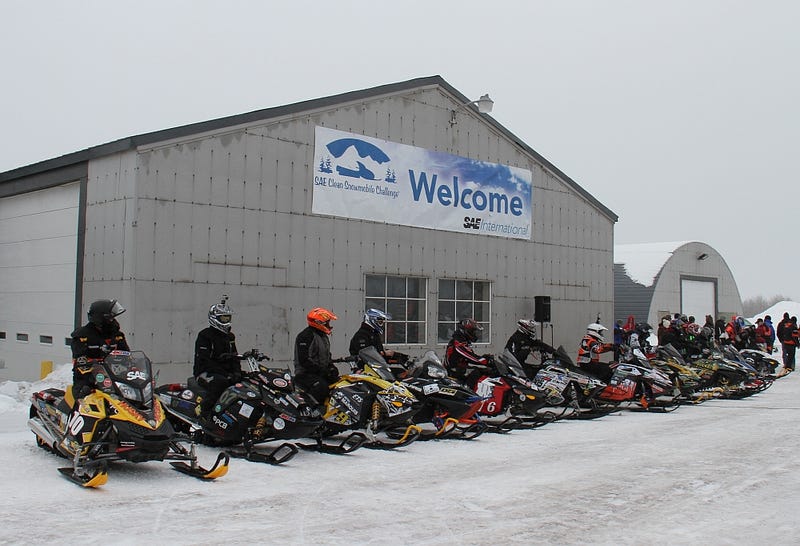 SAE Competition. With that word, everyone always pictures either a small open top racecar on slicks missing cones, or a small fully caged vehicle bouncing between trees. However, there are actually 5 official SAE competitions. Formula, Baja, Supermileage, Aero Design, and Clean Snowmobile. The first one of the year? Clean Snowmobile Challenge, which kicks off this coming Monday in Houghton, Michigan.
OK, so what is Clean Snowmobile Challenge exactly?
Well, it started out in the late 90s when the Government started cracking down on snowmobile entries in the national parks, mainly Yellowstone. As most people imagine snowmobiles as noisy smoke machines, the Government was quick to start limiting their 2 stroke noise and smoke, setting emissions standards for anyone who wished to ride into the park during the winter. From this, the SAE saw an opportunity to develop snowmobile technology, and thus the CSC was formed.
In those first competitions the main developments were 4 stroke snowmobiles. When the competition started in 2000, no OEM had a 4 stroke snowmobile available, so people were swapping in motorcycle and kei car engines, adapted to run belt CVTs. Since then, as the OEMs have had to push their own technology, the competition has changed quite a bit.
So how does this competition work?
Basic rules: Have to start with a stock snowmobile chassis made in the last 4 years. Have to run a belt CVT. Have to make the stock snowmobile better from a noise and emissions stand point. Keep it under 130 hp and make it run on the fuel you are given.
Thats pretty much it.
Breaking it down, the fuels given for Internal Combustion (more on that later) this year are 16-32% Isobutanol (IB16-IB32) or 0-9% Biodiesel (B00-B9). This is a big change this year, as for the past several years it has been a random blend of ethanol rather than isobutanol. It is also likely the last year that diesels will be allowed.
Because of the rather loose rules, the sleds that show up to competition tend to vary greatly. Last year's compeition had 3 600cc turbo 4-strokes, 2 turbo diesels, a N/A 600 4 stroke, a direct/port injected 600cc 2 stroke, a direct injected 800cc 2 stroke, a problematic 660cc turbo 4 stroke, and an even more problematic 500cc turbo 4 stroke.
Yeah, that's a lot of variety. And that's just the IC class.
Off to the side there is also the Zero Emissions class. Now I'll admit to not knowing much about that part (I'm an IC guy) but it boils down to deveoping an electric snowmobile that can be used by research scientists. They're quiet. And usually heavy.
The Events
You know how I mentioned that the sleds are limited to 130 hp? Yeah, that's to keep speeds down. These are designed for cleanliness and quietness. They tend to not go very fast, but it is a very competitive competition.
The week starts out with tech on Monday. If your sled passes that and is deemed running, the hood gets sealed. You lose 100 points if you have to work on your sled at all, and then more points for any further work. Yes, for those of you on Formula or Baja teams, this means that you lose 100 points if your sled breaks. Now count how many points you'd have lost in your respective competitions. I'll wait.
So Tuesday comes around with the endurance event. About 100 miles riding around the Keewenaw Research Center (the event's base) and then from Houghton up to Copper Harbor at the tip of the Keewenaw Peninsula (the very top of da UP. Eh?). The sleds are then trailered back, and fuel economy from the ride is measured.
Wednesday kicks off the rest of the dynamic events. In service emmissions, where a sled with an emissions analyzer onboard is towed. Noise, where the snowmobile is driven at WOT down a track and decibels are measured, and the sounds get rated in a blind listening test for annoyance. Subjective handling, where the sleds are all ridden by industry professionals on a small course and they rate how well the sled rides (generally handling and power). And the biggest points event of them all, the ever dreaded Laboratory Emissions. This is a big event. Several hundred points. Here, you disassemble your sled enough to mount a dyno on the output shaft of the engine, hook an emissions probe up to the exhaust, and run a set test of RPM and power levels to get an emissions score. This is the sled killer. Mode 1 is peak power (measured on a power sweep) at 100% throttle. For 2 minutes. That's WOT for 2 minutes. This event is what makes everyone nervous.
Wednesday night is the best event of the competition, the Public Showing. Here, you take your snowmobiles up to the local mall and the general public/industry professionals can come in and look at your sled and ask you questions about what you've done to it. For 2 hours. Then you get 50 points, take a picture, drop your sled back off at the garage, and you're done.
Thursday continues the testing events, and there's a design/marketing oral presentation. There's free lunch (as there is every day). Hopefully by this point your sled is through emissions and you can go drink enjoy a nice relaxing evening.
Friday is even less eventful than Thursday. Its a day off in case they're running behind on lab emissions. So you get to enjoy the area a little bit.
And finally come Saturday is the fun events. Acceleration and Handling. They're exactly as you'd imagine them. A drag race for time, and a stupidly twisty, bumpy handling course for time. This section is also open to the public, so come and enjoy if you happen to be in Northern Michigan next Saturday.
So Who Are The Players?
Last year's winners: University of Wisconsin-Madison. They've further developed their turbo 600 ACE SkiDoo from last year and are looking strong. Again. (Also, they have a lot more members than this picture suggests. They just weren't there for the picture)
Last year's second place: Kettering University. Also a turbo 600 ACE SkiDoo. Second place the last 2 years. Thirsty for that overall win. And more denim. All the denim.
Last year's third place: University of Idaho. The DI 800 E-tec SkiDoo. This shocked everyone by not only putting out the most power of anyone at competition, but also putting up the best emissions numbers for a two stroke. Ever.
Clarkson University: Possibly a turbo 600 ACE. Were a N/A ACE last year after having issues with the turbo setup.
Ecole de Technologique Superior (ETS. I know I butchered it). Similar sled to Madison and Kettering.
Michigan Tech. Had a Polaris Rush with a 900 Razr motor in it last year. Not sure what this year.
U of Wisconsin-Platteville: DI 600 E-tec SkiDoo last year. Also not sure what this year, but they seemed pretty into their 2-strokes.
State University of New York University at Buffalo. Diesel. Yep. Diesel. Look at them go!
North Dakota State University. Also diesel. Yay diesel. These 2 sleds are not very quick, but diesel. They also have the potential to do amazingly well at emissions when they're running.
RIT: First year team running a turbo 750 Polaris. Showed up at the end of last year's competition with their sled, all blown up. I'm told it runs this year.
University of Minnesota-Duluth. I know little to nothing about this snowmobile. They're a first-in-a-few-years team.
University of Waterloo. You know that problematic 660 turbo that I mentioned earlier? Well it met its death at the end of last years competition, catching fire between acceleration and handling after a few days being rebuilt at comp. It had been known as the sled that everyone knew was pushing too much power but never ran on the dyno, so we will never know. They're back with a 750 turbo Polaris, also not exactly known for its reliability. They're good people though. And Canadian. I like Canadians.
And finally Northern Illinois University. The team arguably plagued with worse luck the past few years than Waterloo. Their 500 turbo Yamaha lit up like a Ferrari last year when they were trying to get it running right at competition. They're back this year with a port injected 600 2-stroke Polaris. It is doubtful that this will be very good for emissions, but you never know with this competition.
FIND OUT MORE
For more information on the CSC competition: http://mtukrc.org/snowmobile.htm or http://students.sae.org/cds/snowmobile…
[Axel-Ripper apologizes for any typos, incorrect information, or foolishness. This was written on a lunch break and I'm an engineer, not a journalist. Feel free to ask questions in the comments, and they may be answered. Go Kettering.]