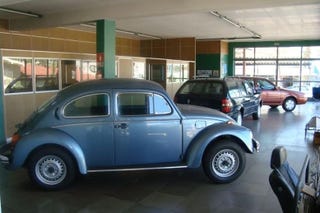 Unlike the ghost BMW and Dodge dealerships, this Brazilian dealership apparently has a ghost. That ghost is the owner of this closed-to-the-public museum Otmar Walter Essig.
Since the dealership closed in 2002, the 82 year old arrives every morning ready to take calls that never come.

He cleans.
He chats with friends.
He keeps track of his everchanging (not really) stock. Sometimes he does sell a rare part though.

He makes sure the service bays are there.
He has no hobbies at home. He has lost his wife and said this is what he'll do until he meets his dear Susi again...
CC for English subtitles.