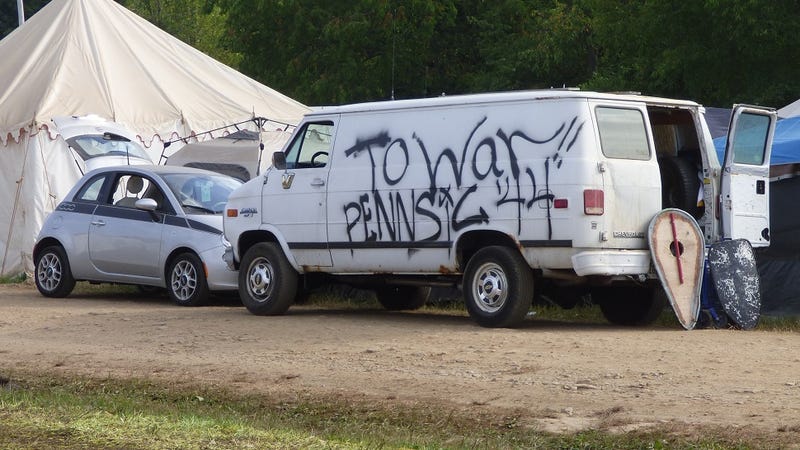 Each year, over 10,000 people gather near Pittburgh, PA to attend Pennsic, the largest annual Society of Creative Anachronism event in the world. For two weeks, Cooper's Lake Campground transforms into a medieval landscape, with encampments, merchants, classes, performances, and numerous battles to determine which side wins the war.
This isn't traditional camping. Even if you do bring a modern tent, though many prefer a more period correct canvas one (they're much more durable in storms - ask me how I know), there are still many additional considerations - armor and weapons, for example, if you intend to fight, or archery equipment if you shoot. And then there's a week or more worth of medieval garb, which tends to take up more space than t-shirts and shorts. Unique arrangements are often needed to transport people and equipment to war, and this often involves unique vehicles.
Trucks and SUVs are the most common vehicles in the vast parking areas. Some are unmodified. Some have caps. Some have racks to carry long items, like tent poles or polearm weapons. These aren't much different from the typical truck you'd have to tow a race car.
That's because many of them tow trailers as well. This nice setup carries a few people and a great deal of cargo for a household encampment. Some groups even bring their own shower facilities. I was fortunate enough to camp with one group that does.
But large, elaborate setups aren't the only solution. Many will recognize this Harbor Freight trailer kit, which folds up and stands on end when not in use. The walls may be a bit taller than on the trailer you load with race tires and tow behind your Miata to the track, but the basic trailer itself is the same, available for just a few hundred bucks, and practically anything can tow it.
Renting is another option. After all, if you only need to transport this much equipment once a year, it's cheaper to rent a trailer, a van, or even a box truck for a week than to buy and maintain one yourself. The group I camped with rents a box truck for the Barony's own pavilions and equipment, then rents space on the truck to people in the camp by the square foot. My lady and I sent two plastic storage bins and the canvas portion of our tent from western MA to western PA and back for $45. It doesn't get much cheaper than that.
And then there are the War Wagons that are a bit more on the unusual side...
When I saw this vintage Cadillac ambulance come in through the main gate, I thought the Ghostbusters were arriving in the Ectomobile.
I had no idea what to make of this customized PT Cruiser. It almost looks like Doug DeMuro already smushed it with his Hummer.
And then there's this idiot who went to Pennsic in a Subaru BRZ. Due to an explosion of life involving medical issues that very nearly cancelled the trip, my other half and I decided to pack extremely light and take my car, with working air conditioning, rather than her 2002 Ford Focus. Despite being larger, with roof racks, and far more practical, the air conditioning doesn't work in the Focus, which became even more important than expected for our comfort during the journey. Because we'd already sent those large items ahead on the Barony's rented truck, and a local friend agreed to take our tent poles on his roof rack, we quickly stuffed the Subie with what we could and Cannonballed out there in one day.
Though not truly a War Wagon, I felt that some recognition of this achievement was called for, which I wrote in the thick dust covering the back window before we left. Because racecar. Fortunately, World Rally Blue wears the dust well.
The absolute coolest War Wagon I saw, though, was right in our own camp. Modern RVs and campers have to park in a designated area, far from everything else, to keep the event's medieval look and feel. But if such a mobile dwelling is disguised to resemble a medieval vardo, it is allowed to park in a camp. This one is based on what looks like a snowmobile trailer. There are jacks, like you would find on any other camper, to level and stabilize it when parked. The structure is made of wood, with waterproof canvas stretched over the top, and even a deck to sit on, threaten miscreants with your rattan broadsword, and yell at them to get off your lawn.
The inside is small, but no smaller than most of the tents in camp, and tall enough to stand up. This young squire is about my height, six feet tall, and he fits just fine. There is room for a bed with storage underneath, and for pretty much everything else you need for a week or two away at war.
When it's time to go home, the canvas comes off, the boards that support it slide into the sides, and the walls on the front and back fold in half, down to the same height as the side walls. Additional cargo gets stored inside, and then a tarp covers the whole thing. It hitches up to the Ford Escape parked here, then rolls on home behind it.
I didn't carry my camera with me much - I was on vacation, not on assignment - but I saw some other mobile structures such as this, but larger. When I got gas before hitting the highway for home, I literally maneuvered around a pirate ship to get out of there. As the saying goes, "No shit, there I was at the Pennsic War..."