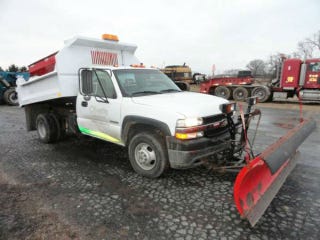 As we all know, your local Craigslist is usually a goldmine of all the wonderful vehicles out there, and their slightly ridiculous owners trying to sell them. I decided to spend some time on my local craigslist (a.k.a. slack off at work) and this is what I found.
There's so much stuff on Madison Craigslist, and there's only so much slacking off at work I can do at a time, I'm going to break this up into several posts. First up, since this is Wisconsin, there are trucks everywhere. So many trucks.
Want a dump truck for spreading salt and plowing snow? We've got you covered!
2002 chevrolet 4x4 dump plow spreader truck - $21900 (edgerton)
This person thinks their very-pixelated '94 Nissan pickup is a "3/4 ton."
94 Nissan 3/4 Ton - $1500 (Madi)
Wanna go muddin? Let's go muddin!
1999 TahoeSAS 39.5" Iroks - $3200 (waterford)
This seller claims this is a "florida truck," but then says "Truck has been a lawn ornament for a few years and i have no use for it. Needs to go." I don't think it counts as coming from Florida anymore if it's been sitting on a lawn in Wisconsin for a few years.
Need to mess around with power lines or trim some trees? This here bucket truck should do nicely.
Bucket Truck - 1979 GMC 7000 series - $22000 (Crown Point, IN)
There are too many bro trucks to list all of them, but here's a selection.
Powerstroke 6.4 - $28000 (johnson creek)
Way to make your first picture of some dude's ass hanging off the side of your truck, bro.
If you prefer your bro vehicles to be a bit Jeepier, fear not!
2014 Jeep Wrangler Unlimited Sport huge lifted badass - $36000 (Rockford)
I am such a huge lifted badass, this needs to be mine. Because I'm sold on all these exclamation points:
JUST 8K MILES!!!!! 1 OWNER 4X4!!!!! YOU GOTTA SEE THIS ONE!!!!!! BLACK ON BLACK 6 SPEED MANUAL WRANGLER SPORT 4X4 WITH 3 PIECE REMOVABLE HARDTOP!!!!!! BIG $$$$$$ PROFFESSIONAL LIFT WITH ALL THE HIGH QUALITY PARTS!!!!!! BRAND NEW SET OF FIVE 17" USA ALLOYS WITH 35X12.50 COOPER STT RADIALS!!!!!!! TERRA FLEX SPEED BUMP COILS!!!!!!!! MOPAR/FOX PERFORMANCE SERIES 2.0 SHOCK SYSTEM!!!!!!! STAINLESS STEEL EXHAUST!!!!!!! MOPAR COLD AIR INTAKE!!!!!!! TRIPLE HELLA BAR MOUNTED OFF ROAD LAMPS!!!!!! RUNNING BOARDS!!!!!!! OFF ROAD WHEEL FLARES!!!!!! TRAILER TOW!!!!!!

TRADES WELCOME AND FINANCING AVAILABLE
"TEXAS TRUCK NO RUST"
2006 DODGE CUMMINS MEGA CAB 6 SPEED MANUAL 4X4 - $24900 (WEST ALLIS)
So when did you bring this "Texas truck" from Texas up to Wisconsin, bro?
ONLY TRADE I AM INTRESTED IN IS 2003 AND UP HUMMER H2
Sounds about right.
Moving on, bro, from the bros, we have a 1989 Dodge Dakota drag truck, with possibilities.


(Don't worry, it has a hood, it's on the lawn.)
1989 Dakota Drag Truck - $6000 (Wis Rapids)
Some ideas the seller has for you include:
Truck runs 11's and can be in the 10's with a 150 shot.

Can run on e85 with a carb change.

Can be street legal with mufflers.

Can run as is with hobbyist plate.
Can do!
So. Much. Rollcage.
lifted 2004 jeep rubicon - $15000 (potosi wi)
i do not have a top or doors for this.. not sure if they would work with the cage
Honesty is the best policy.
Stay tuned for more weird, wonderful and sublime updates from Madison, WI the next time I feel like slacking off at work!