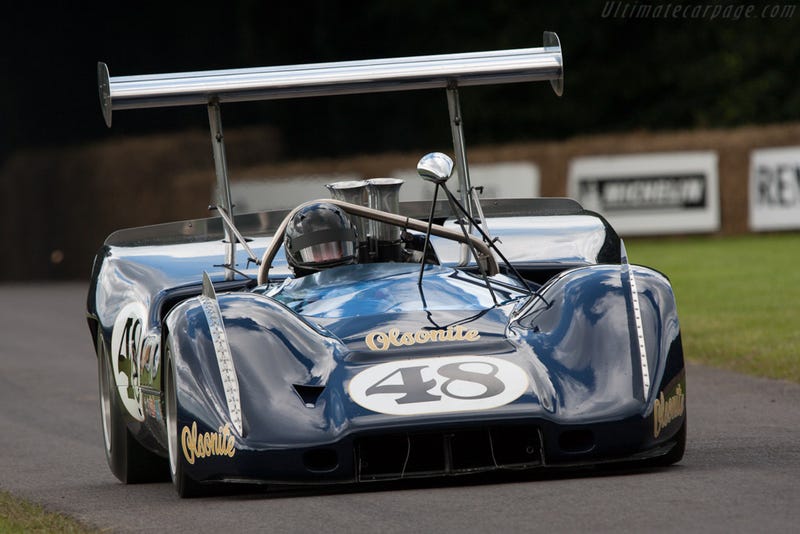 Dan Gurney switched 'sides' in 1968 by acquiring a customer M6B. This was effectively a one-year old design and to be really competitive Gurney knew that car could not be raced as it was delivered.
Retaining the McLaren's aluminium monocoque chassis, the AAR engineers initially focused on the front and rear suspension. They used the knowledge gathered by building the 1967 Belgian Grand Prix winning Eagle, which used a plethora of exotic metals, the engineers recreated many of the suspension in titanium. The geometry was also slightly adjusted. Gurney maintained his allegiance to Ford by equipping the M6B with a small-block V8. This was stretched to its limits in displacement and fitted with the latest aluminium heads developed for Gurney by Weslake in England.
Gurney debuted the modified M6B at round two of the Canadian-American Challenge Cup at Bridgehampton. Once again the McLaren factory team were favourites for the title, running hugely powerful big-block Chevrolet V8s in 1968. Gurney did well to qualify sixth and he also finished sixth.
Now fitted with high downforce wings, the lightweight McLeagle was back in 1969 and with Gurney himself at the wheel. As Ford could not supply AAR with a suitable big-block engine, the M6B was still fitted with a relatively small V8, which effectively rendered all pre-season modifications moot. Following several more disappointing results, Gurney reluctantly re-engined the chassis with the superior big block V8 for the final three rounds of the 1969. The engine switch was not instantly awarded as an oil leak and a blown piston respectively ended the first two prematurely. At Riverside, however, Gurney concluded the season with a well-deserved fourth.
After two fruitless seasons, the 'McLeagle' project was abandoned. Gurney later explained to author Pete Lyons that they never managed to get the car to handle quite right despite the best efforts. For the 1970 season, Gurney joined the works team to replace Bruce McLaren after his fatal crash.