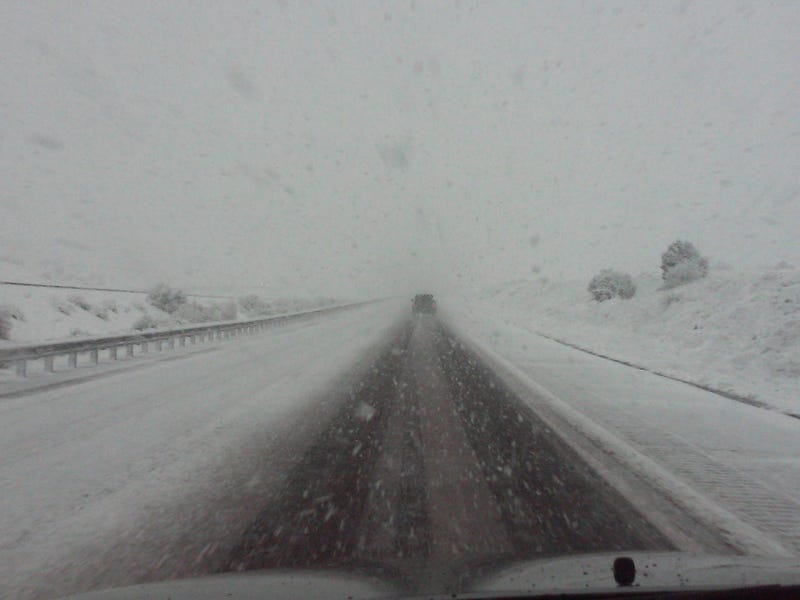 This past Saturday saw a large snowstorm hit everyone just North of Albuquerque, NM. I needed to get up to Santa Fe for work and ended up driving right as the roads were being covered. Eventually I saw that traffic was getting tight up ahead (less than half a car length between vehicles). I didn't want to risk my motion and decided there needed to be a patsy that traces the covered lefthand lane before it was too covered to be usuable. Thus, my 4x2 WK2 Jeep Grand Cherokee took to the unbeaten path.
I ended up being that patsy for 10 miles, Oppo! I use that term because we all were coming from Albuquerque, an area that sees snow covered roads 3 days out of the year, so we drive very specially at all levels of precipitation. Now I will admit that I consider myself to be an extremely impressive highway driver. Like Randy Pobst of by the book public street driving.
**I do listen to everyone's driving tips for inclement weather conditions (we don't get much rain either in ABQ). So let me give you all a big thank you because I was the only one on the road with my hazards on.
Here is the titled issue, I CANNOT make a mistake because there happens to be a Jeep logo on my vehicle. Automatically all other drivers assume I can traverse any weather condition or terrain challenge. So if I slipped up then I know people would go home saying, "I even saw a Jeep get stuck!" and end up the thumbnail of local news stories and videos depicting the "severity" of 14 hour New Mexican winter driving conditions. Then of course the commenters that would be drawn to these videos and articles would make it go viral and BOOM, I'm a "Get the Kitty Litter" meme for every Christmas!
But that's paranoia. The real issue is that everyone relies on you, and anyone with AWD or 4x4 really keeps on you in order to prove they can run with a slow moving Jeep in the light snow. That need to compete makes people a bit more aggressive than I'd like (but very attentive!), and that mentality is especially noticeable when they are in a new F-150. A lot of pressure but you know what? I freaking nailed it! I think everyone including the police officers I passed felt a lot more relaxed seeing me lead that lane.
Even in a RWD Grand Cherokee I got to be a "Jeep" to a lot of people. I wouldn't be surprised if that image impacts many next car buying choices (because one time only storms, car accidents, or repair bills experiences seem to be the most influencial on car purchases).
---
Oh! Speaking of one time experiences influencing your car desires, I still want a 2014 Mustang GT solely because one followed behind me in heavy Alabama fog at 3am. That image in the rearview mirror and the amount of light it put out made me want a Mustang for the first time in my life. But it must have the lights in the grille.