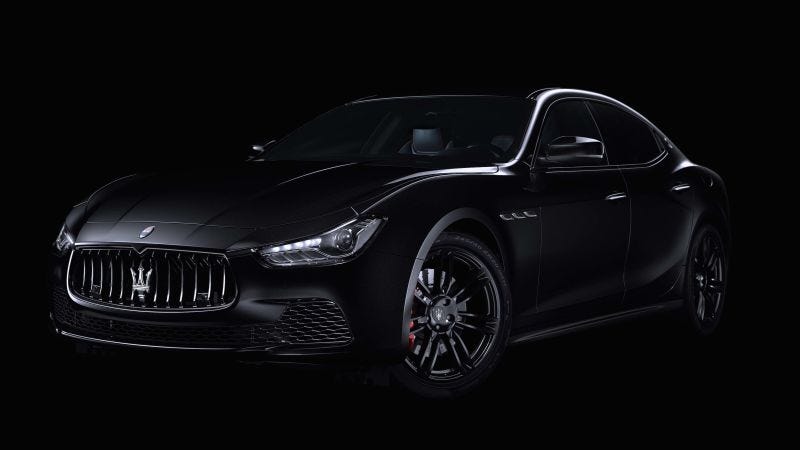 According to Autoblog because I'm lazy
Following in the footsteps of the Nissan Midnight package and the Chevrolet Midnight Edition trucks, Maserati is jumping on the bandwagon, and its smallest sedan, the Ghibli, is now available with a limited-edition black trim package called "Nerissimo." In English, that translates simply to "extremely black."

The package is available on the base Ghibli, Ghibli S, and Ghibli S Q4 models, and only 450 cars will come equipped with it. On the outside, it adds the following black-painted items: 20-inch wheels, door handles, window trim, and grille. Inside, the car gets black leather with red stitching, and a badge indicating that the Ghibli is one of 450.

A few other features sweeten the deal beyond appearances. All Nerissimo models include blind spot monitoring, rear parking sensors, and remote start. The S and S Q4 models also get a Harmon Kardon sound system. The powertrain remains the same 404-horsepower twin-turbo V6 and eight-speed automatic found in the normal Ghibli. With that in mind, you pay quite a bit for what boils down to an appearance package. Turning a standard Ghibli into a Nerissimo model will add $5,650 to the $72,850 base price. Doing the same for a Ghibli S or S Q4 will add $6,800. So you had better really like the look and the exclusivity to spring for a Nerissimo. Others should probably spec out a more common version.