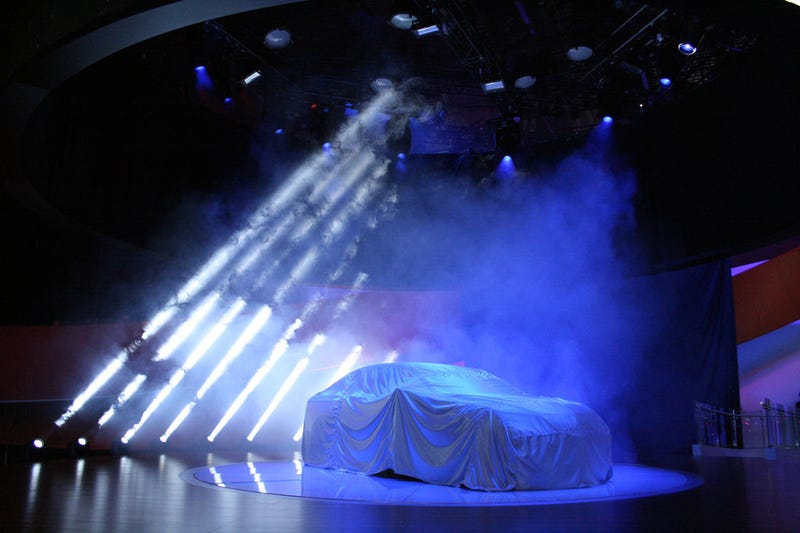 A few automakers are about to flood the US auto market with new or refreshed vehicles over the next 4 years according to a new report called Car Wars 2018-2021, an annual report done by Bank of America Merrill Lynch Global Research. The report gives us pretty accurate insight from what I've followed of it over the years into whats coming to market. So we can honestly expect a lot of these vehicles and reports to be true. Here's whats on the agenda:

GM
They are on track to pretty much flood the market with large trucks and CUV's in the next few years. But there are a few surprises according to the report that have been pretty much not reported on.
2018
Launches of already known about models Traverse, Enclave, Terrain and Equniox
Buick Park Avenue (!)
2019
Cadillac XT7,XT4 and CT4
New Buick Encore
New Chevy Silverado and Corvette Zora Coupe and Convertible. (Whats interesting about this is that the report actually calls it the Zora. Could this be the mid-engined Vette we've seen running around?)
New GMC Sierra
2020
Cadillac XT3 and a new Escalade ( I guess the XT7 isnt a replacement for the Escalade)
GMC Yukon and XL, Sierra HD and some small CUV they only list as B-CUV
Chevy Silverado HD,Suburban and Tahoe and a new Sonic sedan and hatch
Aside from the usual truck and crossover launches, I'm really surprised and excited about a Park Avenue and this Corvette Zora. Especially considering I've heard or read nothing about a Park Avenue anywhere.
Ford
For 2017 and 2018 the report lists Ford's model replacement as "slow" but accelerating in 19' and 20' with a strong shift towards CUV's and trucks going into the next decade. There are some surprises though.
2018
New Expedition along with a new Focus and Fiesta
Lincoln MKA which it lists as a sedan, MKM which is a coupe and the Navigator
2019
New Explorer, Escape, C-Max,Ranger,Taurus and Fusion
2020
Ford EcoSport (which could suggest some kind of refresh or just be flat out wrong), New F-150, Transit Connect and Bronco
New Lincoln MKZ
Fords rollouts are surprising for a few reasons: the surprising and exciting Lincoln small MKA sedan and MKM. There's so many questions. Is the MKA going to be RWD or play it safe with FWD? Will the MKM finally give us the Mustang based Lincoln Mark VIII successor we have been asking for? And the return of the Aviator means another Explorer based Lincoln SUV, alongside the MKC and MKX.
 FCA
The report seems to suggest a good outlook for FCA that many of us don't share, stating : "FCA has relatively successfully worked through a lull in its product cadence,which should accelerate materially". In total there are 9 CUV launches the next 4 years accoss FCA brands.
2018
Jeep Compatriot (?) and Wrangler
Ram 1500
Alfa Romeo Small CUV ( that's literally what it says. No name or anything)
2019
Jeep Grand Cherokee and Grand Wagoneer
Chrysler 200,300 and an EV CUV
Alfa Romero Giulietta hatch (!)
Ram 2500/3500
2020
Dodge Charger and Challenger (finally!) and Durango
Jeep Cherokee
Ram full size SUV
Alfa Romero Spider coupe and convertible
Fiat 500
It looks like FCA might start to remedy the problems with their lineups being old that I've gone over before. I'm confused on the Compatroit and 200. I thought that Chrysler had given up on that unless they went back to the drawing board which i think they should have. I'm really curious as to what this ram full size SUV is going to look like. The good thing is Chrysler's bread and butter 300 is coming sooner rather than later like the Charger and Challenger. They solider on for another 3 years.
Toyota/Lexus
Toyota isn't releasing as many as the others, and surprisingly is focusing more on cars than crossovers and trucks.
2018 (all models we already knew about)
Toyota 4Runner
New LS
New Camry
2019
Toyota Rav4,Tundra,Sienna,Avalon and Yaris
Lexus GX,ES and CT
2020
Toyota Highlander,Sequioa, Land Cruiser and Corolla
Lexus NX,LX,GS, and IS
Whats interesting about Toyota is a couple things: a redesign of the long in the tooth Predator faced GX, equally long in the tooth Sequoia and Tundra and the GS and IS. The GS had been rumored to get the boot due to slow sales, and the report lists the IS has being coupe, sedan and convertible. Could this mean that the RC coupe is on the chopping block?
Honda/Acura
The report lists Honda as being in a unique position due to them having a "simplified two brand lineup that sets them apart from most other automakers". They also say they see a risk with them focusing more on cars for the next 4 years.
2018
Acura RDX and CDX
Honda Accord and CR-Z
2019
Acura MDX,RLX and TLX
Honda Insight
2020
Acura ILX
Honda Civic
Honda Fit
Honda seems to be keeping it very simple the next few years. A few things stand out though: the report shows the CR-Z coming next year, though everyone else has said that it was gone. 2019 shows the TLX coming with a coupe variant and 2020 seems a new or refreshed Civic and ILX, which should put it in line with the Civic its based on.
Nissan/Infiniti
Whats interesting here is that the repot points out what I just wrote about on Oppo earlier: their product replacement rate. They also point out a lack of product direction and a risk of loosing market share due to its replacement rate lagging behind the rest of the industry.

2018
Nissan Z (!),Versa and Cube
2019
Nissan Pathfinder,Juke (they could mean Kicks that i talked about earlier) NV200, Altima
Infiniti Q70,QX60 and QX70
2020
Nissan GT-R,Sentra,Leaf,Rouge,Quest
Infiniti QX80 and Q50
Honestly with Nissan there's really nothing to get excited about except this report saying that a new Z is coming next year. A few things surprise me though because of conflicting reports: the return of the Cube next year, 2019 has the Altima listed as being Sedan and Coupe and the Juke, which I just reported on being given the ax for 2017 and GT-R isnt coming until next decade. But like I said, they could mean the Kicks for the Juke.
The Germans
The report groups the Germans together for some reason so Ill do the same since there's a lot.

2018
VW Touraeg,Jetta, Aretron
BMW X3
Audi A6,A7 and A8
Porsche Cayenne, refreshed 718 Boxster and Cayman
Mercedes CLS
2019
Audi Q4,Q6,Q8 and Allroad
Mercedes ELC (listed as being a small CUV), GT-4 listed as a sports sedan,GLE
Mini Countryman
BMW 3,6,Z5,X7
Porsche 911
VW Passat
2020
Audi A3
Mercedes GLS,Sprinter,SL and CLA
BMW X5
Porsche Pajun (listed as a sedan
VW Beetle
Theres not much thats surprising here. The Germans have been leading the onslaught of CUV's to the marker. Im curious to the MB ELC, GT-4, which im thinking could be the AMG GT based Sedan and the Porsche Pajun in 20'. Could that be a Porsche 3 Series fighter?
Hyundai/Kia
The report lists Hyundai as risky for debuting more cars than CUV's the next few years. But we get to finally see a build up of the Genesis brand.
2018
Genesis G70
Hyundai Azera,Accent,Veloster
Kia Rio
2019
Hyundai Santa Fe and Santa Fe Sport,Satna Cruz Small pickup
Genesis GV90 CUV
Kia Soul
2020
Genesis GV80 large CUV,G80
Hyundai Sonata and Elantra
There's nothing really exciting. Strangely, I saw no mention of the rumored luxury coupe from Genesis, nor any mention of a refresh or all new G90.
The Others (seriously, the report lists Jaguar/Land Rover,Subaru, Volvo Mazda and Tesla under Other OEM's)
From these automakers we are going to see an onslaught of CUV's and wagons the next few years
2018
Subaru XV
Volvo XC60,V90
Jaguar E-Pace
Mitsubishi Lancer
Tesla Model 3
2019
Jaguar I-Pace,XJ Coupe and Convertible
Subaru BRZ and an unnamed crossover
Range Rover Evoque
Volvo XC40,S60 and V60 Wagon
Mazda 5 Wagon
2020
Land Rover Defender,Range Rover
Mazda3,CX-5,RX-7
Mitsubishi Outlander
Tesla Model S
Volvo V40 wagon and S40
Subaru WRX and Legacy
Whats most interesting here to me is Jaguar giving us an XJ coupe and convertible which should be interesting and in the same vein as the old XJS convertibles. Also Mazda giving us a 5 wagon and an RX-7. This should be very interesting.
But there you have it folks. Most automakers product plans through the end of the decade. I believe most of it, but not all considering other reports and news I've heard and read. Share what you guys think. Here's a link to the report if you guys are interested.